Description
Join thousands of fun-loving people for "A Night At The Zoo!" This adults only event will give guests the opportunity to enjoy beer & wine while taking in views of the zoo's amazing animals & gardens. There will be food, beer and wine for purchase, DJ entertainment, games, giveaways & more! Take a break from the bars and do something different; spend a Night At The Zoo with your friends!
A large portion of the proceeds benefit the Lincoln Park Zoological Society! Be a party animal while giving your support to the animals! Get your tickets now!

WHAT'S INCLUDED: Admission to the zoo, Live DJ's, Giveaways & More! And, no kids!
WHY: When else will you get to party with your friends at the zoo with no kids or crowds to worry about?!
LIVE DJS: You've never seen the zoo like this before! There will be multiple DJs set up throughout the zoo! With some playing all your favorite party music including Top40, 90s and Oldies and others playing Hip-Hop, Electronic and your favorite summer tunes, you'll definitely find the perfect place for you and your friends!
EXHIBITS: Most of the Lincoln Park Zoo's animal exhibits will be open for you to check out while sipping a drink!
FRIDAY NIGHT PRE-PARTY: Join us at Public House on Friday, September 8th. Mention that you are there for "Night at The Zoo" at the host stand between 9pm and 1am to receive a drink on us!
DAY OF PRE-PARTY: Join us at Shore Club on Saturday, September 9th from 3pm-6pm. Get Half Off your first Canned Cocktail with proof of purchase to Night At The Zoo!
AFTER-PARTY: Join us at Moe's Cantina River North on Saturday, September 9th. Mention that you are there for "Night at the Zoo" at the host stand before midnight for one free gift card!
FREE TICKETS/RAISE MONEY FOR YOUR CAUSE: See below for more info.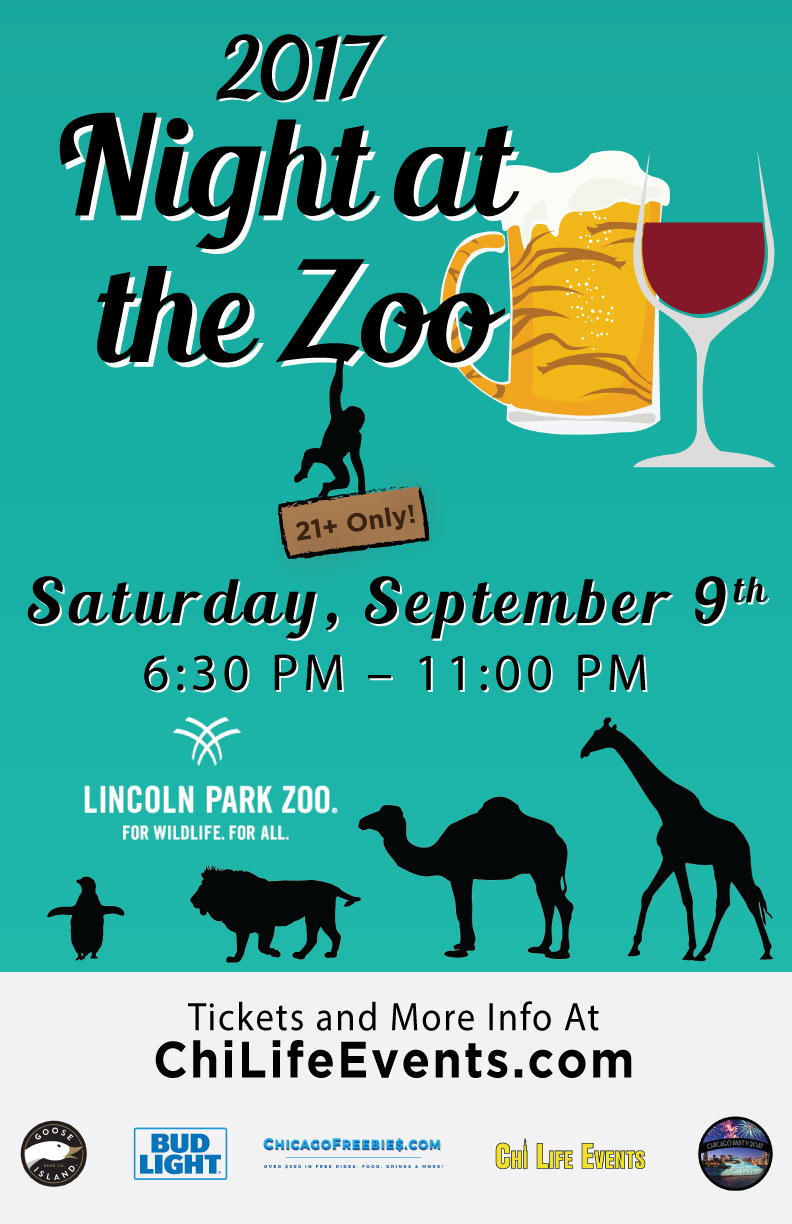 FREE STUFF!
All attendees will also receive the following Freebies*: Use code 'CTS2' for 2 FREE rides from Lyft (up to $5 off each of your first two rides) – $10 in FREE snacks, drinks and other convenience store items from GoPuff with promo code 'CTS10' - $50 in FREE food and drink from Spring Rewards with promo code 'CHI50' – 2 FREE rides in a premium vehicle with Via using promo code 'CTS2' – Up to $10 off your bar tab when you pay through the Tally app with promo code 'CTS10' – $25 in on-demand laundry service from Tide Spin with promo code 'CHI25' – Up to $10 towards a FREE taxi ride from Curb with promo code 'CTS10' - $10 in FREE food at your favorite restaurants like Freshii, Protein Bar, Rockit & more from Ritual! *All offers valid for first time users only and subject to change without notice. Click HERE for more info!
PHOTO CONTEST:
Enter to win our PHOTO CONTEST by posting pictures to Facebook or Instagram using "#NightatTheZoo" Our panel of judges will go through the pictures and winners will be announced after the event!
SPECIAL THANKS TO OUR SPONSORS: Goose Island and Bud Light...this would not be possible without your support!
SPONSORSHIP OPPORTUNITIES: For questions, sponsorship opportunities, and press inquiries, please email Info@ChiLifeEvents.com.
FREE TICKETS/RAISE MONEY FOR YOUR CAUSE:
-Fundraising Opportunity: Are you trying to raise money for a certain cause? Email Info@ChiLifeEvents.com for more info!
-Want to earn a free ticket and some cash for spreading the word? Email Info@ChiLifeEvents.com for more info!
Rules, Regulations & Disclaimers:
All guests must be 21+ with a valid government issued ID that will be checked by security prior to entrance. A valid ticket with scannable QR code is required by all guests to enter event. It is recommended to print a paper ticket to prevent any technology complications which would prevent your ticket from displaying on your phone. There is no guest list. Each ticket must be scanned. Security reserves the right to inspect all bags and persons. Absolutely no outside food or beverage may be brought into the event. Guests who are deemed intoxicated (or otherwise unfit), will be denied entry and no refunds will be given. We want all guests to enjoy themselves, but our number one priority is the safety of all guests. Any ticketing/technical issues will be handled by Eventbrite.com. Please contact them directly at https://www.eventbrite.com/contact-us/. Sorry – no refunds or price adjustments. The Eventbrite system does not allow us to restrict people who are underage from buying tickets. If you are not 21 and purchase a ticket, you will not be allowed into the event.