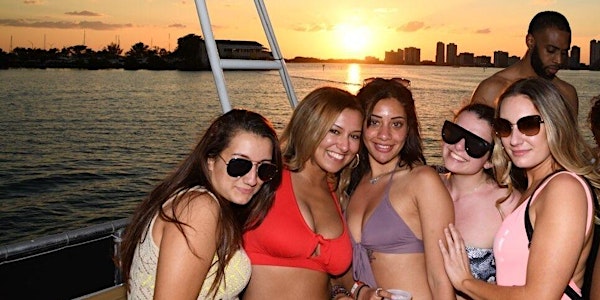 Saturday Midnight Hip Hop vs Reggae Booze Cruise at Skyport Marina Yacht
Saturday 2022 -The Official NYC Hip Hop vs. Reggae Skyport Marina Yacht
When and where
Location
Skyport Marina 2430 FDR Drive New York, NY 10010
Refund Policy
Contact the organizer to request a refund.
About this event
The Official NYC Hip Hop vs. Reggae Saturday Yacht Party Cruise Skyport Marina Jewel Yacht
The Official Saturday Hip Hop vs. Reggae Cruise Midnight Yacht party at Skyport Marina Jewel Yacht located at 2430 FDR Dr, New York, NY 10010. Join us at the Hottest Hip Hop vs. Reggae® Saturday Midnight Cruise Yacht Party in with NYC Hottest DJs while enjoying views of the Manhattan Cities Skyline!
6:00PM Yacht Cruise
BOARDING : 6:00 pm
SAILING : 7:00PM
END : 10:00 PM
11:30PM Yacht Cruise
BOARDING : 11:15 pm
SAILING : 12: 00AM
END : 3 : 00 AM
What You'll Get
Customers please arrive early for check-in with yacht
Bottle service priority
Full name & email for priority reservation seating.
The yacht will be sailing. Boarding 11:45pm, Sail 12:30am. The Yacht returns to Marina at 3:30am. Please arrive early so you don't miss the Yacht. No Refunds if you miss it!
ID is a Must. Drinks Bar onboard. 2 Floors of music with climate-controlled Main Floor & Upper Deck!
Your ticket reserves a spot on the boat. No refunds for this ticketed event.
All Dates for Cruise Listed Below. Check out our organizer page for links:
http://plenty-of-parties.eventbrite.com
SEPTEMBER
Friday, September 02, 2022 (Jewel) 11:45 pm
Friday, September 09, 2022 (Jewel) 11:45 pm
Friday, September 16, 2022 (Jewel) 11:45 pm
Friday, September 16, 2022 (Jewel) 11:45 pm
Friday, September 23, 2022 (Jewel) 11:45 pm
Friday, September 30, 2022 (Jewel) 11:45 pm
Saturday, September 3, 2022 (Cabana) 6:00 pm
Saturday, September 03, 2022 (Jewel) 11:45 pm
Saturday, September 10, 2022 (Jewel) 11:45 pm
Saturday, September 17, 2022 (Jewel) 11:45 pm
Saturday, September 17, 2022 (Jewel) 11:45 pm
Saturday, September 24, 2022 (Cabana) 11:45 pm
Sunday, September 4, 2022 (Cabana) 6pm
OCTOBER
Saturday, October 01, 2022 (Jewel) 11:45 pm
Saturday, October 08, 2022 (Jewel) 11:45 pm
Saturday, October 15, 2022 (Jewel) 11:45 pm
Saturday, October 22, 2022 (Jewel) 11:45 pm
HALLOWEEN
Friday, October 28, 2022 (Jewel) 11:45 pm
Saturday, October 29, 2022 (Avalon) 6:00 pm
Saturday, October 29, 2022 (Jewel) 11:45 pm
Sunday, October 30, 2022 (Jewel) 6:00 pm