Description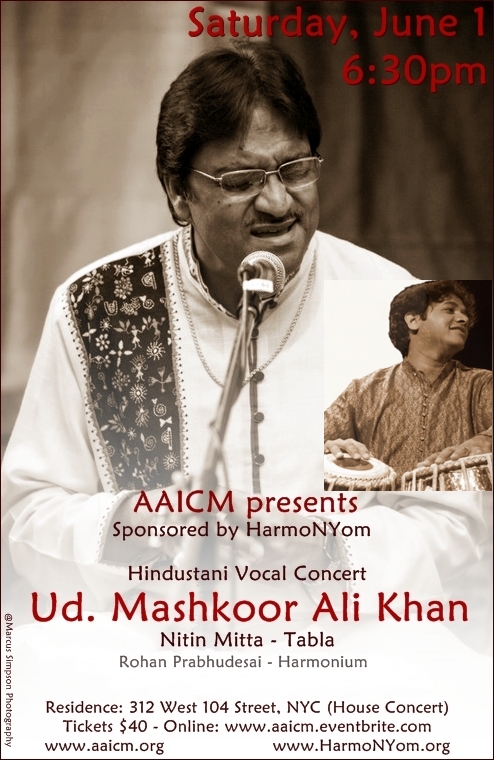 Ustad Mashkoor Ali Khan is a distinguished exponent of the Kirana lineage of North Indian vocal music, and is related by blood to many of the most distinguished luminaries in that tradition. He displays great invention and vocal agility in his recitals. He is a walking encyclopedia of traditional compositions ("bandishes") and has an erudite concept of ragas and a keen understanding of the various aspects of the Kirana style, which emphasizes numerous creative permutations of the notes of the raga. An A-grade artiste of All India Radio, he has performed in numerous festival and conferences all over India and abroad. Khan Sahib is currently a senior vocal guru with the prestigious Sangeet Research Academy in Calcutta, passing on his musical heritage to new generations of musicians. www.mashkooralikhan.com
YouTube: http://www.youtube.com/watch?v=7uEAFGCS_U4
Nitin Mitta is one of the most sought after tabla players in the music world and has quickly established a reputation as an artist with a rare combination of technical virtuosity, spontaneity, clarity of tone, and sensitivity to melodic nuance. He is an acclaimed accompanist who has performed with some of India's most celebrated musicians including Pandit Jasraj, Pandits Rajan and Sajan Mishra, Pandit Vishwa Mohan Bhatt, Ustad Nishat Khan, Ustad Shahid Parvez and Pandit Nayan Ghosh.He has also made a mark as a versatile musician in other spheres, his most recent collaboration with 2010 Grammy Nominee Vijay Iyer and Guitarist Prasanna on their new Album titled "Tirtha". http://nitinmitta.com/
Rohan Prabhudesai began his training 14 years ago in Hindustani classical music on the harmonium on one of his trips to India with Gokuldas Rasaikar, a disciple of Smt. Nirmala Kakode. He continued this musical pursuit under the guid-ance of Dr. Kedar Naphade, a senior disciple of Pt. Tulsidas Borkar. There have been several instances on his occasional vacations in India where he has had the privilege of learning from Pt. Borkar.Aside from this, he also draws interest from Western classical music and he has had the opportunity to give many solo recitals and accompany various senior local artists.
Residence: 312 West 104 Street, NYC (House Concert)
Tickets: $40 - Online Reservation: www.aaicm.eventbrite.com
For more details: www.aaicm.org

Organizer of Saturday June 1, 6:30pm - Ud. MASHKOOR ALI KHAN-Vocal & Nitin Mitta-Tabla
HarmoNYom "A Voice for Indian Classical Music"
HarmoNYom, exploring innovative ways of providing high quality experiences, through Indian Classical Music, as way of engaging, inspiring and challenging communities locally, nationally and internationally. Targeting music lovers of all ages, races and backgrounds!
For all Concerts and Events in New York!
www.HarmoNYom.org