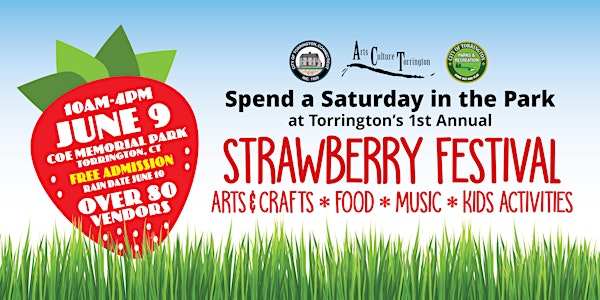 Saturday in the Park Vendor Pre-Application
When and where
Location
Coe Memorial Park 101 Litchfield Street Torrington, CT 06790
Description
"Saturday in the Park" is annual event designed to celebrate all the wonderful assets of Torrington's Coe Memorial Park through an arts & craft fair , music & entertainment, and food. The Main Street Marketplace Express children's train will also make an appearance offering rides around the park with price and times to be determined.
**Please Note**
This application is for a 10x10 space. All artisans and commericl vendors will be on the green and food vendors will be in the Coe Memorial park parking lot. Vendor space is $40 and food vendors are $60. You are responisble for bringing your own display including tables, chairs and a tent. Set up will begin at 6:45 am you must be fully set up by 10:00 am. Vendor drop off will be along the sides of the park, please keep this in mind. Any further questions you may forward to our email actcommission@gmail.com. You will be notifed of your acceptance within 2 weeks.
Local non-profits may be eligible for reduction in price.