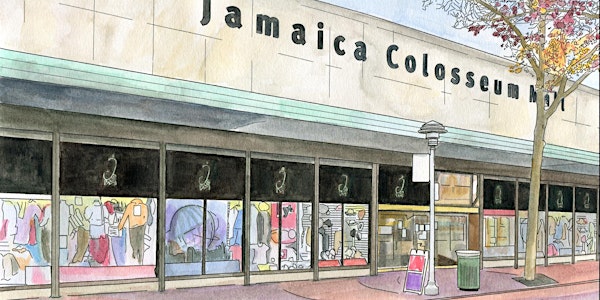 Saturday in the Gallery - Jamaica Flux
Visit the galleries at Jamaica Center for Arts & Learning! June-Aug. appointments available to see Jamaica Flux 2021.
When and where
Location
Jamaica Center for Arts and Learning (JCAL) 161-4 Jamaica Avenue Queens, NY 11432
About this event
Jamaica Center for Arts and Learning (JCAL) is pleased to launch the first-half of the fifth iteration of Jamaica Flux: Workspaces & Windows, a group exhibition featuring the research modules of 14 NYC-based artists and artist groups at JCAL's Miller and Community Galleries. Damali Abrams, Heejung Cho, Indranil Choudhury, Cody + Julian, Sherese Francis, Linda Ganjian, Hayoon Jay Lee, Le'Andra LeSeur, Reuben Lorch-Miller, Firoz Mahmud, Nadia Misir, Sari Nordman, Jessica Segall, and Misra Walker took on the year-long endeavor to create public, socially-engaged projects in collaboration with organizations and sites throughout the neighborhood of Jamaica. The exhibition will be on view from June 10th through August 7th.
On display are the various research materials and works that were gathered and created in the process, both virtually and in-person. These artist research projects provide various entry points into reflecting on the anxieties and tensions of our present moment—creative and collective responses that draw upon the social, political, ecological, digital, interactive, guerilla, and sonic. The second half, which composes the public and outdoor realizations of the research phase, will open July 10th, 2021 and run through August 21, 2021. More information at jcal.org/jamaica-flux.
RSVP here to see the exhibition in person on Saturdays, June 26, July 17 & 31, and August 7, 12-3pm. The gallery is also open Monday-Friday, 10am-5:30pm by email reservation (contact nkuo@jcal.org). Due to limited gallery capacity and other public health safety measures, we ask that all visits be made by appointment.
[Image: Postcards from Jamaica (Colosseum Mall), Linda Ganjian. Queens Memory Project interview copyright 2020 Samantha Alethea Inniss, Linda Ganjian, CC-BY-NC-SA 4.0.]