Flow into your weekend happy, relaxed, stretched, and strengthened. All levels welcome. 60-minutes. Online.
About this event
Let's flow into the weekend together with ease and joy. Awaken and move your body, connect with your breath and celebrate our transition from the workweek into the weekend in this all-levels, 60-minute Hatha Flow yoga class. This class will incorporate breathing (pranayama), static poses (asana), breath-to-movement flow (vinyasa), and meditation for a balanced and uplifting experience. Stretch, release tension, build focus, clarity, and calm.
No yoga experience necessary. All are welcome to join our flow together. I will provide you with many alternative poses and positions along the way so you can enjoy a practice that matches your level of experience and flexibility, and aligns with how your body is feeling on this particular Saturday. Yoga is about connecting within but it's also about union and building community, so bring your friends.
Meetings will take place on zoom. You'll receive an email with the link before the start of class to join. Although I do love to see your smilling face, I completely respect your privacy, so you are welcome to participate with or without your camera on.
What to wear and bring:
Wear comfortable clothes that allow your body to stretch in all directions.
Bring a yoga mat. If you don't own a mat, a carpet, rug, or towel that allows you a little padding but also gives you good traction can work just fine.
Great to have - yoga blocks, straps, blankets, and bolsters. (no worries if you don't own these things. Books make great blocks, towels or scarves make great straps.)
Class Times & General Feedback Survey
It has been wonderful practicing with you over the last few months. I've extended the offering dates through August. I am also looking at offering a few more classes during the week. I would love to hear from you on which available times and dates work best. I would greatly appreciate you taking a minute to complete this survey. It's just 2 questions and an option to provide any additional feedback about this class (time, music, level, etc). Thank you so much for your feedback.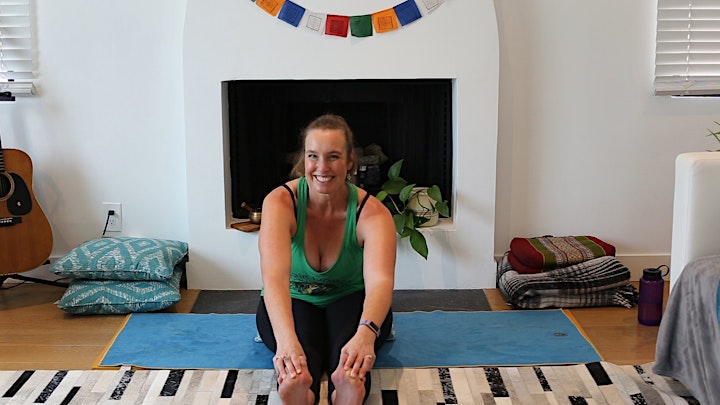 About Amy:
Amy Sullivan is a Holistic Health & Nutrition Coach (@aspirezen), Yoga Teacher, and recipe creator. She is a "Corporate America Expat" who has dedicated her life to helping busy women conquer stress, re-energize, and love themselves inside and out. She received her 200 Hr from Yogaworks specializing in their signature style blending precision alignment with breath and movement. Her yoga journey began at age 4, attending Iyengar classes with her grandmother. Throughout the years she has practiced multiple styles of yoga including Iyengar, Bhakti, Vinyasa, Hot Yoga, Yin, Restorative, and Kundalini. In her free time, Amy loves gardening, exploring the natural world, signing with her guitar, and the occasional mermaiding with friends.
Let's stay connected:
https://www.instagram.com/aspirezen/
Practice with Amy in studio at Core Power Yoga Hermosa Beach
If you're in the Los Angeles area, join me for a class at Core Power Yoga Hermosa Beach. I currently teach Tuesdays and Thursdays at 7:15 am Pacific and Sundays at 9:15 am Pacific. These classes are power vinyasa style, focusing on creating an intense yet mindful experience with a lot of breath to movement and energizing flow. These classes take place in a heated room. It's more physical than our online weekend hatha sessions and offers a great way to ramp up the physicality of your practice or just try a different type of yoga. Learn more and sign up for classes here: https://www.corepoweryoga.com/yoga-studios/CA/Hermosa%20Beach/hermosa-beach