Sublime chanting and keynote address by HH Swami Vidyadhishananda, exquisite music performances and online auction featuring rare Indic art.
About this event
Reviving our Root Heritage
and Supporting Cultural Transmission
Join our worldwide community online for the eighth annual Sattwadharman Benefit & Art Auction. The livestream broadcast will feature enchanting singing performances by Smt Sangita Gosain, Smt Dyuti Chakraborti, and Sri Sounak Chattopadhyay. His Holiness Swami Vidyadhishananda will enlighten everyone with his sublime Sanskrit chanting and an audio-visual presentation about the revival of our root heritage. We will share video footage of students at our tradition accelerated learning Vedic schools in India with additional inspiring media highlighting our projects and impact. Celebrate our Nonprofit's service as a vital platform for preserving indigenous Sanskrit heritage in the West.
Even though our Benefit & Art Auction has gone virtual, its impact on our programs remains as crucial as ever. Your support and participation can keep our esteemed Nonprofit resilient during these times. Join us as we continue to meet our mission, together.
Self Enquiry Life Fellowship is a top-rated Nonprofit that has earned the Platinum Seal of Transparency from Guidestar, the world's largest source of nonprofit information. You can view our Nonprofit profile here.

Support for Indigenous Curriculum
Our international sangha is deeply engaged through this annual Sattwadharman Benefit in preserving and transferring the legacy of the ancient Sanskrit-based indigenous heritage from its associated Indic monastic institutions to its USA operations for global dissemination. This global cultural transmission is jointly facilitated by two charitable institutions, Hansavedas (Self Enquiry Life fellowship) in the USA and Vedanidhi (Vedic Heritage Research Foundation) in India, both led by His Holiness Swami Vidyadhishananda, and as per his leadership roles in the US and India.
His Holiness Swami Vidyadhishananda
President, Self Enquiry Life Fellowship (Hansavedas), USA
President, Vedic Heritage Research Foundation (Vedanidhi), India
President, Sri Paramananda Ashram Trust (Consortium), India
- Swami Paramananda Ashram (host of kumbha-mela)
- Swami Narottamananda Veda Vidyalaya (Veda Learning School)
- Sri Gangeshwar Sanskrit Vidyalaya (Sanskrit Language School)
- Kapila Sangam Ashram (Personal Retreat Centre), Amarkantak
- Om Nivas Ashram (Monastic Retreat Centre), Haridwar
Vice President, Tripura Yogashram, Haridwar, India
Online Auction
Now is your chance to purchase rare masterpieces of the Indic art tradition from the Nonprofit's Fellowship Archives, available only once a year during Sattwadharman. Your purchase directly supports our Nonprofit projects (read more here).
When you register for the livestream you will also be added as a registered bidder on the online auction. You will receive text message updates about the auction on the mobile number you used at the time of your registration. You will be able to bid on auction items from your mobile phone or from a web browser.
Even if you are not registered for the livestream on 23rd October you can still preview and bid on items! Just visit the Online Auction and manually register there to begin bidding.
The online auction opens on 9th October at 8:00pm Pacific Time and closes on 28th October at 12:00pm Pacific Time.
The Fellowship Archives collection and project preserves vintage art of the Sanskrit heritage, including rare paintings and vintage photographs. To read more about our Nonprofit's work with sacred art please read about our Altar Painting project and Vintage Photography project.
Presentation by His Holiness
The spiritual founder of Self Enquiry Life Fellowship and the President monk of our worldwide sangha and consortium of institutions will offer an inspirational audio-visual presentation on the theme of Cultural Transmission of Indigenous Heritage. His Holiness is an ordained Himalayan Vedic monk, who hails from unbroken lineages of the combined heritage of rishi sages and nath meditation adepts. He is among the very few available adepts outside of India who has been awarded the degree of Mahāmahopādhyāya (DLitt et Phil) by the university system in India due to his scholarly and meditative interpretation of Sanskrit literature.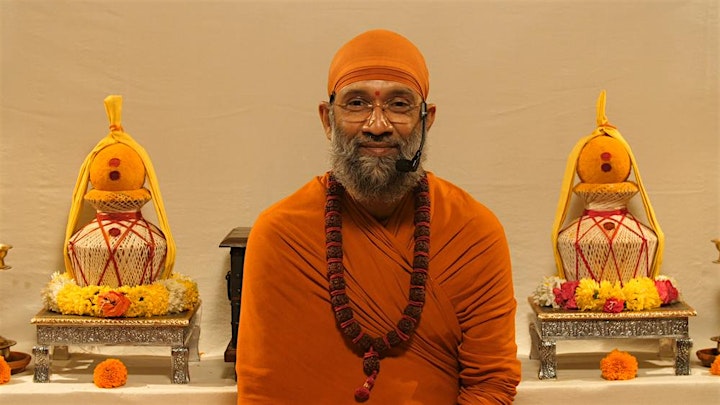 Music Performances
The tradition of Sanskrit indigenous knowledge is well known for its seamless integration of art and music with meditation and spirituality. It is in this light that we share exquisite music by maestros Sangita Gosain, Dyuti Chakraborti and Sounak Chattopadhyay during our Sattwadharman livestream. These performances represent and showcase our Nonprofit's ongoing work to build a music library that unfolds ancient Vedic classical music in the light of meditation. Drawing upon esoteric Sanskrit texts and manuscripts, our monastic council of highly realized Vedic monks guides the conception, recording and production of these music projects.
Sangita Gosain
Dr. Sangita Gosain is a renowned vocalist and scholar who has dedicated her life to the research, performance and preservation of Odissi classical music. She is an Associate Professor at Utkal University of Culture and is the Chief Executive of the Guru Kelu Charan Mohapatra Odissi Research Centre. Among her many accomplishments, Dr. Gosain obtained PhDs in the fields of English Literature and Odissi Music. She has performed as an invited artist in India and abroad and has received recognition for her versatile renditions in 17 different languages. An aficionado, protector and maestro of Odissi Music, Dr. Gosain is the pride of Orissa, tirelessly working to direct and promote Odissi dance and music programs in India and abroad so that traditional Oriya art and culture is preserved for future generations.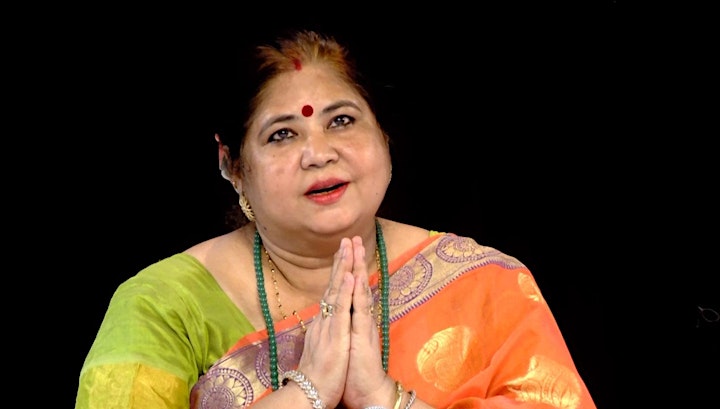 Dyuti Chakraborti
Dyuti Chakraborti has practiced vocal music since childhood. She was initially trained in Hindustani classical music and traditional bhajan under the guidance of Sri Dwijen Bhattacharya, the senior-most disciple of Pt. Mohanlal Mishra and Pt. Rajan & Sajan Mishra. She studied Padavali Kirtanam under the supervision of senior teacher Sri Manoranjan Bhattacharya and Pt. Sri Nimai Mitra. Furthering her study, she learnt Brij Lokagit (Brij Folk) under the guidance of Sri Jagdish Brijwasi in addition to Srimad Bhagvad Mahapuranam melodies under the guidance of Pt. Arvind Bhai Pandya, Sriman Prem Gopal Das Brahmachari, and His Holiness Abhay Charan Das Baba. She also learned Sri Ram Katha melodies under the guidance of Sri Rajan Mishra. Ordained with various awards and scholarships, she is a beloved and cherished traditional vocalist in India and abroad.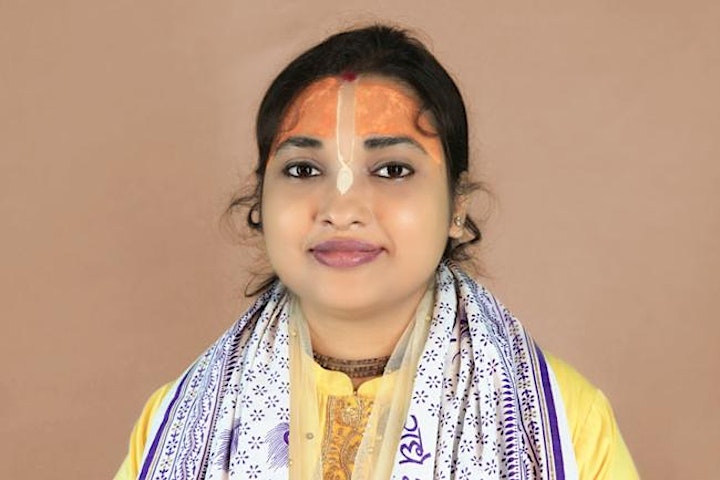 Sounak Chattopadhyay
Sounak Chattopadhyay studied Hindustani Classical music from Ut Mashkoor Ali Khan and Mubarak Ali Khan of the Kirana Gharana and semi classical forms of music from Smt Sanjukta Ghosh. He began his training in Rabindrasangeet under Smt Swagatalakshmi Dasgupta and has been under the tutelage of the stalwart Pramita Mallick for the past 14 years. As a worldwide performer, he combines the rare talent and skill of presenting both Rabindra-sangit and classical music with equal ease and dexterity. His experimental fusion works have been immensely popular and have received recognition as groundbreaking within the genre. He is honoured with many awards and accolades in both India and abroad.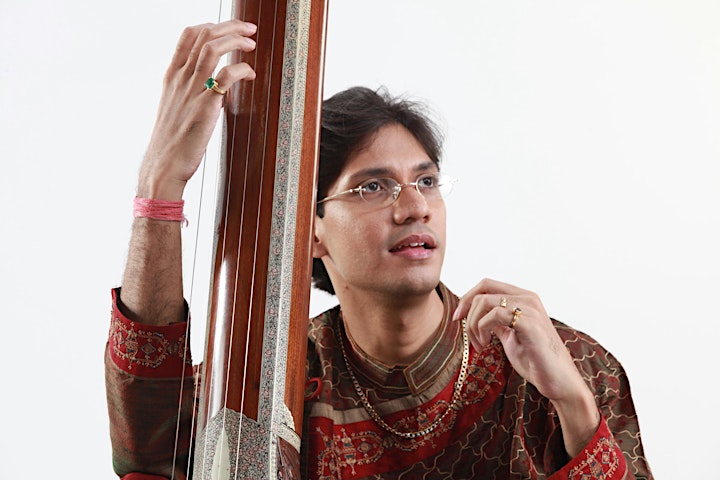 What you Support
Sponsorships at the time of registration directly support the students at our Vedic whole-brain learning schools in India (see registration form for sponsorship options).
Donations before and during the event will be channeled into two funds: Programs and Property. Your donation for Programs supports our Nonprofit's heritage revival projects (see below). Your donation for the Property will support the acquisition of a property for sustainable living where our unique holistic curriculum can be taught and practised.
Your purchase of an art print at our auction sustains projects on revival of Indic sacred art, chanting lineages, Indic classical music and value-based educational publications.
Whole-brain Learning
Heritage Preservation
Classical Music & Art
Establishment of a Centre
Tax-deductible Portion of your Sponsorship
Sponsorships are tax-deductible to the extent allowed by law. The amount of your registration and/or sponsorship donation towards this event which may be deducted for federal income tax purposes is limited to the excess of money contributed over the value of the goods or services provided by Self Enquiry Life Fellowship. Following the event you will be mailed/emailed a formal acknowledgement detailing the tax-deductible portion of your contribution.
Organizer of Sattwadharman Online Benefit & Art Auction