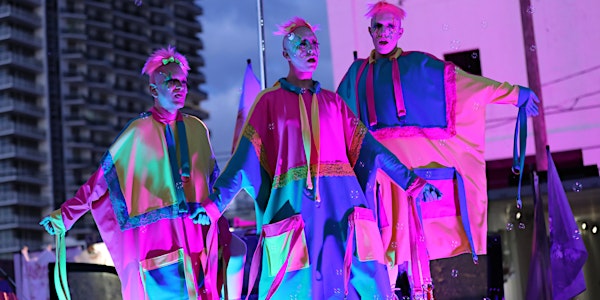 SATELLITE ART SHOW
When and where
Location
18 North West 14th Street Miami, FL 33136
Description
SATELLITE ART SHOW
Now in its fourth year, SATELLITE ART SHOW (an artist-run fair) has firmly established itself as the antidote to Art Basel. SATELLITE 2018, will once again focus on concept-driven projects across art, performance, new media, and technology. "SATELLITE is pushing the boundaries of what an art fair is and should be. You are not going to have an art experience like this anywhere else in Miami." said SATELLITE creative director Brian Whiteley on the fair's experiential emphasis.
SATELLITE 2018 will be held inside the Ice Palace Parking Lot, a 33,000 square foot open airplatform for their exhibitors to transform. SATELLITE will forgo a typical tent structure and will instead present large-scale outdoor installations, gallery exhibitions inside of shipping containers, exhibitions inside of vehicles and of course a robust performance art program.
Through a regard for collectability but an emphasis on interactivity and unfiltered creative expression, SATELLITE Art Show aims not to compete with its sister satellite fairs but to differentiate itself as the most memorable art-viewing experience of Miami Art Week. Expect the unexpected and stay for all the experiences, as no two moments will be the same at SATELLITE. We look forward to welcoming you to our grand vision. #satelliteartshow
PARTICIPATING ORGANIZATIONS
Cool Shit; London, UK
Electric Pickle; Miami, FL
Chapman University Art Club; Orange, CA
Famous on Mars; Brooklyn, NY
Smooth Muscle; Brooklyn, NY
Fountain of Pythons; Tampa, FL
Soft Power; Brooklyn NY
Center Street Studio; Boston, MA
Millagros Collective; Miami, FL
Dangerous Rose; New Orleans, LA
SVA MFA Fine Arts; New York, NY
The Remix; New York, NY
Sleeper; Miami, FL
Amazing Industries; Brooklyn, NY
SVA MFA Art Practice; New York, NY
Curatious; New York, NY
Tailgate Project; Miami, FL
The Femocrats; Brooklyn, NY
SOMArts; San Francisco, CA
Lori Cuisinier; New York, NY
King Mallard; Brooklyn, NY
Awesome Project; Roaming, US
Barbie Dreamhouse; New York, NY
Norman Paris; New York, NY
Arcade Project: New York, NY
Spicy Curtains Cabaret; New Orleans, LA
Tanga; Miami, FL
Flatsitter; Buffalo, NY
Zach Cahill; Brooklyn, NY
Performance is Alive; New York, NY
Frida Kahlo House; Mexico City, DCMX/ New York, NY
Bravin Lee Programing; New York, NY
Broken Heart Repair Shop; Los Angeles, CA
Erin KO; New York, NY
Eco Age; Brooklyn, NY
Portal; Providence, RI
Unite Design CO; Harbour Beach, FL
PUBLIC INSTALLATIONS & DRIVE IN VEHICLES: "Trump Rat" Produced by and Courtesy of Bravin Lee Programs, "Snoop Dog Hot Dogs" by Cool Shit, "light baths" by King Mallard, "XXXX" by Sleeper, "Shipping Loss" by Norman Paris, "Witness I & II" by Sonya Blesofsky, "Therapy Spa" by Millagros Collective, "Fantastic Fiat" by the School of Visual Arts MFA dept, "Llama Bus" by Anything Project, "The Trump Tombstone" by Center Street Studio, "Sanctum" VR experience by Flatsitter, and "Original Mouth Salacious South" by Tailgate Projects.
PERFORMANCE ARTISTS: Toxic Waste Face, Dangerous Rose, Irene Mohedano, Christopher Unpezverde Nunez, Kalup Linzy, Sierra Ortega, Cat Del Buono, Anya Liftig, Carolina Larrosa, Bianca Falco, Rex (Alexandra) Delafkaran, Heather Sincavage, Aura Velvet, Miss Toto, Petty Skyler, Vexx, Persephone Von Lips, Morphine Love, Kat Wilderness, Alberto Checa, Kledia Spirio, Jana Astanov, Cynthia Post Hunt, Dominique Duroseau, Drum & Lace, Rah, Apotropia – Antonella Mignone and Cristiano Panepuccia, Angeliki Tsoli, Bahareh Khoshooee, Brian Wenner – Prism House
MUSICAL ACTS (presented in collaboration with Electric Pickle)
Coming Soon
FAIR HOURS AND INFORMATION
SATELLITE Art Show is located at the Ice Palace Parking Lot (18 NW 14th Street. Miami, FL 33136)
Press Preview:
Thursday, December 6 from 3pm – 11pm
Fair Hours:
December 6: 3 pm – 11 pm
December 7: 3 pm – 11 pm
December 8: 3 pm – 11 pm
December 9: 2 pm – 7 pm
After Hours Programing:
Nightly from 11pm – late
Admission is $25