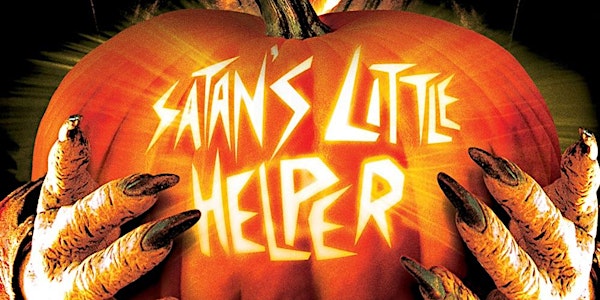 Satan's Little Helper
Filmmaker Jeff Lieberman in attendance!
Location
PhilaMOCA
531 N. 12th Street
Philadelphia, PA 19123
Rescheduled from 2019 by popular demand!
About this event
PLEASE NOTE: Proof of full vaccination (physical card or photo) and masks are required to attend PhilaMOCA events.
Get deep into the Halloween season with one of the endlessly watchable Halloween-set unsung horror greats, SATAN'S LITTLE HELPER with filmmaker Jeff Lieberman in attendance! Plus as a special pre-show treat, Harry Guerro from Exhumed Films is coming out to project Jeff's 1972 debut short THE RINGER on 16mm!
Upon meeting a strange masked man, nine-year-old Douglas Whooly lives out the fantasy of his favorite video game, "Satan's Little Helper". The two embark on a hellish rampage through the small suburban community, but when the masked killer targets Dougie's family, it may be too late to stop him. With the perfect combination of blood, guts and ingenious humor, SATAN'S LITTLE HELPER tells a gruesome tale that will keep you in stitches until the chilling end. From filmmaker Jeff Lieberman (SQUIRM, BLUE SUNSHINE).
"A satiric commentary on the influence of videogames and fiction, the distinction between fantasy and reality for a child, and the danger and power of Halloween – all in a movie filled with blood, guts and black humour." - Dread Central
"If you like your horror with a heaping dose of the blackest of black comedy, then Satan's Little Helper will be quite the treat!" - JoBlo.com
Post-screening Q&A with filmmaker Jeff Lieberman.