Description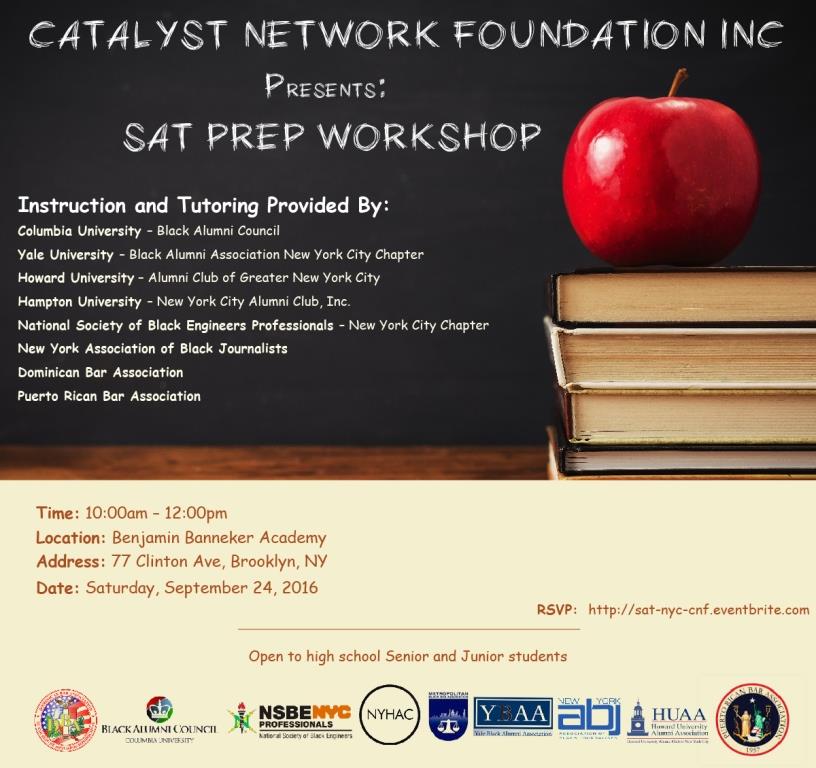 The workshop will be open to Senior and Juniors attending a NYC High School
Reservations are limited
Instruction and tutoring provided by the:
Columbia University – Black Alumni Council
Yale University – Black Alumni Association New York City Chapter
Howard University – Alumni Club of Greater New York City
Hampton University – New York City Alumni Club, Inc.
National Society of Black Engineers Professionals – New York City Chapter
New York Association of Black Journalists
Dominican Bar Association

Puerto Rican Bar Association
Catalyst Network Foundation Inc.

------------------------------------------------------------------------------------------------------------------------

Attendees may RSVP via Facebook as well: https://www.facebook.com/events/1772418223045513/

Please bring a notepad, journal or document to write on.
During the course of the workshop students will be instructed on.
Background information on how the SAT is scored

A lesson on basic SAT Math test-taking strategies

A lesson on basic SAT Verbal test-taking strategies

A lesson on basic SAT Writing test-taking strategies

A lesson that helps students practice advanced algebra
All scholars who RSVP must answer the question below in order to attend and send the note to
Info@Catalyst-Network.org
with your name, class year and school you attend in the subject header.
1. "In one paragraph (5 sentences max) tell us about you and your future college/career goals (anticipated college major, personal interest, etc.)
Parents & Guardians are more than welcome to attend.
Like CNF on Facebook | Follow CNF on Twitter
Join our group on Linkedin: LinkedIn | Follow us on Instagram
Organizer of SAT Prep Workshop (New York City)
The Catalyst Network Foundation Inc. (CNF) is a non-profit education initiative 501(c)(3) organization based in New York City and Washington, D.C. The social enterprise is fundamentally grassroots, steered by a volunteer leadership team in New York City and Washington, D.C. In July of 2012, Ranking Congressman Ed Towns awarded a proclamation to the Foundation, in recognition of the organization's achievements.
CNF was conceived after its two founding members had a conversation about the future of youth and veterans in their community. After reviewing the lack of communal resources, skill development programs, and career-field opportunities for adults – the founders developed a vision. Through their combined efforts and strategic planning, the two founders recruited additional professionals to support the formation of Catalyst Network Foundation.
Founded in 2011, the nonprofit focuses on life enrichment and professional development, with a mission to engage high-potential youth (ages 14-25) by providing the essential tools, networks, skill-building projects, and development opportunities to maximize talent.
CNF holds a Summer Intensive Program for rising high school juniors and seniors in New York City and Washington, D.C. Successful applicants are enrolled at a CNF partnership high school. Each student receives individualized attention and internships in preparation for higher education and community service. The fellowship scholars are trained from day one: they tour corporate offices, pitch business ideas, and develop professional skills. More than 200 students have been admitted to the Fellowship Program and are CNF Fellows, 99 percent have graduated high school, and 98 percent enrolled in higher education institutions (including prestigious colleges and universities).
Through CNF's Mentorship Program, Fellowship scholars are paired with a mentor that is a trailblazer in the profession or career field the fellows aspire to pursue. The CNF Internship Program secures CNF Fellows with internships at startups, corporations, and medical institutions.
Since 2011, the Fellows have experienced corporate tours and/or pitched capstone presentations and interventions for inner-city school challenges to several companies, including: Google, Goldman Sachs, NIKE, LinkedIn, Morgan Stanley, Microsoft, HBO, Covington & Burling LLP, GAP, Bloomberg, BET, NPR, The Carlyle Group, Kaye Scholer LLP, Hughes Hubbard Reed LLP, Deutsche Bank, Infor, The Peebles Corporation, Deloitte, FOX News, and NBC Studios.
The Youth Initiative annually holds business, law, and tech symposiums at Google;college fairs; resume development, career, and college preparatory workshops throughout the academic school year, instructing more than 2,000 high school students in the aforementioned metropolitan areas.
CNF performs screenings and facilitates seamless partnership arrangements with high schools and corporations. These partnerships provide experiential learning, mentorship and new product development and concept testing for each stakeholder. I.e., City Poly Tech High School < > Infor
The organization works with American veterans, connecting them with resources and information to assist them with their career and academic ambitions.
CNF has curated more than 25 professional networking events and diversity career recruiting sessions. The organization hosts a professional mixer and panel discussion called The Meeting of the Minds (MOTM) a gathering that is held quarterly that uniquely combines networking and thoughtful policy discussion on topics affecting minority communities. The goal is to provide a forum for critical conversation on issues often ignored by mainstream media outlets.