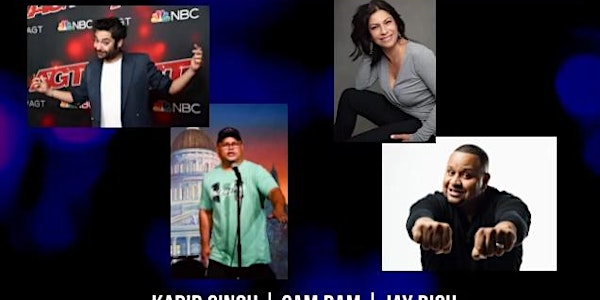 Sat Night Stand UP LIVE in Fremont with Kabir Singh, Jay Rich and Sam Bam .
Kabir Singh's Fremont Comedy Bash is a regular show held at Kirbys Sports Bar in his hometown and home bar of Fremont, CA.
When and where
Location
Kirby's Sports Bar 42312 Fremont Boulevard Fremont, CA 94538
Refund Policy
Contact the organizer to request a refund.
Eventbrite's fee is nonrefundable.
About this event
Kabir Singh's Fremont Comedy Bash is a regular show held at Kirbys Sports Bar in his hometown and home bar of Fremont, CA.
About this event
Kabir Singh's Fremont Comedy Bash is a regular show held at Kirbys Sports Bar in his hometown and home bar of Fremont, CA.
About this event
National Headliners, Underground Feel, Backyard Travel.
Kirbys Comedy Night in Sept as we give ya 3 Headliner sin one night along with some of the best working Comedians in Cali all on one show!
MEET THE COMEDIANS.
Join us for another installment of Fremont's Comedy Bash LIVE in at Kirbys Starring regular Host and MC Kabir "Kabeezy" Singh from "AGT" ,"Comedy Central', "The Family Guy", "NBC" and "Amazon Prime". Kabir a huge fan of his home town puts on a handful of shows in Fremont at his fav local Bar Kirbys for an affordable price, but don't let the price fool you...The Comedians he brings to the stage are some of the hottest comics in the Nation. These Comedians you would have to travel far and spend 4-5 times more to see them but, this show brings them to you...locally in a cool underground feel that ya only get in Hollywood and NY. Don't believe me? in 2018 alone we had Headliner - Sam Comroe who 2 weeks later made his debt on AGF and CAME IN 5TH PLACE OVERALL, Jc Currais went on and did Conan ten days after he headlined Kirbys then recorded a special for amazon Prime, Cody Woods will be making his debut on "Comedy Central" just a few short months after he ripped it up, Mike E Winfield was also here a few months back who just inked a development deal with NBC 2 weeks and is currently making a deep run on "AGT".
Kabir "Kabeezy" Singh is fresh off his standing ovation and four "yeses" on NBC's America's Got Talent in June of 2021, but he has been a touring headliner for almost a decade now. Kabir has been featured on Amazon Prime and The Family Guy on Fox. His You Tube Dry Bar Special, Stay Single, has been one of the best-reviewed comedy specials of all of time. Kabir was on Gabriel Iglesias' Stand Up Revolution on Comedy Central as the lead off comedian on episode 1 of season 3 and was the winner of the San Francisco International Comedy Competition, Big Sky Festival, and a finalist in the nationwide NBC Stand Up for Diversity showcase.
He has also headlined a night at every major comedy club in California and has headlined comedy clubs all over the U.S., the U.K. and Canada. It's safe to say Kabir is not an act to miss and, according to many members of the industry, will be a household name in due time.
MEET COMEDIAN JAY RICH AND SAM BAM WHO WILL BE CO HEADLINING THIS EVEING OF STAND UP COMEDY
Featuring Priya Guyadeen
Priya Guyadeen is a Guyanese-Canadian comedian who hails from Toronto, CA. She started doing stand-up in 2020 on zoom as way to deal with the pandemic, isolation, and parenting.
Priya Guyadeen is Bay Area comedian by way of Toronto, ON, Canada. In her standup, she gives the audience a glimpse into her indo-Caribbean heritage, growing up brown in Canada, and life as a middle aged single mon.
Her credits include: Cobbs Comedy Club, Tommy T's, Alameda Comedy Club, and the San Jose Improv among others. She also won producer's pick in the 2021 Comedy Fringe Festival
JAY RICH
ay Rich hails from the Bay Area and has created his own brand merging his first love of poetry with his natural born talent as a comedian. Jay Rich attacks every venue with a refreshing flow and charisma that has been missing on today's comedy circuit.
The host of Dorsey's Locker's Blue Candle Tuesdays from 2010-2012, Jay Rich effectively carried the torch for one of the longest running Open Mics in the Bay Area. He was also the host of the 2014 Bay Area Black Music awards where he was nominated and awarded the title of Best Male Spoken Word Artist. Jay recently represented the Bay Area at The Nephew Tommy Uncontrolled Comedy Show in Oakland, catching the attention of some of the industry's top players. He has shared stages with some of the top performers in the industry, including Paul Mooney, Dick Gregory, Tommy Davidson, KC & JoJo, and Sisqo. Producing some of the Bay Area's premiere comedy shows, Jay Rich is rising quickly! As a comedian, his witty stories and one liners will have you literally falling out of your seats and holding your sides every time he steps up to the mic.
SAM BAM
Sam Espanola, AKA Sam Bam, was born and raised in Stockton, CA.
With encouragement from family, friends & co-workers, Sam gave comedy a try. He started out doing open mic night at a local comedy club and hasn't slowed down. Sam Bam has been involved in the comedy scene for over 10 years.
Sam Bam has been featured on BET, Comic View, Coming to the Stage, and Latino Laugh Festival. In competing over the years, Sam made the finals in the San Francisco International Comedy Competition and was first runner up in the Bay Area Black Comedy Competition. He has performed with many headliners including Tony Roberts, Anjelah Johnson, Ralphie May, Eddie Griffin, and Katt Williams.
Even when Sam is not performing, he is still making people laugh. Sam Bam uses real life experiences to tell his story. Whether it has happened to him, you, or someone you know, Sam will tell it like it is. In the words of Mr. Sam Bam, "It wasn't funny then, but it's funny now!"