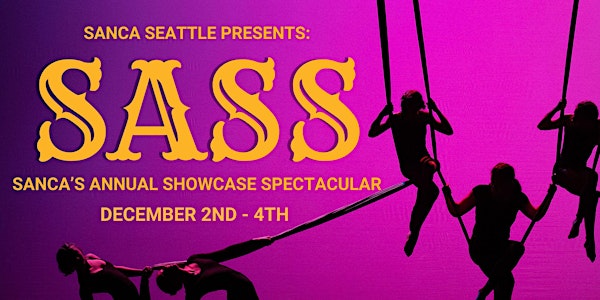 SASS 2022
Join us the first weekend in December for SASS, SANCA'S Annual Showcase Spectacular!!
When and where
Location
Broadway Performance Hall 1625 Broadway Seattle, WA 98122
Refund Policy
Refunds up to 1 day before event
Eventbrite's fee is nonrefundable.
About this event
IMPORTANT TICKET INFORMATION:
Online ticket sales END 24 hours before each show. Please purchase tickets at the door.
Ticket cost at the door:
Adult tickets are $25 at the door.
Youth (17 and under) tickets are $18 at the door.
DOORS OPEN 30 MINUTES PRIOR TO SHOW TIME
Every year SANCA presents a showcase of unique circus performances featuring students, alumni, staff, and community members. This showcase is for one weekend only. We hold four shows, each featuring a different lineup of spectacular local and internationally renowned circus performers alongside SANCA's tremendously talented student performers. Audience members are asked to remain masked at all times unless actively eating or drinking.
Performers by day:
Friday, December 2nd | 7 pm
Cirrus Circus - Group Acro
Janience Jenkins - Fabric
Alex P & Maggie L (Stratus Circus) - Recess Acrobatics
Angela Jewett - Centripetal Motion
Nimbus Circus - Jump Rope Party
Hollis Hamilton - Flight of Icarus
Ryan A & Caroline AB - Picnic on the Hillside
INTERMISSION
Kevin Ruddell - You Don't Say
Kalinda Pride - Wheelflight
Christina Pinho - This is Me
Cirrus Circus - Contortion
Brian Crawford - Wind of Change
Celestial Circus - Breakfast
Arne Bystrom - Plastic
Vertical Axis - Bond Girls Smash the Patriarchy
Saturday, December 3rd | 3 pm
Stratus Circus - Ribbons by the Ocean
Kyla Helgeland Alexander - Trapeze
Liz Young - The Bells of Montserrat
The Harden Family Acrobats
Devin Helton - Revival
Maiya, Miranda, & Amaranta (Nimbus Circus) - Fabric
INTERMISSION
Nina, Rose, Ali, & Ava (Cirrus Circus) - Happiness Does Not Wait
Lola Rosenblum - Happy Together
Esme King-Bagley - Esme on Silks
Dani Burke - Ultraluminary
Terry Crane - Drama and Dramamine
Saturday, December 3rd | 7 pm
Ryan, Caroline, Morrision, Leah (Cirrus Circus) - Train Stop Juggling
Christine Denker - Ouroboros
Little Ls - Round 1
Julia Schoemig - L'Enfer
Adrian Hillyer - Paralyzed
Duo Bijoux - Count on Me
Mia, Paloma, Dia, and Avery (Nimbus Circus) - First Light
Celestial Circus - Before Alice
INTERMISSION
Stratus Circus - Aerial Ladder
Laura Sposato Smitten Kitten
Morrison Helton - 998 Good Bricks
Adrian H & Jessie W - Someone, Something or Somewhere
Maya Shahani - A Day in the Life of a Hobbit
Emma Cady - Piece of My Heart
Drew Drummond - Disco Revival
Duo Avocado - State Lines
Sunday, December 4th | 3 pm
Alena & Elisha (Nimbus Circus) - Victory
Jasmine Meyer - Misty Clouds
Valentina Zackrone - Siren's Dream
Cirrus Circus - Club Passing
Hannah Lindell-Smith - BomBom
Kira Meyer - Water Spirit
INTERMISSION
Kyla & Thomas Alexander - Crashing
Nina Lovre - Amanecer
Tara Adams - Elysian
Caroline, Ryan, Yona, & Elisha - Puddles
Windward Duo - Skirmish at Sea