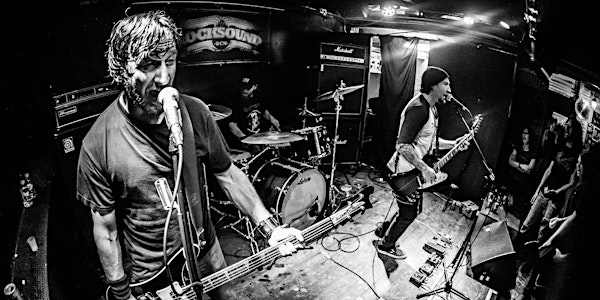 SASQUATCH with HIPPIE DEATH CULT, SONS OF KONG at the LYRIC ROOM
TOM JOHNSON PRODUCTIONS presents
Event Information
Location
Lyric Room
231 N Broadway
Green Bay , WI 54303
TOM JOHNSON PRODUCTIONS presents
About this event
TOM JOHNSON PRODUCTIONS presents
SASQUATCH with HIPPIE DEATH CULT, SONS OF KONG at the LYRIC ROOM on AUGUST 14TH!
Doors 7:30pm | Show 8:30pm
Tickets $13 ADV | $15 DOS - available to purchase at Keggers Bar, Exclusive Company - Green Bay, Rock n Roll Land, at the door or on Eventbrite
21+ event
ABOUT THE BANDS -
SASQUATCH - Sasquatch is a rock band from Los Angeles, CA. They tend to sip on influences from 70's metal, rock, and psychedelia. Their songwriting approach is clear-cut; keep the focus on the hook.
The band was born in Philadelphia in 2000 and moved to Los Angeles in 2001 after Keith Gibbs (guitar, vox) joined up with Detroit natives Rick Ferrante (drums) and Clayton Charles (bass). Upon Clayton's departure in 2007, the guys recruited Chicagoan Jason Casanova (ex-Behold! The Monolith, Tummler) to join the fold. We arrive at 2017 and Dr. Craig Riggs (Roadsaw, Kind, Antler) is now shellacking the kit when he's not brewing coffee or watching the Red Sox.
The band's music has been featured on a variety of movies, television shows, and video games including the reissue of Clerks, FX's original hit series Sons of Anarchy, A&E's Dog The Bounty Hunter, Jersey Girl, CW's The Supernatural, and MTV's Viva La Bam, Bam's Unholy Union, and Rob and Big, NHL 2005, American Chopper, and Monster Garage.
After shaking some walls with not one, but two, closely packed studio albums (the self-titled debut and "II") in 2004 and '06, the power trio went subterranean until 2010 before resurfacing with a new lineup and propulsive third opus, "III", followed up by the straight-ahead rocker, "IV", in 2013.
The band's latest album, Maneuvers, was released in June 2017 and features the work of Riggs, behind the kit. This is the band's most concise work to-date. Extended jams were stripped down to meat and potatoes. Short and sweet is the path looking forward. Andrew Schneider (NYC) also returned behind the boards this round. You may recognize the name as he also provided the mixes on "II". What fans hear is arguably the gents most mature and inspired song-set released, chunked with both heartwarmingly familiar moments – but all of it heavy on the heavy, as they say…always. Unprecedented attention was also devoted to spinning new yarns out of those evergreen rock and roll stories about love lost, hate found, relationships built and lives trashed, homes wrecked, etc.
HIPPIE DEATH CULT - Hippie Death Cult have been described as "a journey through shameless and triumphant artistic expression, exploration and discovery" in the realms of psychedelia and riff-heavy rock n' roll. During their formative years the band has transitioned from a 4 piece to a more consonant power trio consisting of guitarist Eddie Brnabic, vocalist/bassist Laura Phillips and drummer Ryan Moore. In 2019 they signed to Cursed Tongue Records for the release of "111" then in 2021 signed to Heavy Psych Sounds Records to release "Circle of Days" and Doom Sessions Vol.5, a split release with label mates High Reeper. Both full-length albums received international critical acclaim while debuting at #1 on the Doom Charts. The band is also known for their high energy and passionate stage performances, having headlined numerous sold out shows in their hometown of Portland, Oregon, in addition to touring throughout the west coast and south western United States. They are currently in production for their 3rd studio album and are set to announce extensive tours for both the United States, Canada and Europe starting in late summer 2022.
SONS OF KONG - Rock n Roll group from Green Bay, WI
Date and time
Location
Lyric Room
231 N Broadway
Green Bay , WI 54303
Refund policy