Location
Contemporary Craft
5645 Butler Street
Pittsburgh, PA 15201
Refund policy
Contact the organizer to request a refund.
Eventbrite's fee is nonrefundable.
Explore the technique, tools, and mindset of Sashiko, a traditional Japanese process of hand-stitching.
About this event
1-Day Workshop
Date: Saturday, August 14, 2021
Time: 10am-5pm
Description: In this Sashiko Stitching workshop, you will learn how to use the unique round shape thimble and a long Sashiko needle by stitching the traditional Asano-ha (Hemp) pattern. The instructor, Atsushi, will demonstrate, explain, and teach you how to enjoy Sashiko stitching.
This is a basic Sashiko workshop, yet eye-opening, and will allow you to enjoy the process of Sashiko stitching more. The technique you will learn can be used in other projects such as Boro making and mending with Sashiko fabric.
No previous stitching or embroidery experience is required to take this class. The provided kit has large enough fabric and material to make a tote bag, placemats, or several coasters after completing the Sashiko stitching.
Learn more about Atsushi and his journey with Sashiko by attending his lecture on Friday, August 13th from 6:30 - 7:30PM. Sign ups are free for workshop attendees!
Tuition: $115 + $67 materials fee
Materials: Materials kit will be provided. It includes the following:
1 skein of Sashiko thread
1 Sashiko thimble
3 Sashiko needles
1 piece of dark indigo color fabric with Asano-ha pattern printed
Cotton fabric for lining and/or experience in stitching / Dark Blue Color
1 piece of fusible interfacing
2 swatches of small dark indigo fabric
1 sheet of thread bobbin paper
1 finger cot & 1 threader
1 chalk pencil
1 surprise item!
Location: Contemporary Craft (5645 Butler St., Pittsburgh, PA 15201)
COVID-19: In accordance with current CDC guidance - we are recommending all visitors wear a mask. Please note that the recommendation applies to teaching artists, resident artists, students and guests attending events taking place at CC.
Cancellations and Refunds: Workshop cancellations are decided three business days before the start date. If workshops must be cancelled due to insufficient enrollment, the entire class fee will be refunded by check, to your credit card, or Contemporary Craft account for future workshops.
Refund Policy: Student refund requests must be made at least three business days before a class begins. There will be a $25 cancellation fee. No refunds will be given without three-business days notice. Processing of refunds takes approximately three weeks.
If you require accessibility accommodations, please let us know by calling 412.261.7003 and we are happy to assist you.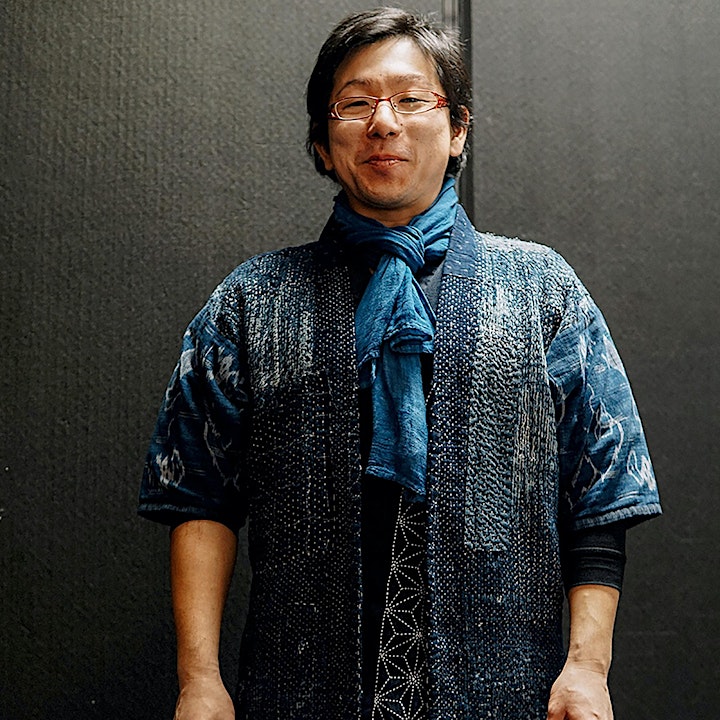 Atsushi Futatsuya - Sashiko Artisan and Curator of Sashiko Story
Born into a Sashiko family in Japan's Gifu prefecture, Atsushi Futatsuya grew up surrounded by Sashiko artisans. He currently resides in central Pennsylvania, where he runs his company Upcycle Stitches LLC. He also works as a partner in his mother's business, Sashi.Co & Keiko Futatsuya, which produces handmade garments and Sashiko fabrics in Japan. He hosts workshops, sells supplies and materials, and shares the Sashiko techniques and skills he has learned throughout his life. Futatsuya's mission is to share what Sashiko is with the world.