Description
POWER OF THE PAST, FORCE OF THE FUTURE

Sponsored by Shell & GE
The Society of Asian Scientists and Engineers, Houston Professional chapter will be hosting the 1st
annual Southwest Regional Conference.
Professionals representing various industries and employee resource groups from Dallas/Greater
Houston area will gather for a day of professional development with the theme of Power of the Past,
Force of the Future focusing on success across generations.
We invite you to join our STEM leadership development workshops and panels!

Tickets will be $40 dollars at the door, CASH only!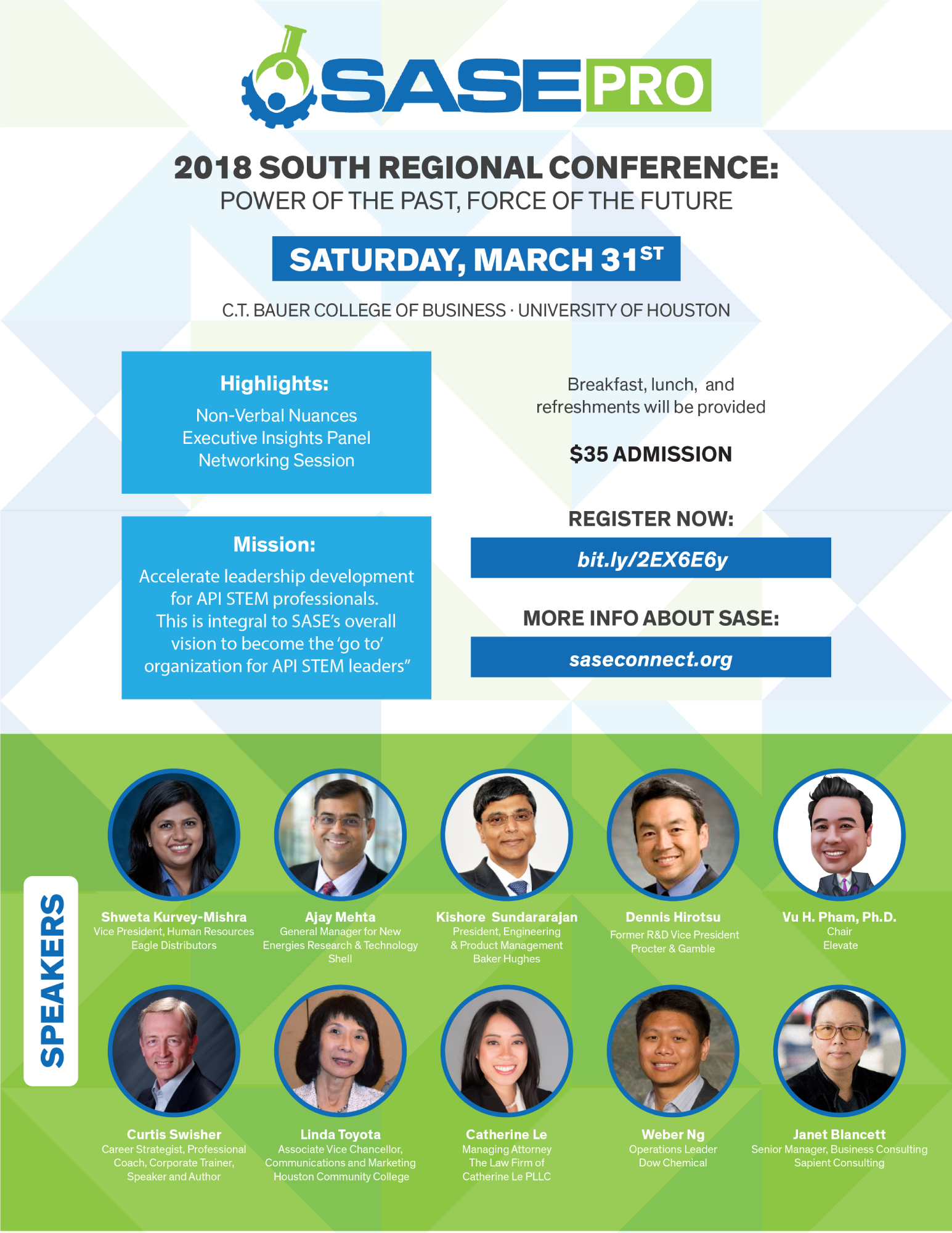 Keynote Speaker:
Dennis Hirotsu, Former R&D Vice President, Proctor & Gamble

Panel #1: Career Advice/Asian American in workplace/ How Are You Making an Impact on the Future:

Cathrine Le, Managing Attorney, The Law Firm of Catherine Le PLLC
Linda Toyota, Associate Vice Chancellor, Communications and Marketing, Houston Community College
Weber Ng, Operations Leader, Dow Chemical

Change Your Talk, Change Your Mind, Change Your Life seminar:
Curtis Swisher, Career Strategist, Professional Coach, Corporate Trainer, Speaker, and Author
Non-Verbal Nuances: Influence without Words:

Vu Pham Ph.D., Chair, Elevate (A Partnership of UC San Diego, UC Riverside, Cal State Fullerton & Spectrum Knowledge)

Panel #2: Leading in the past, Leading in the Future:

Kishore Sundararajan, President, Engineering & Product Management at Baker Hughes, a GE Company
Shweta Kurvey-Mishra, VP Human Resources at Eagle Distributors
Ajay Mehta, General Manager for New Energies Research & Technology at Shell

Closing Remarks:
Kishore Sundararajan, President, Engineering & Product Management at Baker Hughes, a GE Company


---
Tentative Schedule:
8:00 AM Attendees arrive
8:15 AM Breakfast
9:00 AM Opening Remarks
9:45 AM Panel
10:45 AM Second workshop
11:45 AM Lunch/Networking
12:45 PM Third workshop
2:00 PM Break
2:15 PM Keynote/Panel
3:30 PM Input session/Team building
4:15 PM Closing remarks/NC marketing
4:30 PM Raffle
5 PM Networking