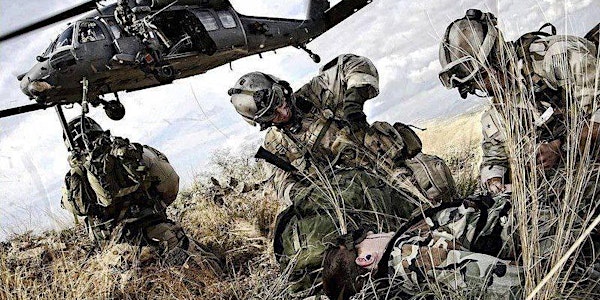 SARX Mission Ready
Do you have what it takes to complete a mission under special operation parameters?
When and where
Location
Plantation Central Park 9151 Northwest 2nd Street Plantation, FL 33324
Refund Policy
Contact the organizer to request a refund.
Eventbrite's fee is nonrefundable.
About this event
Conducted by veterans of Special Operations Forces from the United States Military, participate in a 36HR overnight operation. Do you have what it takes? Endurance, fortitude, resilience, and grit required to complete the Mission with Honor?
SOC Veterans supporting Military Veteran disabled community. All proceeds benefit Adaptive SCUBA Programs serving those who have served.
Get insight from and brain-storm with members of SOF Groups: Army Special Forces, Navy SEALs, Marine Force Reconnaissance, Air Force PJ & CCT & SERE.
MISSION BBQ HONOR MEAL AT END OF EVENT
SARX (Search & Rescue Field Training Exercise):
36HR Event (12NOV2021-13NOV2021 / 0600 hrs - 1800 hrs)
BROWARD COUNTY, FL
Meet-Up: Plantation Central Park 9151 NW 2nd Street, Plantation, FL 33324
Search & Rescue Field Training Exercise:
Introducing the Most Intense Medic Program on the Planet! Ideal for Pre-SOF (Special Operation Forces) Selection. Developed by a Team of Operators.
This operation involves self-drive, personal integrity, and attention to detail to the specific exercise techniques and equipment preparation while working in a cohesive TEAM to successfully complete the mission.
ITINERARY: (CADRE DIRECTED)
Dynamic Warm-Up!
PAST (Physical Agility Stamina Test)
*5K RUN
*20 PULLUPS - 80 SITUPS - 80 PUSHUPS - 75 FLUTTERKICKS
*1500M SWIM w/FINS & SWIM VEST
TEAM SALT & SAND SMOKE SESSION
(Buddy SCUBA - Buddy Rescue - Team Logs - Team Movement)
TASK FORCE SAR2021
(OPORD - WARNO - FRAGO)
*INSERT / INFILTRATE
(BAMCIS - OCOKA - CRRC Boat Crews)
*MISSION AMPHIBIOUS ASSAULT
(SMEAC - Orienteer Sand Table)
*FTX (Field Training Exercise) Timed Event
*SURVIVAL Scenario
(Shelter-Fire-Water-Food-Signals)
*WOUNDED WARRIORS
(Combat Medical Management)
*RESCUE Scenario
(VSD 9-Line MEDEVAC Request)
*EXTRACT / EXFILTRATE
(SPIE - SCUBA - CRRC - MEDEVAC)
*Chaos - Confusion - Compromise - Complete Objectives
*ALL IT TAKES - IS ALL YOU'VE GOT! - Mission Complete DeBrief
TEAM NIGHT SWIM w/FINS 1500M (SWIM VEST w/Cylumes)
Tactical Athlete Team 5K BEACH RUCK RUN to Complete FTX
Static Stretch Cool-Down!
________________________________________________________________________________________________
Register Your Attendance:
*MUST Pre-Register SARX
*SARX ($175.00pp Pre-Reg by 23OCT2021)
*SARX ($275.00pp Subsequent Registration)
*Participants will receive SARX T-shirt
1) Join Event & Prep Essentials
2) Complete EFR eLearning (20hrs Curriculum)
3) Be Prompt & Be Moto (PT-Black/Black)
Physical Training Running Uniform
(Black Shirt / Black Shorts)
Hydration & Nutrition:
1) Fuel Your Body by eating and drinking properly daily throughout the week.
2) Fuel Your Body during the day prior to excessive rigorous physical training.
3) Fuel Your Body RELOAD by eating and drinking protein and essential vitamins and minerals.
Participants Equipment List:
1) Fitness Log: Notebook & Pen/Pencil for today's event.
2) Training Gear: Black Shirt, Compression Shorts, Tactical Trousers, Socks, Sneakers, Water, Towel, change of dry clothes & RELOAD Food.
3) Running Essentials: Black Shirt, Shorts, Socks, Sneakers.
4) Swimming Essentials: Mask, Snorkel, Fins, Booties (Provided/Issued Onsite).
5) All Essentials Packed in Ruck/Backpack (Provided/Issued Onsite).
6) Gallon of WATER & FOOD to eat during & after training.
7) Water-Proof Essential Equipment.
*Equipment Supply Issue Available:
M16-VEST-FINS-MASK-RUCK-CYLUM-SCUBA-GASMASK