Description
Saratoga County Economic Index Presented by the Adirondack Trust Company
You are cordially invited to the Saratoga County Economic Index hosted by the Saratoga County Prosperity Partnership, the official economic development corporation representing Saratoga County, New York.

The luncheon will feature the Saratoga County Cultural index - the economic impact of arts and cultural institutions in Saratoga County, New York and its connection with economic development. The presentation will be followed by a panel discussion with Elizabeth Sobol, president of SPAC, Teddy Foster campaign director for Universal Preservation Hall, Maureen Sager, project director for the Upstate Alliance for the creative economy, and Joel Reed, executive director of the Saratoga Arts Council.
WHEN: Wednesday, June 13 2018. Registration starts at 11:30 a.m. Lunch and presentation at noon.

WHERE: Excelsior Springs Event Center 47 Excelsior Ave, Saratoga Springs

REGISTRATION: $30 per person. Register here or call Michele Battle or Shelby Schneider at 518-871-1887 or email michele.battle@saratogapartnership.org.
Special thanks to Presenting Sponsor, Adirondack Trust Company, and Silver Sponsor Whiteman Osterman & Hanna and Bronze Sponsor, CT Male Associates for their support.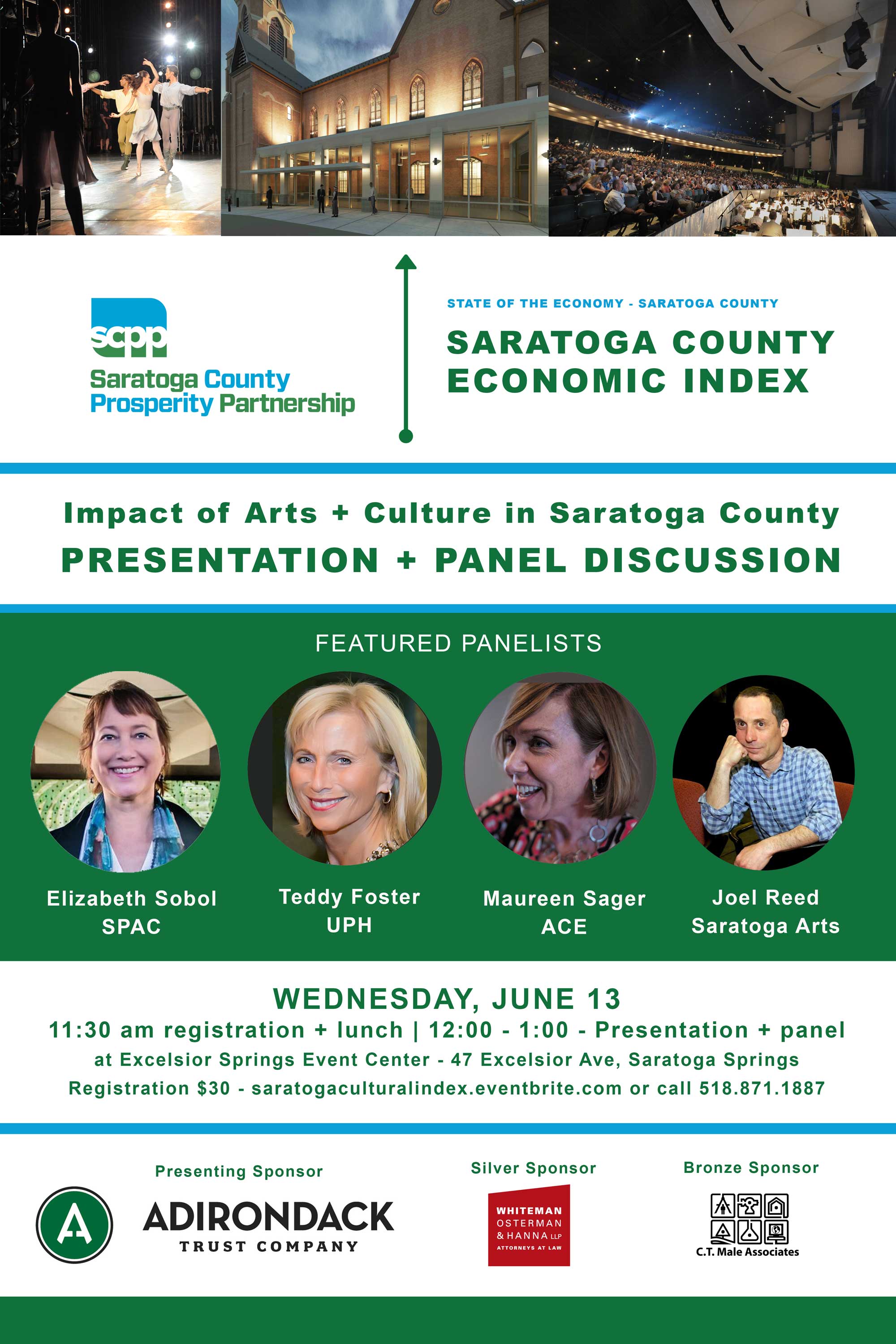 Organizer of Saratoga County Arts and Cultural Index - June 13, 2018
The Saratoga County Prosperity Partnership is Saratoga County's designated Economic Development organization leading the public and private sectors to achieve economic success for our businesses and residents.
The Saratoga Partnership is the first point of contact for business retention, expansion, and attraction. We provide a seamless delivery of economic development and workforce development assistance for businesses seeking to expand in Saratoga County, New York.