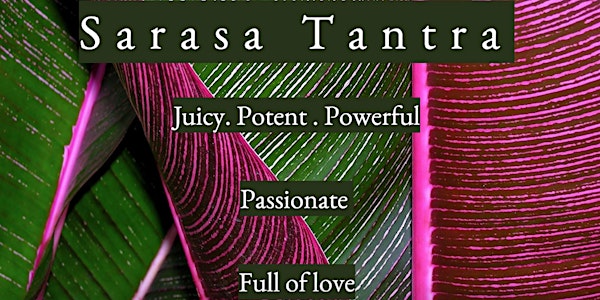 Sarasa Tantra: NeoTantra Teacher Training - Module 1
When and where
Location
Zoom Online Oakland, CA 94619
Refund Policy
Contact the organizer to request a refund.
Description
I'm excited to offer my Sarasa Tantra: NeoTantra Teacher Training ONLINE this year so more of you can participate no matter where you are on the globe! I am offering an ONLINE SPECIAL for Module 1 as I know many people are stretched at this time. You will need to complete Module 2 in-person to graduate and I will confirm the dates for us once it is safe to do so. If you join me for this 5 day training and are able to pay the full amount you will also be able attend in person the next time I offer it at no extra cost.

Option 1: Online special only $450
Option 2: Regular ticket price ~ Early Bird ticket starting at $1,125 with the option to attend my next in-person Module 1 for free!

BONUS: If you are able to pay the regular ticket price for the teacher training I am also happy to offer you free tickets to any of my online workshops while we are sheltering-in-place

NeoTantra has been life-changing for me and I love sharing the gems it has to offer with all of you. I am grateful to be training teachers that can go out and touch lives and hearts around the world.
Sarasa Tantra: NeoTantra Teacher Training
with Caroline Carrington
Do you want to become a NeoTantra teacher?
Do you desire to run successful workshops that transform people's lives?
Sarasa Tantra empowers you with practical skills to create workshops that help heal the world!
Sarasa is a Sanskrit word meaning:
Juicy
New
Potent
Powerful
Passionate
Full of love
Immerse yourself in the ecstatic practices that NeoTantra has to offer.
Open your heart to exquisite energy fields as you expand into bliss!
Discover the keys to unlock the gates of your heart as you deepen your personal spiritual path.
Caroline Carrington is an international NeoTantra workshop and retreat expert teaching you the skills to create transformative classes. This interactive and experiential training will deepen your skills and give you tools to confidently lead groups of your own. Sarasa Tantra shares the missing links not offered in other trainings, to support you in your success and draws on multiple NeoTantric lineages offering you a unique and diverse perspective to empower you to become an effective NeoTantra teacher.
This workshop is perfect for people who:
Want to learn to teach NeoTantra

Are on a path to offer hands-on sexual healing

Workshop leaders who want to expand their skills and offerings to include NeoTantric elements

Offer NeoTantra and/or erotic workshops but feel overwhelmed without the essential foundation skills to truly support their student's needs

Want to deepen their experience and practice of NeoTantra
NeoTantra is about more than deep eye gazing and better sex. Learn the truth behind these ancient practices. Sharpen your energetic skill set to truly ignite a room with simple yet effective techniques. Cultivate deep presence to allow each of your students to be exquisitely held.
Sarasa Tantra teaches:
Sex magic and the power of intention setting

Over 1000 tantalizing touch techniques

Dynamic breathwork

NeoTantra massage and pleasure mapping

Sacred alchemy of mantras

Essential self-care practices to keep you thriving and prevent burnout

How to create powerful rituals to support profound transformation

In-depth study of the chakra system from a classical Tantric perspective

How to be potently present with your participants

Managing group dynamics to ensure your students are seen and held while staying focused on workshop content

How to build solid energetic containers to create a safe space for your participants to explore

Releasing shame and guilt so you can support others through their own sexual shadows

Impeccable boundaries and energetic hygiene to ensure long-term success as a teacher

Powerful energetic practices to clear and expand your own energy potential

Marketing strategies that really work
Unique features of this training:
Personalized individual feedback

Ongoing coaching as you learn to embody your facilitation skills

Small group supervision

Private coaching with Caroline to support you even after the workshop

Troubleshooting of common group facilitation challenges

Comprehensive NeoTantra Teacher Training Manual
Recharge yourself with these life-affirming practices. Turn on your own life through exquisite touch, ecstatic breath work and energetic embodiment practices. You will leave the workshop excited and empowered to lead your own workshops.
WHEN: June 5 - 9th (Module 1) & July 3rd - 7th, 2020 (Module 2)
TICKETS PER MODULE:
$1,225.00 - Early Bird Super Saver (to be paid in full upon registration to qualify)
$1,350.00 - Irresistible Individual ($450 deposit only, balance due April 5th)
$1,399.00 - Lucky Last Minute ($450 deposit only, balance due April 5th)
*** This workshop is conveniently located in the Oakland Hills and is non-residential***
Space is limited to sign up today to join us for this life-changing experience!
PLEASE NOTE: Sarasa Tantra Modules 1 & 2 are prerequisites for the Caroline Carrington Mentorship program that will be offered in the future for those wanting to offer one-on-one sessions
This experience is LGBTQ-friendly and celebrates people of all genders.
Singles, couples, and groups are welcome.
TESTIMONIALS:
"I was blown away, after opening up my heart and mind to NeoTantra over 20 years ago, that these beautiful goddesses helped reignite the NeoTantra flame in me again, helping me polish my future works and splitting my heart open. Thanks for the safe container so I could crack open and heal a bit more."
~ Mari Exline Freitas, San Mateo, CA
"Caroline's Sarasa Tantra: NeoTantra Teacher Training taught me so much about how to teach NeoTantra to beginners. They really took us behind the scenes to show us how to break down these powerful techniques so that newcomers can begin their own NeoTantra journey. There was plenty of time to practice the teacher role and get specific and actionable feedback. As always, Caroline is infectious in her enthusiasm for NeoTantra and a joy to have as a teacher. I know that both my partner's and my personal NeoTantra practice and offerings to our community will be deeply enriched because of the learnings we have received."
~ Kathy H, Livermore
"What a transformative experience learning to teach can be with the right teachers! Caroline exquisitely held the group for 5 days in a container of joy, pleasure, integrity, knowledge, hands-on teaching experience and incredible feedback and care. My most profound learning was to continuously ground, when I am not grounded I can't resource myself to my full capacity and my students can't ground either. More grounding = bigger experiences. Can't wait to take this out into the world!"
~ Ali Whitley, Berkeley, CA

"I had a lot of concern about training to become a NeoTantric teacher as a non-Indian person. Caroline put such exquisite focus on classical Tantra, I felt like there was a deep honoring which I will be able to carry into my own practice. I am so grateful for the combination of classical Tantra and NeoTantra teaching and felt that it is so important to honor the original teachings that have been transformed into something different in the West"
~ Alisa, Oakland, CA
"Caroline's Sarasa Tantra: NeoTantra Teacher Training gave me a wonderful, safe, and nourishing container to learn how to teach beautiful NeoTantric rituals and practices. I love how they taught us and then we got to break into smaller groups and teach each other, learning again from our peers. This helped to imprint the teachings and helped me feel more confident in my own teaching ability. I also had a blast - a very joyous, life-affirming experience where our shadows were also welcomed. So. much. love! I really appreciate that the training was inclusive to the wider gender spectrum and expression that humanity actually is and as well as the material being inclusive to the Queer community as well."
~ Aiden Douglass, San Francisco, CA
"This was the best, most supportive experience I've ever had for becoming a teacher of anything. I am leaving Module 1 feeling confident and prepared to lead beginner NeoTantra events and classes"
FACILITATOR:
Caroline Carrington is an internationally acclaimed NeoTantra Expert and Conscious Relationship & Intimacy Coach empowering people to step into the fullest expression of themselves. She has spent years studying the art of relationships and energy play in various forms including Tantra and Bhakti Yoga, the yoga of devotion. Her most influential teachers include Deva Premal & Miten, Jai Uttal, Dr Lorin Roche, Margot Anand, Barbara Carrellas, Charles Muir & Leah Alchin and Pedro Franco. She is passionate about walking Tantra out of the bedroom and into the world. For more information check out www.JewelintheLotusCoaching.com
CANCELLATION POLICY:
Early bird tickets include $450 deposit and are non-refundable. $450 deposit is non-refundable. After April 5th 2020 all monies paid are non-refundable but your place at the retreat can be transferred to a new student that you introduce to us.