Sarah Sze: In Conversation with Hal Foster and Carlos Basualdo

Thursday, April 3, 2014 from 6:30 PM to 8:30 PM (EDT)
Event Details
Opening Reception:
Sarah Sze in conversation with Hal Foster, and Carlos Basualdo
Catalogue Launch with Book Signing
Thursday, April 3rd, 2014 at 6:30 p.m.
Artist-in-residence Sarah Sze will speak about her work in conversation with Townsend Martin Professor of Art and Archaeology at Princeton University Hal Foster, and Keith L. and Katherine Sachs Curator of Contemporary Art, Philadelphia Museum of Art, Carlos Basualdo, followed by a Q&A session.
After the lecture, Sarah Sze will sign copies of the book published on occasion of this exhibition.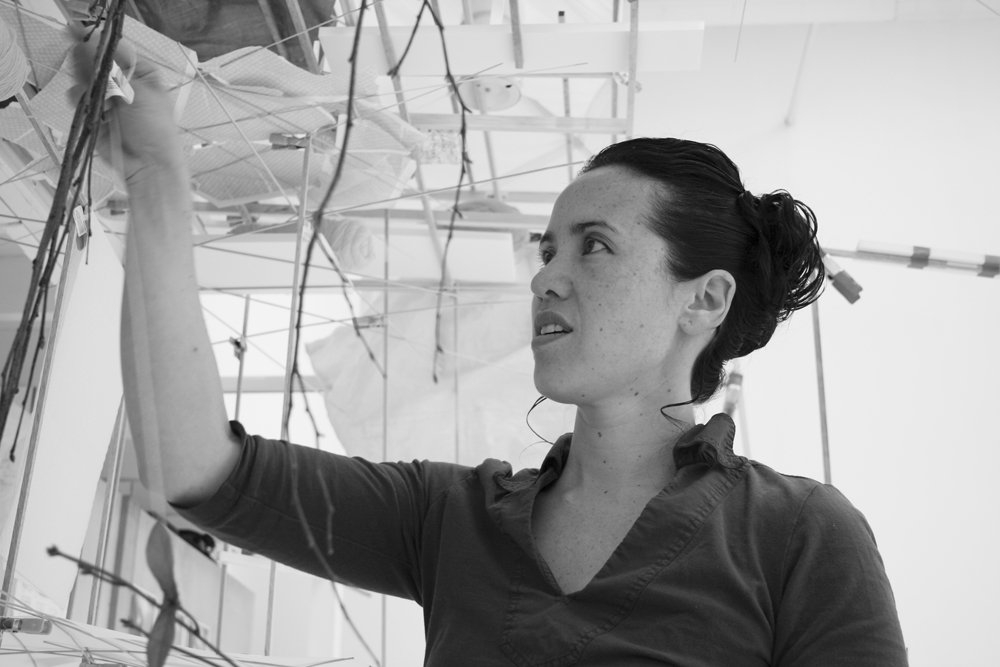 Portrait of Sarah Sze. Courtesy of the artist.
Bios
Sarah Sze received her BA from Yale University in 1991 and an MFA from the School of Visual Arts, New York, in 1997. Solo presentations of her works have been staged at White Columns, New York (1997); the Institute of Contemporary Art, London (1998); the Museum of Contemporary Art, Chicago (1999); the Center for Curatorial Studies, Bard College (2001); the Walker Art Center, Minneapolis (2002); the Whitney Museum of American Art (2003); and the Baltic Centre for Contemporary Art, Newcastle, UK (2009). In 2013, she represented the United States in the 55th International Venice Biennale with her exhibition, Sarah Sze: Triple Point. Her work has also been included in group exhibitions at MoMA PS1 (1998); Manifesta 2 (1998); the 1999 Carnegie International; the 48th International Venice Biennale (1999); the Museum of Modern Art, New York (2005); The Fabric Workshop and Museum, Philadelphia (2005); the 5th Liverpool Biennial (2008); the 10th Biennale de Lyon (2009); and the Solomon R. Guggenheim Museum, New York (2010). Her numerous accolades include the 1997 Rema Hort Mann Foundation Award; the Louis Comfort Tiffany Award in 1999; a John D. and Catherine T. MacArthur Foundation Fellowship in 2003; 2005 Radcliffe Institute Fellowship; the 2012 American Federation of the Arts Cultural Leadership Award; and a 2012 AICA Award for Best Public Project in a Public Space for her installation Sarah Sze, Still Life with Landscape at (Model for a Habitat) at The High Line in New York. Her art is held in the permanent collections of major museums around the world, and she is represented by Tanya Bonakdar Gallery in New York and Victoria Miro Gallery in London.
Hal Foster, Townsend Martin Class of 1917 Professor of Art and Archaeology, came to Princeton in 1997. He teaches lecture and seminar courses in modernist and contemporary art and theory; he also directs the graduate proseminar in methodology. In addition, Foster is a faculty member of the School of Architecture and an associate member of the Department of German; he also works with the programs of Media and Modernity and European Cultural Studies. A member of the American Academy of Arts and Sciences, Foster continues to write regularly for October (which he co-edits), Artforum, and The London Review of Books. Excerpt from: http://www.princeton.edu/artandarchaeology/faculty/hfoster/
Carlos Basualdo is the Keith L. and Katherine Sachs Curator of Contemporary Art at the Philadelphia Museum of Art and Curator at Large at MAXXI- Museo nazionale delle arti del XXI secolo in Rome, Italy. At the Philadelphia Museum of Art, he currently oversees the Museum's modern and contemporary collection while also developing temporary exhibitions. In 2006, he initiated two exhibition series at the Museum called Notations  and Live Cinema, both of which are devoted to the permanent collection and video. He was the lead organizer of Bruce Nauman: Topological Gardens that represented the United States at the 2007 Venice Biennale, where it was awarded the Golden Lion for Best National Participation. In 2010 he organized a survey exhibition of the work of the Italian artist Michelangelo Pistoletto, a collaboration between the Philadelphia Museum of Art and MAXXI, where it traveled in the spring of 2011. He recently worked on Dancing Around the Bride: Cage, Cunningham, Johns, Rauschenberg and Duchamp, which opened in Philadelphia in October of 2012 and will traveled to the Barbican Gallery in the Winter of 2013. He was part of the curatorial teams for Documenta11, the 50th Venice Biennale and conceived and curated Tropicalia: A Revolution in Brazilian Culture which traveled from the MCA Chicago to the Barbican Gallery in London (2004/2005), as well as the Bronx Museum in New York and the Museu de Arte Moderna in Rio de Janeiro (2006/2007). Basualdo has written extensively for scholarly journals and art publications, including Artforum, ArtNews, The Art Journal, The Art Newspaper, Moscow Art Magazine, Flash Art, NKA, Journal of Contemporary African Art, Atlantica, and Art Nexis.
When & Where

The Fabric Workshop and Museum
1214 Arch Street
Philadelphia, PA 19107


Thursday, April 3, 2014 from 6:30 PM to 8:30 PM (EDT)
Add to my calendar
Organizer
The Fabric Workshop and Museum is an unique contemporary art museum and collaborative art studio with a visionary purpose: to stimulate experimentation among leading contemporary artists and to share the collaborative creative process with the public. Providing studio facilities, equipment, and expert technicians, FWM invites artists to experiment with fabric as well as a wide range of innovative materials and media. From its founding in 1977, FWM also serves as an education center for Philadelphia's youth who, as printing apprentices, learn technical and vocational skills along with approaches to creative expression.
The FWM is distinguished as the only institution in the United States devoted to creating work in new materials and new media in collaboration with artists from diverse disciplines including sculpture, installation, video, performance, painting, ceramics, and architecture. Research, construction, and fabrication occur on-site in studios that are open to the public by appointment, providing visitors with the opportunity to see artwork from conception to completion. FWM seeks to bring this spirit of artistic investigation and discovery to the wider public and to local students in particular, to ensure and broaden their access to art, and to advance the role of art as a catalyst for innovation and social connection. FWM offers an unparalleled experience to artists, students, and the general public.