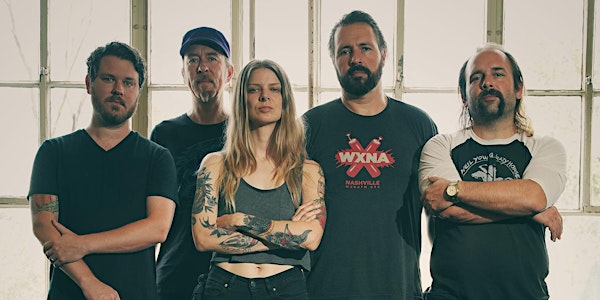 Sarah Shook & The Disarmers w/ Lillian
Performers
Sarah Shook & the Disarmers
Lillian
Location
Hi-Dive
7 South Broadway
Denver, CO 80209
Sarah Shook & The Disarmers w/ Lillian Sat, Apr 9, 2022 21+ Doors at 8 PM
About this event
SARAH SHOOK & THE DISARMERS
North Carolina's Sarah Shook sings with a conviction and hard honesty sorely lacking in much of today's Americana landscape. Always passionate, at times profane, Sarah stalks/walks the line between vulnerable and menacing, her voice strong and uneasy, country classic but with contemporary, earthy tension. You can hear in her voice what's she's seen; world weary, lessons learned—or not—but always defiant. She level-steady means what she says. Writing with a blunt urgency—so refreshing these days it's almost startling—Sarah's lyrics are in turn smart, funny, mean, and above all, uncompromising. The Disarmers hit all the sweet spots from Nashville's Lower Broad to Bakersfield and take Sarah's unflinching tales out for some late-night kicks. At times, it's as simple and muscular as Luther Perkins' boom-chicka-boom, or as downtown as Johnny Thunders. The Disarmers keep in the pocket, tight and tough.
LILLIAN
Lillian was born in Dallas, Texas. at a young age, she moved to the expansive desert of Arizona with a southern belle mother, a New Yorker pilot father, a wizard for a brother and a posse of Boston Terriers.
At six-years-old, Lillian learned how to play the piano and discovered her voice. Always on the move, she loved playing sports, but found that singing and playing music was her true passion. As a teenager, she decided to pick up a guitar. Lillian fell in love with the notion that music and song could follow her wherever she went.
This came in handy after college when she spent significant time on the open road, transitioning through a variety of westward cities and experiences along the way.
From flipping pizzas in Phoenix, to counseling addicted homeless youth in Portland; traveling the world as a nanny in LA, to now discovering Salesforce in Denver, Lillian has worn many hats and met some really incredible people. But the one constant has always been her music. It's the thread that weaves and draws the web of her life.
Music is freedom. It allows Lillian to flow through every discovery, down whichever open road she so chooses.