Sarah Gayle Meech plus FREIGHTSHAKERS at Don the Beachcomber w/Big Sandy emcee

Monday, March 28, 2016 from 7:30 PM to 11:30 PM (PDT)
Event Details
Ameripolitan Music honors the best of Rockabilly, Honky Tonk, Western Swing and Outlaw music.
On Monday, March 28, two of their Outlaw Award winners and a 2-time Rockabilly Award winner get together at the 2016 Ameripolitan-nominated Venue of the Year to bring it on home to you here in Orange County.
Sarah Gayle Meech is the 2015 Outlaw Female of the Year.
She is joined by 2015 Outlaw Group of the year, the Freightshakers.
And the MC is none other than Big Sandy, 2-time Rockabilly Award winner.
And Don the Beachcomber is one of 2016's nominees for Best Venue.
Here is some background:
Nashville based country artist, Sarah Gayle Meech is blazing a trail of her own, one that the founding fathers of country music would have been proud of. Having lived in Tennessee for only five years she successfully blends the city's nature, spirit and seasons into a beautifully unforgiving soundscape. 
After moving to Los Angeles for 10years she honed her writing skills and decided to put down roots in Nashville. Her first album, One Good Thing, (released August 2012) was well received by fans and critics. SavingCountryMusic.com said "One Good Thing is country through and through, piercing the breastplate of honky tonk with an adrenaline shot right to its heart."
Since that release she began regular touring and holds residencies at famed Robert's Western World and Layla's Bluegrass Inn. Her latest album Tennessee Love Song (available March 31) was produced by Meech and Andy Gibson (known for being Hank Williams III steel and dobro player), who also plays on the album.
Sarah Gayle explores themes of love, heartache, loss and loneliness, achieving a perfect balance that truly exemplifies her character. Meech says she drew inspiration from personal experiences, Southern Gothic literature, and "...all the crazy weather and beautiful landscapes in Tennessee." She comments on Tennessee Love Song, "I made it exactly how I wanted to. I had a vision, and was able to bring it to life. I wrote every song, coproduced it, and handpicked the players." She says that she was always intrigued by Tennessee's history and spiritual energy, with her musical influences being ". . . literally, all over the place! At the time I was listening to a lot of Glenn Campbell, Carole King, Don Williams, Faces, Merle Haggard, Neko Case, Johnny Lee, Dawes, Aretha Franklin, Tammy Wynette, Dwight Yoakam…too many to name. I love and am inspired by so many different artists."
As her popularity rises, so do her achievements. She had a song and performance featured on the 2015season on ABC's Nashville, frequent airplay on SiriusXM's Outlaw Country, songs featured on hit FX TV series Justified, recently won the 2015 Best Outlaw Female Ameripolitan Award, and played alongside Merle Haggard at the first annual Ink n Iron convention in Nashville this summer. Tennessee Love Song will release worldwide on March 31st, 2015.
Listen here: 
https://www.youtube.com/watch?v=iAnsM8L47bQ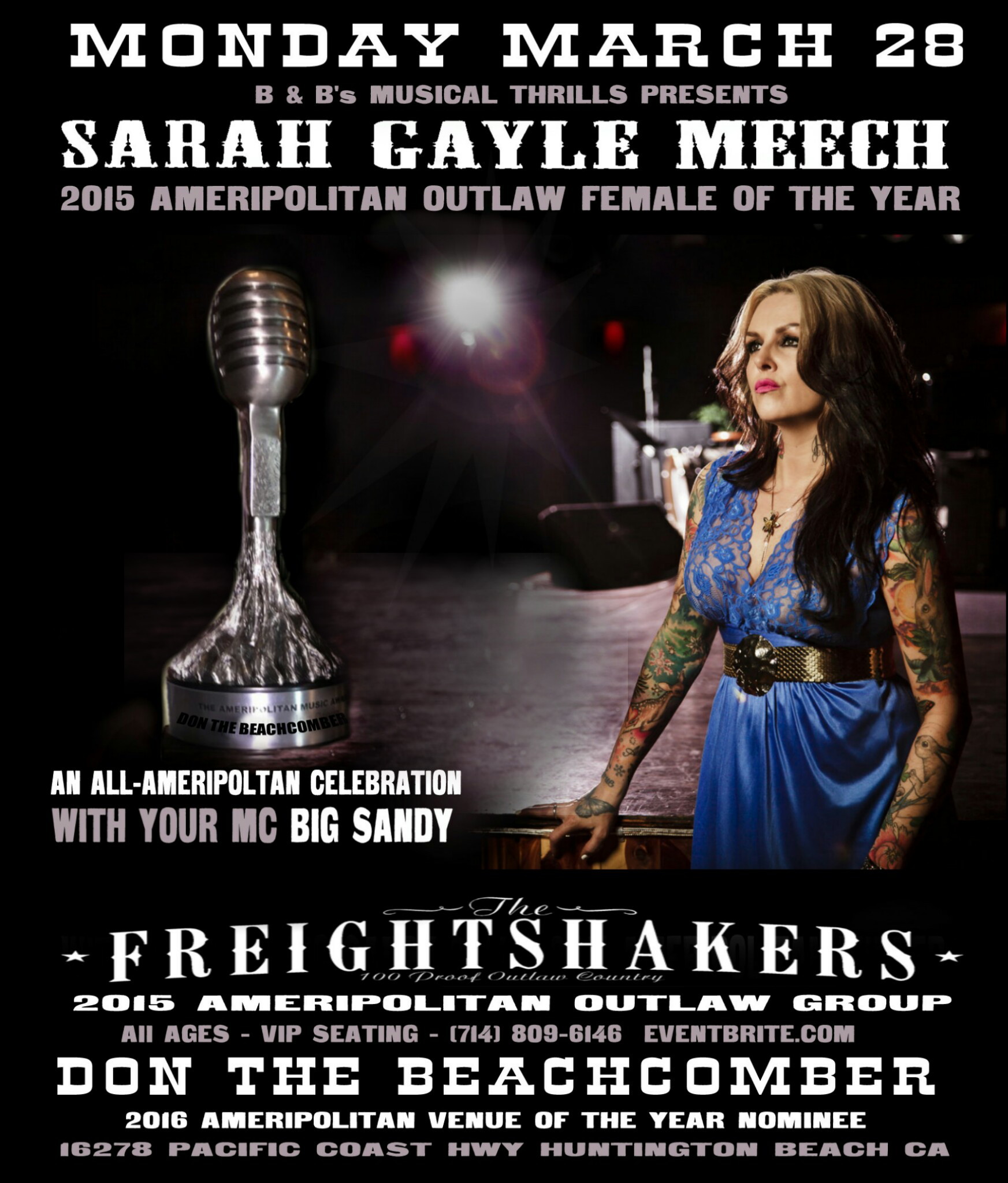 The Freightshakers won the 2015 AMERIPOLITAN MUSIC AWARDS Best Outlaw Band award.
What a great time to see two bands performing their own music and some classic covers!
Big Sandy was Ameripolitan 2014 and 2015 Rockabilly award winner, and he will be emceeing this show which takes place in the beautiful tiki ballroom at Don the Beachcomber!
All ages, dinner available, free parking.
Organizer
B&B's Musical Thrills
Text to 714-809-6146 for more info and a fast reply!
Sarah Gayle Meech plus FREIGHTSHAKERS at Don the Beachcomber w/Big Sandy emcee