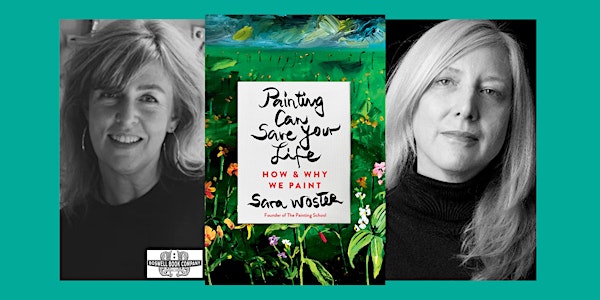 Sara Woster, author of PAINTING CAN SAVE YOUR LIFE - a Boswell event
Sara Woster, author of PAINTING CAN SAVE YOUR LIFE - an in-person Boswell event
When and where
Location
Boswell Book Company 2559 North Downer Avenue Milwaukee, WI 53211
About this event
Boswell presents an evening with Sara Woster, author of Painting Can Save Your Life: How and Why We Paint. In conversation with Mary Louise Schumacher.
Sara Woster is a painter, teacher, and art evangelist. She believes in art as a form of mindfulness, a ritual for healing, and an outlet for self-expression. In Painting Can Save Your Life, Woster welcomes readers into this transformative art form, inviting them to pick up a brush and discover how painting can help you see the world in a whole new way. Part how-to-paint, part sheer inspiration, Painting Can Save Your Life is a wise and inspiring guide to the power of painting.
Painter and art teacher Sara Woster founded The Painting School in an effort to share her passion for painting with her community. She illustrated several children's books, and her animations, multimedia, and collaborative performances have been shown at numerous art venues. She has been granted a Jerome Foundation Emerging Artist Fellowship, a Franconia Sculpture Park residency, and a Brooklyn Arts Council SU-CASA residency. Woster also has a creative writing degree from The New School and has contributed personal essays to several anthologies and has written two middle-grade books.
Click here to purchase your copy of Painting Can Save Your Life. Signed copies and personalization available on pre-orders. Please note that signed copies will not be shipped until after the event.