Description
4.5

Thursday

(Electronic)
Nectar & SolidSound present:
SaQi
Subaqueous
Willdabeast
$13adv
Nectar Lounge
412 N 36th St
BOOTH RESERVATIONS NOW AVAILABLE!
We are a majority standing-area venue with seating on our heated and covered patio as well as our newly remodeled mezzanine. All seating is first come first serve however, we do have eight booths available for reservations on our mezzanine. Booths 1-6 seat two to four people, booth 7 seats five and booth 8 seats six to eight.
All table reservations are now made at checkout.
Booth reservations are sold on a first come first serve basis.

Reserve multiple booths for larger parties and we will seat you together.

See "Additional Items" on the bottom of checkout page for available booths. If you do not see "Additional Items" unfortunately all booths are SOLD OUT.

We try our best to guarantee your reservation all night, though we ask you to arrive within 2 hours after doors open.

We no longer reserve high top tables behind booths but we encourage people to arrive early to claim available space.

We offer food service once doors officially open. See listing above for specific door time.
SaQi
The mad-musical scientist known as saQi is a classically trained composer, producer and trumpet player. Drawing his name from the Sufi title for a mystic muse, saQi creates deep and funky dance floor jams that rock the party yet still maintain a grace and musical sophistication to engage the listener. His sound is unique and eclectic, therefore it often escapes genre classifications and any current bandwagon caravans. Whatever it is, it has a way of making people get up and get down! The project takes on many manifestations from solo dj sets to full live-band shows under the moniker of "The saQi Ensemble". saQi has performed, collaborated and toured with a wide range of progressive artists including March Fourth Marching Band, Beats Antique, Emancipator, The Polish Ambassador, Bluetech, Russ Liquid, edIT, Rising Appalachia, David Block and The Everyone Orchestra. His music has taken saQi to Europe, Central America, Mexico, India, Canada and all across the 50 states. You can often find saQi performing at premier festivals such as Coachella, Lightning in a Bottle, Symbiosis, Envision (Costa Rica), Burning Man and beyond…..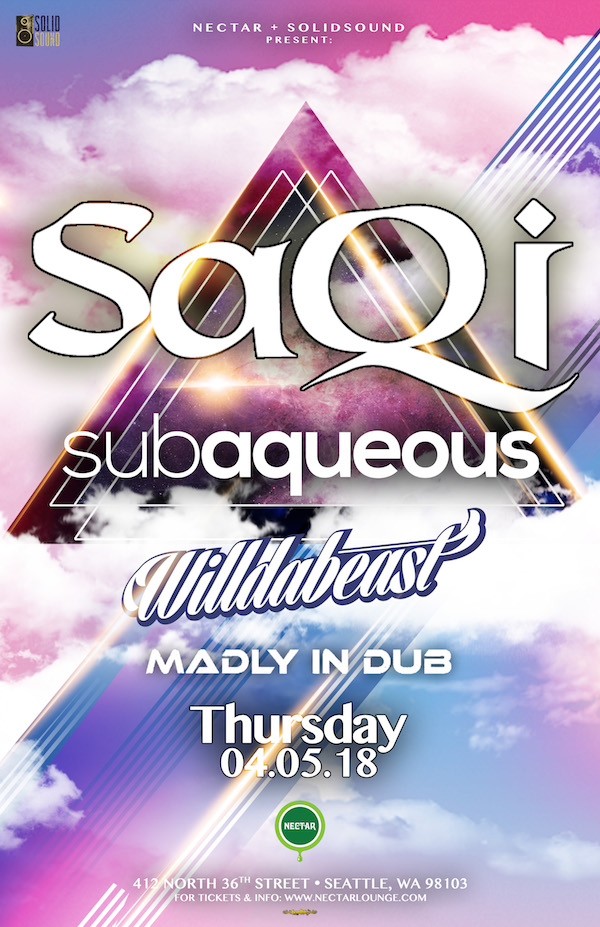 Performers
Date and Time
Location
Refund Policy