Multiple Dates
Sapphire Bikini Bar & Nightclub (FREE RIDE) - #1 Party in Las Vegas, NV
Sapphire Bikini Bar & Club: Get a free ride to the hottest adult nightclub open in Las Vegas right now. Get ready to re-join the party!
About this Event
Sapphire Las Vegas: Club Reopening!
If you're looking for one of the best club experiences in Las Vegas right now, it's Sapphire. The venue is the largest in town, with an open layout that feels like a big party.
The venue is currently operating at 25% capacity (due to current NV regulations) and selling out nightly. Reserve your spot today!
Want to learn more? Check out our complete guide to Sapphire Las Vegas: https://www.stripclubconcierge.com/sapphire-las-vegas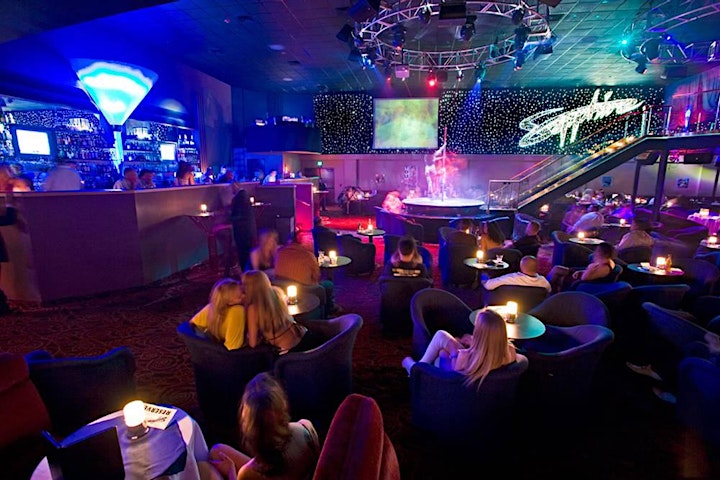 New VIP Packages
Reservations at Sapphire are by prepaid VIP Packages only, and we've got the best exclusive deals available right now with the venue. Reserve here on Eventbrite and receive a direct payment link from the venue for your chosen package.
Below are the best deals available right now. Select your chosen time and date for our free pickup and the package that best suits your group: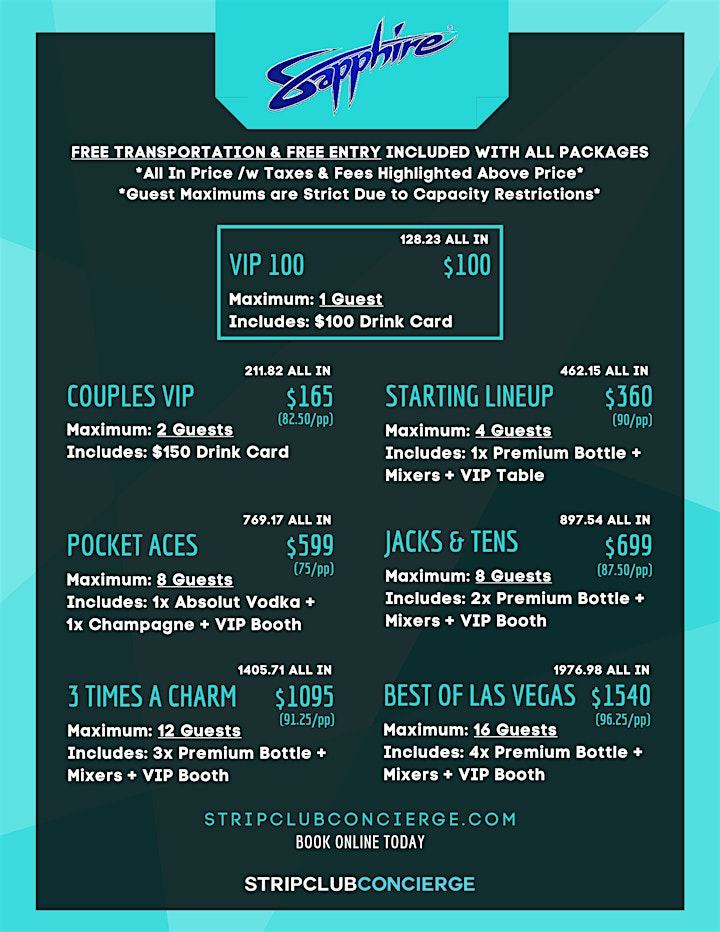 Inside Sapphire Las Vegas
Sapphire is currently the largest club in Vegas and considered the entertainment capitol of Nevada. Offering 5 different VIP Areas, Private Rooms and Skyboxes, you can get lost at Sapphire Las Vegas for the better.
Sapphire offers a fantastic spot for after parties, fight viewing parties, and sporting events in Las Vegas. There are over 40 jumbo televisions inside to stay tuned to the football game or the fight. Sapphire is perfect for your bachelor party, bachelorette party, birthday, or simple guys night out.
There are also over 100 dancers performing nightly, and over 400 dancers rotating on staff. You're bound to find something you like.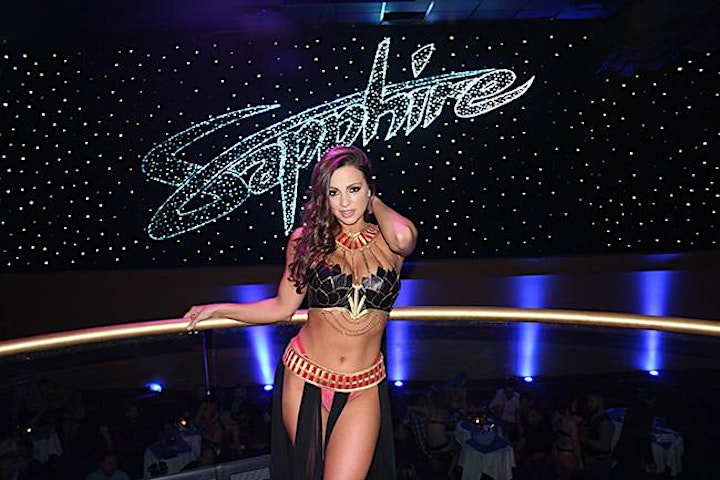 Bikini Bar, Nightclub & Lounge
In fact, the club prides itself on having the hottest girls. From the cashiers to the entertainers, you won't be disappointed. Not to mention with over 400 women on their roster, there's a woman to suit everyone's taste. But, Sapphire doesn't just stand out with their eye candy. Their customer service is first-rate too.
The venue has recently rebranded as a bikini bar & nightclub in the wake of the coronavirus pandemic, and will only be selling prepaid party packages for admission to the club. We have them broken down by guest count for your convenience.
Get a Free Ride with Any Package
The best part: All our packages come with complimentary transportation for your entire group.
Never take third-party transportation (i.e., cabs, party buses) to the club as you'll have to pay an extra cover charge at the door. As official Sapphire promoters, we're able to offer Free Transportation & Free VIP Entry with any of our prepaid party packages.
Sapphire Club Info
Hours: Open 24 hours a day, 365 days a year
Busiest Days: Fridays and Saturdays
Prime Time: 12 am & 4 am on weekends
Bottle Service: $$-$$$
Music: Hip Hop, Top 40, EDM
Girls: Gorgeous!
Special Events: Anniversary party, fight nights, Monday Night Football, and the Super Bowl
Must be 21+ years of age with valid government ID for admission.
Sapphire Dress Code
No Flip Flops, Sandals, or Open Toe Shoes
No Shorts of Any Kind
No Sweatshirts, Jerseys, or Baggy Clothing
No Tank Tops
"Business Casual" Preferred
Masks are required inside the venue at all times, per NV statewide law.