SAP Intelligent Enterprise – Augmented & Mixed Reality (AR/MR) Symposium
Description
Dear Valued Customer,
On November 7th at the SAP Palo Alto Campus, it is with great excitement we invite you to join us for the first ever SAP Intelligent Enterprise AR / MR (Augmented and Mixed Reality) Symposium.
SAP customers, SAP partners, startups and industry leaders will be sharing their insights, journeys and visions on the opportunities and challenges with AR / MR technology adoption in Enterprises.
This is an invitation only event - there is no cost for attending. Spaces are limited, so please reserve your seat for this symposium ASAP.

Value
Learn

about AR / MR trends

–

presentations and panel discussions

by

global

market

leading companies, startups, industry leaders and S

AP experts

Connect and network with other industry companies

on enterprise

AR / MR

as an emerging technology

Hear about what SAP developing

in ongoing

PoCs

Learn

what SAP is co-innovating with our ecosystem

Get

up-to-date with the most recent developments in AR / MR technology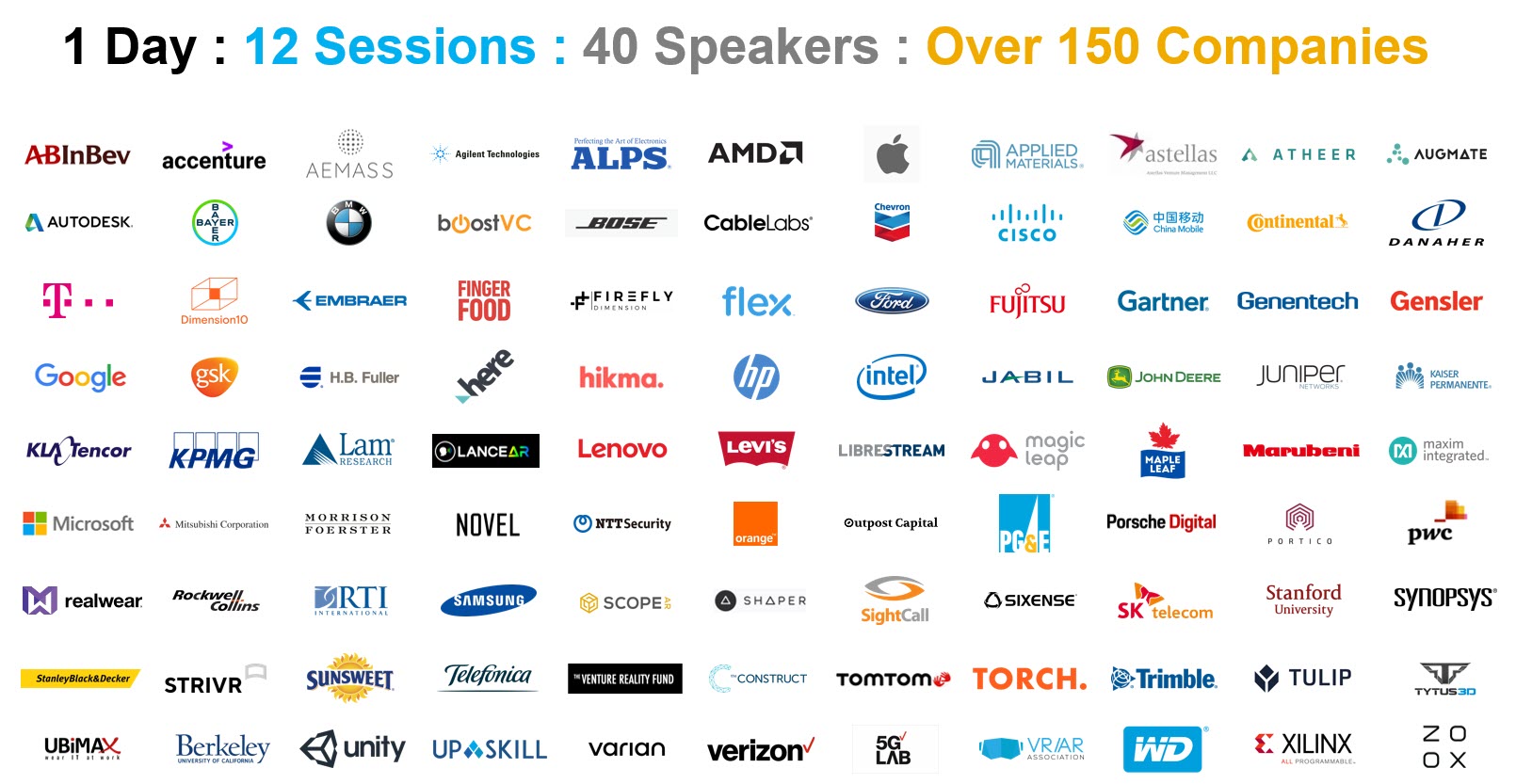 Agenda
08:15 : Registration & Networking Breakfast (light breakfast will be provided)
09:00 : Welcome Remarks
09:05 : Keynote: Is AR/MR Ready for Enterprise?
09:30 : XR in Design, Make and Use
09:55 : AR in Manufacturing - Augmenting Shop Floor Operators with AR based assembly instructions
10:15 : AR in Manufacturing – How Augmented Reality is Modernizing Manufacturing in Today's Enterprises
10:45 : Break : XR DEMOS @ COIL
10:55 : AR/MR Content Creation
11:25 : VC Perspective - XR and Future of Enterprise
11:50 : AR/MR in Logistics - Enhancing picking experience for warehouse pickers
12:20 : Lunch & Demo Booths : XR DEMOS @ COIL
13:20 : Field Services & Remote Expert Assistance
14:00 : Training – Improving Employee on-boarding, Hands-on Training using XR
14:30 : Industry – XR in Construction & Engineering Industry
15:00 : Break : XR DEMOS @ COIL
15:10 : Industry – XR Adoption across key Industries: AEC, Healthcare, Aerospace, Automotive, Agribusiness and CPG/Retail Industries
15:50 : XR & Retail
16:20 : 3D content enabling AR experience with Ford and SAP
16:45 : Closing Remarks
16:50 : XR DEMOS @ COIL & Networking
18:00 : End of Event

Please send questions to XR@sap.com
We look forward to seeing you there,
John McGee : SVP, Managing Director - West Region
Alex Eldemir : SVP, Head of Industry & Value Advisory
Gil Perez : SVP P&I, Head of Digital Customer Initiatives
Guest Speakers - More to Come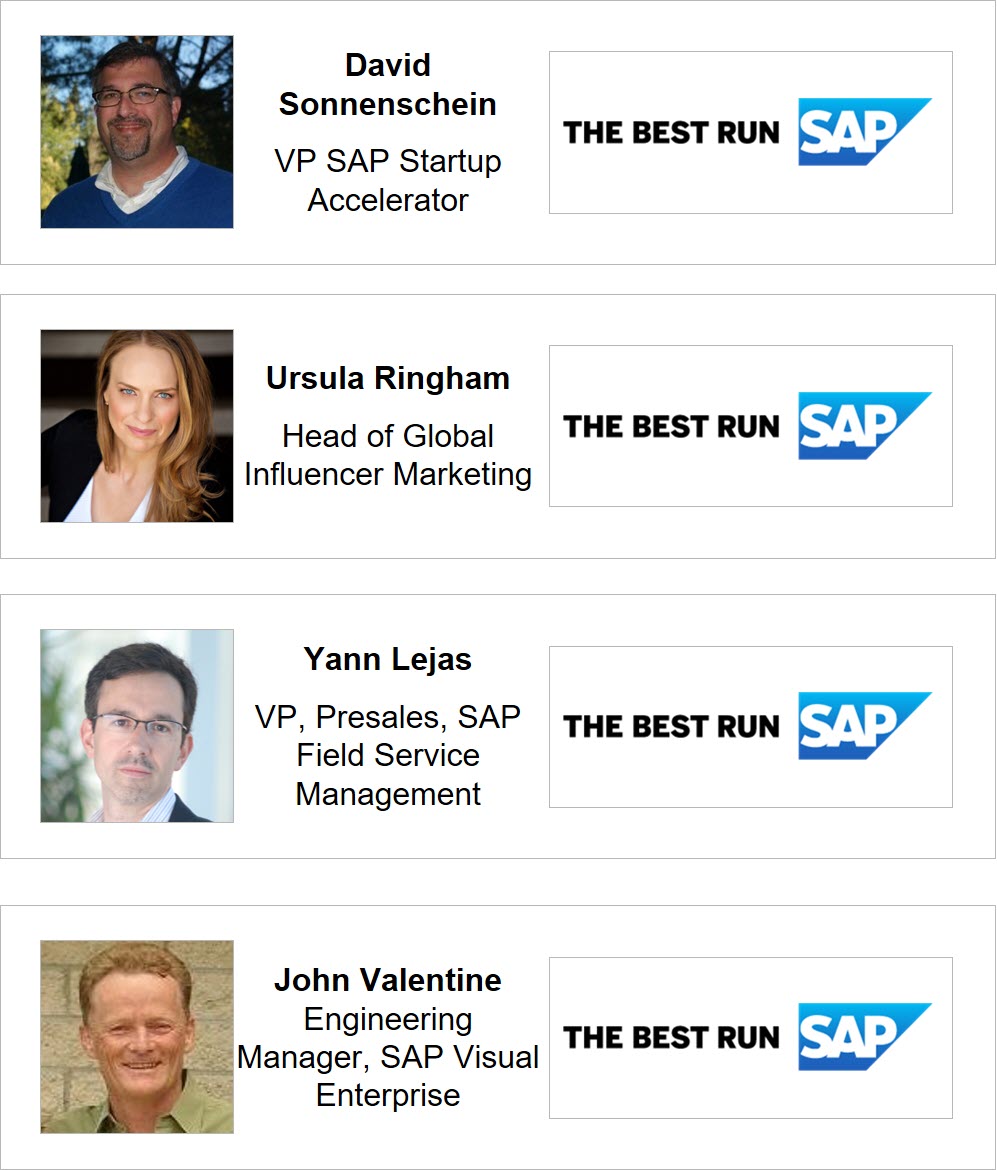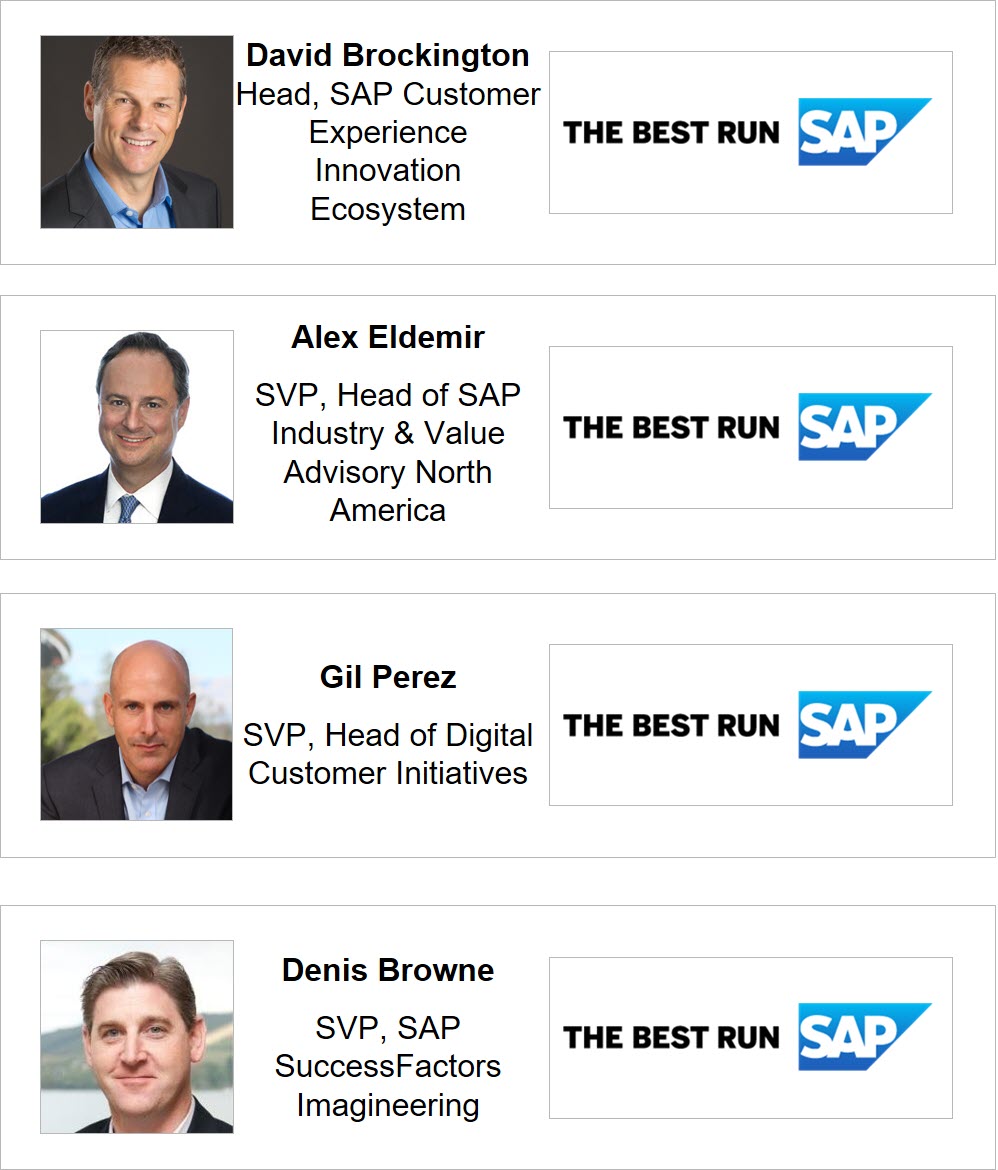 ---
This is an invitation only event. Spaces are limited, so please reserve your seat for this workshop ASAP.
Please note - this registration link is intended for the recipient of our Email Invite only. Please do not forward. Registrations from forwarded invites will be declined. Due to capacity restrictions, we are running a waitlist, if your fellow colleagues or network wishes to be added to the list and receive an invite, please contact us at XR@sap.com with their Name, Email Address and Title for consideration.