Description
Santa's Little Hackers invites you to attend!
During our seasonal event, we adapt toys to be used by people of limited physical abilities. These toys allow them to play, interact, find joy and learn.
We take battery powered toys and interrupt the circuit by introducing a 3.5mm jack or a small microcontroller to allow new methods for interacting with the toys.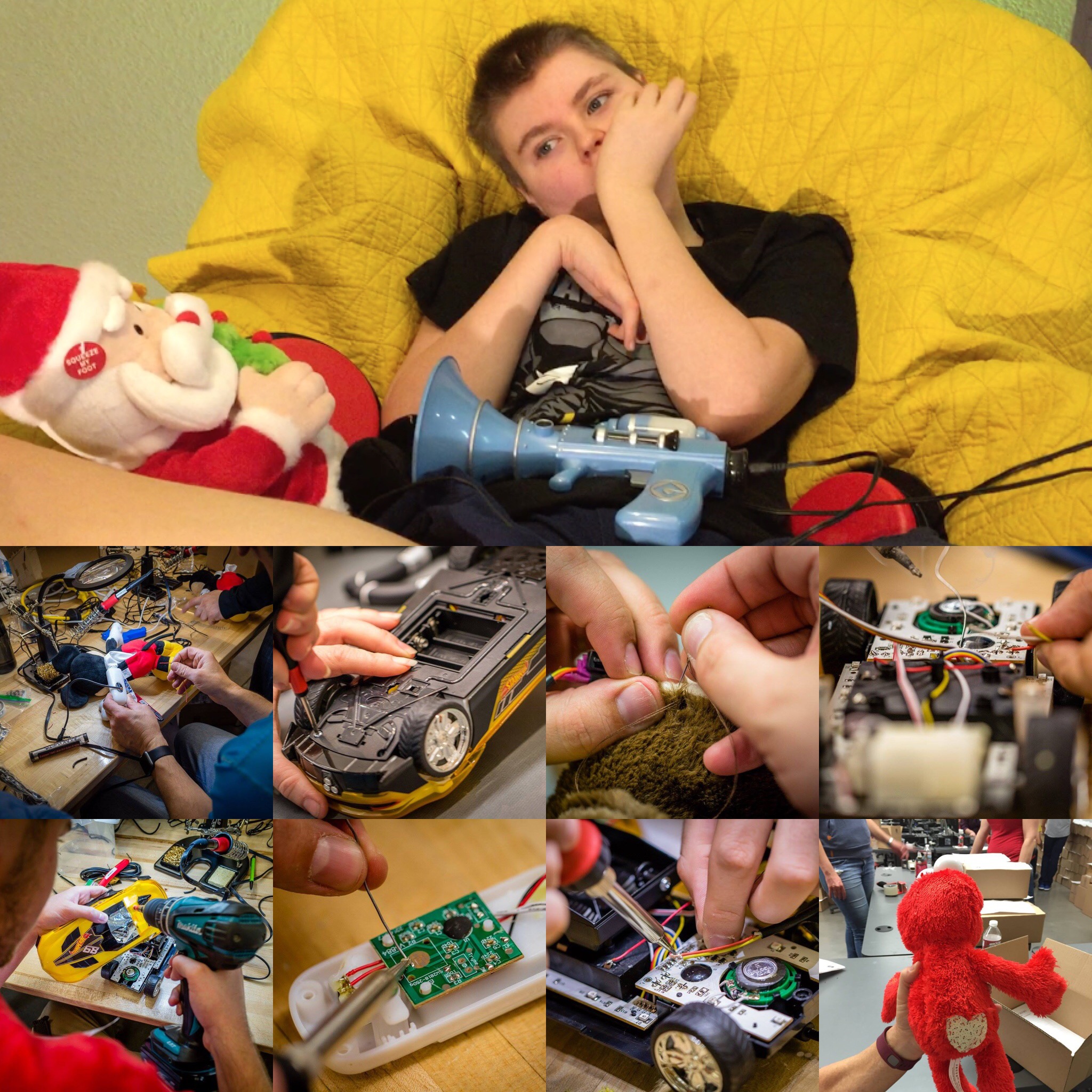 Signed liability waivers will be required to participate.
What to expect at the Toy Workshoppe?
On Saturday, December 3, we will hold our Third Annual Santa's Little Hackers Toy Workshoppes at The Conference Center at Adams 12 Five Star Schools, in Thornton, Colorado. This is an event for us to come together and adapt toys for the kids and adults who will be receiving a switch adapted toy at Christmas.
We will need a group with a variety of abilities to work together to make a very challenging task happen.
We need to make 500 switch adapted toys in one day. This will require a very organized and disciplined automation line to complete the task.
Think "toy factory line"
Upon arrival, participants will be assigned a team to participate with. Your team will have specific tasks that must be completed for the toy making workshoppe to be successful. If any teams do not complete their tasks, the remaining teams will be delayed in their completion.
What types of tasks will we be doing?
Soldering/Adapting - For the technically inclined. Your soldering iron will love all the action.
Disassembly/AssemblyDetail oriented, you're the one called upon to put together the toys for Christmas morning
Sewing - You were top of the class in home-ec.
Packaging - You're a tape gun whiz.
Quality Control/Toy Tester - You cross all your t's and dot all your i's. You won't let a toy pass by you without your final approval it works perfectly.
Use me anywhere - You are here for the fun, and to do something for the greater good.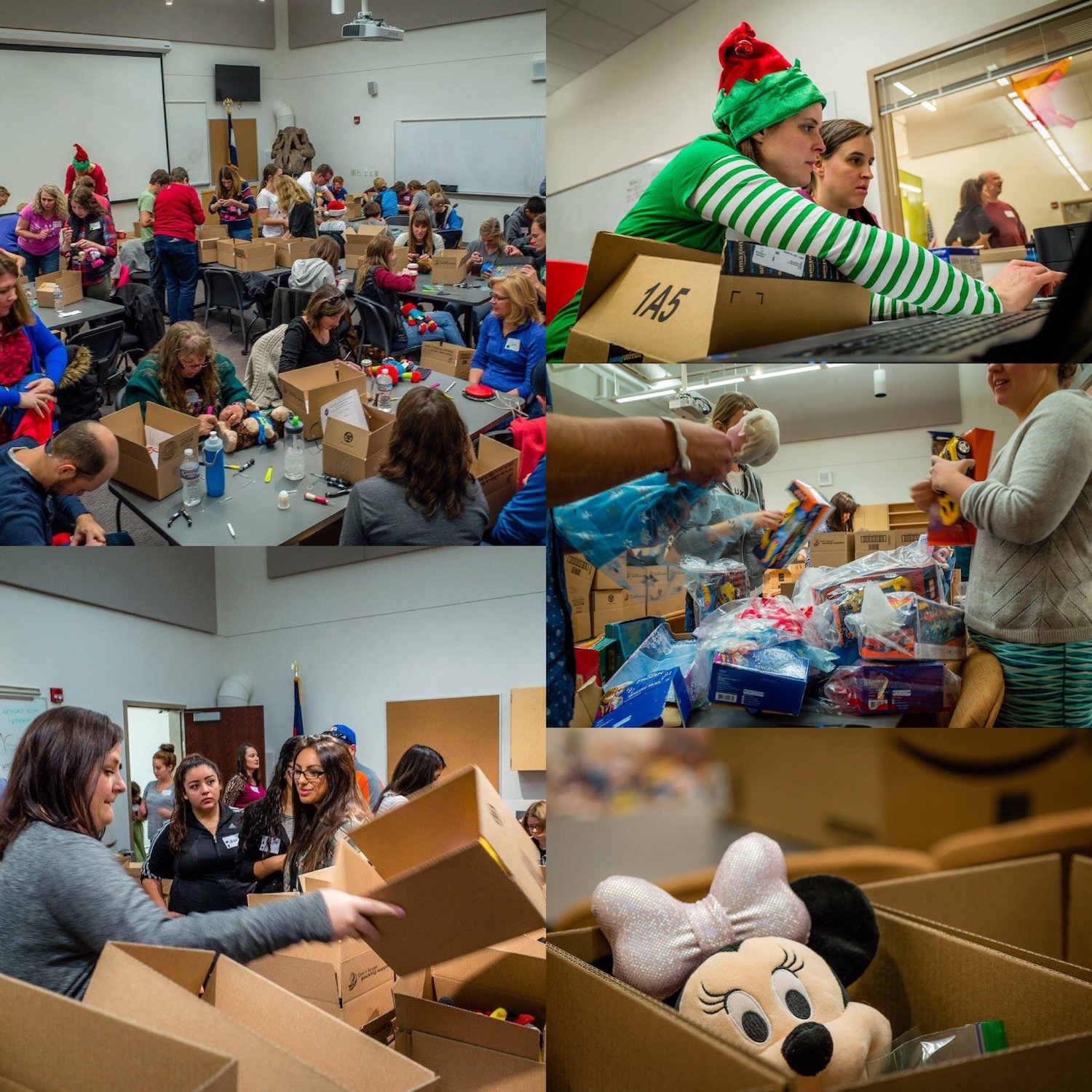 Why are you using tickets and what are my ticket choices?
Our Santa's Little Hacker events are normally so popular with volunteers that we use EventBrite to make sure we have jobs for all the volunteers who sign up. When you click on the green Tickets button, you can choose a "Sponsor" ticket which helps cover the cost of the toys, shipping, and overhead of the event or you can choose a free ticket if you don't wish to be a sponsor or just plan to make a donation at the event.
What about children?
Childcare is not provided -- this event is not for young children. We use equipment that heats to 750° F, power tools, and sharp objects as part of the toy adaptation. As such, we can't allow children to participate.
Ages 13 years old and up, are allowed to participate but must have a signed waiver from the parent or legal guardian before participating.
What should I bring?
For those with electronics skills, you are welcome to bring your soldering equipment and hand tools if you would like. We will have all the necessary tools onsite to complete the toy adaptation but we know engineers often prefer to bring their own tools with them.
What time should I arrive?
Registration will open at 830AM.

How long should I stay?
We would love to have your participation for the full scheduled time. Food and drinks will be onsite so you can eat and snack in between your factory line duties.
Will there be food?
We will provide morning coffee and pizza for lunch with drinks and light snacks throughout the day.
What if I get a ticket and then find I can't make the event?
Please cancel your ticket on EventBrite and it will return the ticket to the pool of available volunteer opportunities.
If you have other questions or suggestions, please email santaslittlehackers@gmail.com.
Organizer of Santa's Little Hackers 2016 Toy Workshoppe - Colorado