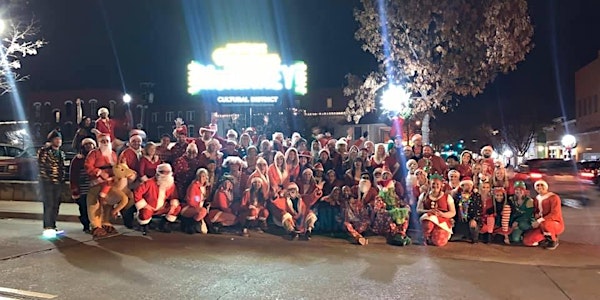 Santacon Mckinney 2022
Santacon McKinney is the most festive event of the year!!
When and where
Location
Historic Downtown McKinney 111 North Tennessee Street McKinney, TX 75069
About this event
The Four S's of SantaCon.
Don't Screw with kids. (screw with the parents not the children)
Don't Screw with cops.(be a heathen on your own time)
Don't Screw with bar staff or bartenders.(Santa loves to eat and drink)
Don't Screw with McKinney(don't litter,puke, piss in public, or be obnoxious)
Santa gives to charity.This year we will Donate to We Defy Foundation a Veteran organization helping Vets through Jiu-Jitsu and Fitness Training.
Santa Brings gifts! Naughty gifts are okay for adults, nice gifts (like small toys and candy) for the kids. Throwing coal at people is discouraged no matter who they are; yes, this includes politicians.
REMEMBER THE ANSWER IS: SANTA
It's very important how we deal with the public, private security, and ANYONE If asked, this is how you should answer:
Who's in charge? SANTA
Who are you with? SANTA
What organization are you with? SANTA
Who organized this? SANTA
Who just puked in that trashcan? SANTA
Santa is Santa! You are Santa. Santa is Santa. Santa addresses all other Santacon participants as…Santa.
Santa stays safe. Santa does not drink more than Santa can handle. Doing so endangers Santa's self, Santa's friends, and the future of Santacon.
Holiday apparel is mandatory. A Santa hat is not enough. Buy a suit, make a suit, borrow a suit or steal a suit. Elves, Mrs. Claus, reindeer and unusual interpretations of Santa are appreciated. Glue cotton balls to red long johns if you have to. Got an extra suit? Bring it along.
Watching Santa be jolly & merry is fun. Babysitting Santa while he vomits in an alley is not. Don't be that Santa.
Make sure you always tip the bar staff. We want to be able to do this again so be polite and cultivate the goodwill of the local community.
Please pay for your drinks as soon as you get them. Santa's get tired of waiting on other santas to clear their tab before being able to move on. This entire adventure should be cash only.
"No Santa's left behind!" Don't think only of yourself - Santa is not inconsiderate of his fellow santas like that. Pick a few people you know and keep an eye out for them when it's time to move to the next location. If you don't see them, speak up so other santas know to wait a moment. Every santa should have at least 2-3 other santas they look out for and 2-3 that look out for them in turn.
Stay with the group. It's not just a case of "the more, the merrier" - Santa is safer with large numbers of fellow Santas and what one Santa can't achieve (or get away with) is a possibility for 50 or more!
Dress up! You don't have to dress exactly like Santa. In fact, unusual interpretations of Santa-ness are much appreciated, both by those we bring joy to - as well as your fellow Santas: elves, reindeer themes etc. are fine as well!
Please remember that this is all about having fun. Most Santas like to take their fun with a little alcohol which is fine. What is not fine, however, is getting completely sh#t-faced to the point that Santas end up being abusive or violent. Remember that there is no "bail fund" for incarcerated Santas and if you cross the line you'll be on your own.