Everyone is Santa in Downtown Austin for this nonsensical holiday bar crawl!
About this event
SantaCon is a non-political, nonsensical Santa Claus convention that happens once a year for charity. It's your chance to spread holiday cheer in the most magical and absurd way possible! Also, it's FUN!.. (remember fun?)
This is a participatory event. Bring something festive event goers will enjoy: toys, games, stickers, buttons, signs, blinky lights, or a kick ass costume!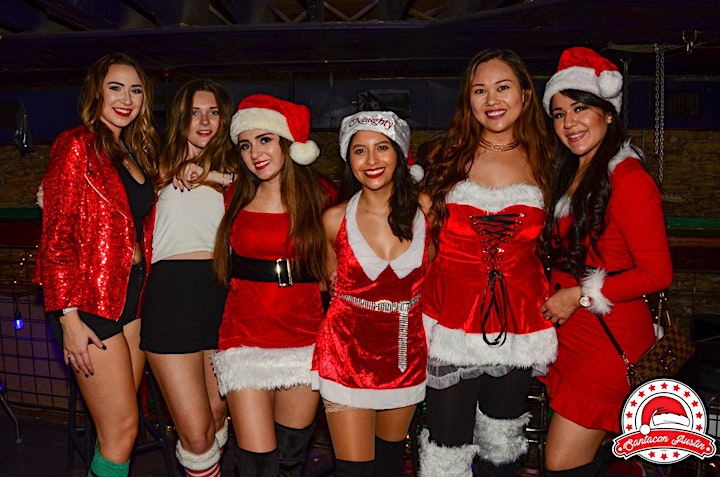 2021 VENUES (THE FULL SCHEDULE WILL BE HERE THE NIGHT BEFORE THE EVENT!)
Peckerheads
$3 Jello shots, $4 Fireball, $5.50 Giant Liquor Mason Jars
The Lodge
$3 White Claws, $4 Budweisers, $5 Liquor Pitchers
Burnside's Tavern
$3 Kamikazes, $4 Draft Beers, $5 Green Tea Shots
Happy Chicks
$2 Jello Shots, $4 Santa's Cookies Shots, $5 Grinchy Punch, $5 Naughty or Nice
BBG's
$2 Jello Shots, $4 Santa's Cookies Shots, $5 Grinchy Punch, $5 Naughty or Nice
Parlor & Yard
$5 Drafts, $6 Wells, $8 Naughty Santa Cocktails
The Dogwood
$4 Goose Island Draft, $5 Naughty Santa Shot, $5 Winter Wonderland Shots
The Cat's Pajamas
$6 Santa's Secret Sauce, $6 Snowshoe Shot
Rio
$4 Michelob Ultras, $5 Peppermint Schnapps, $6 Tito's
Valhalla Esports Lounge
$3 Jello Shots
Whiskey Tango Foxtrot Icehouse
specials tba
After-Party @ Elysium
more to be announced soon!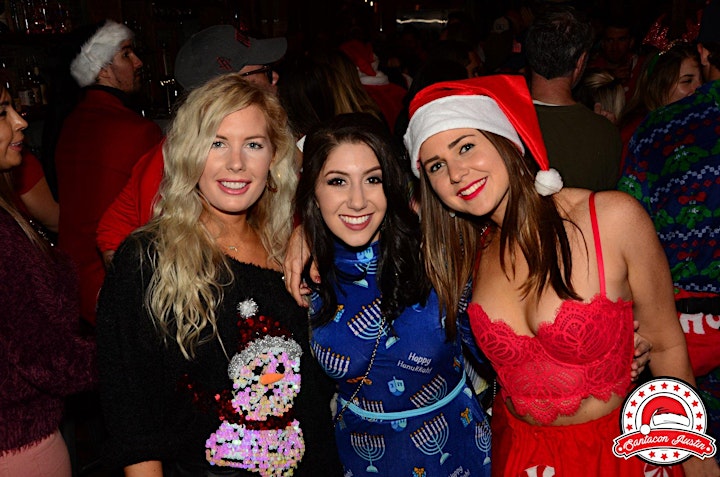 SANTACON AUSTIN RULES:
- Must be 21 yrs old. Photo ID required.
- Vaccines and masks recommended.
- Bring cash and tip your bartender.
- Wear comfortable shoes - plan to walk between venues.
- Pace yourself - drink responsibly - don't drink and drive.
- Keep an eye on your drink and don't leave it unattended.
- If you see something say something.
Check back soon for more info! Thanks for your patience!