Santa's Back and he's got a bag of goodies for all the good boys and girls of New York City! Climb our Yule Log https://linktr.ee/Santacon
About this event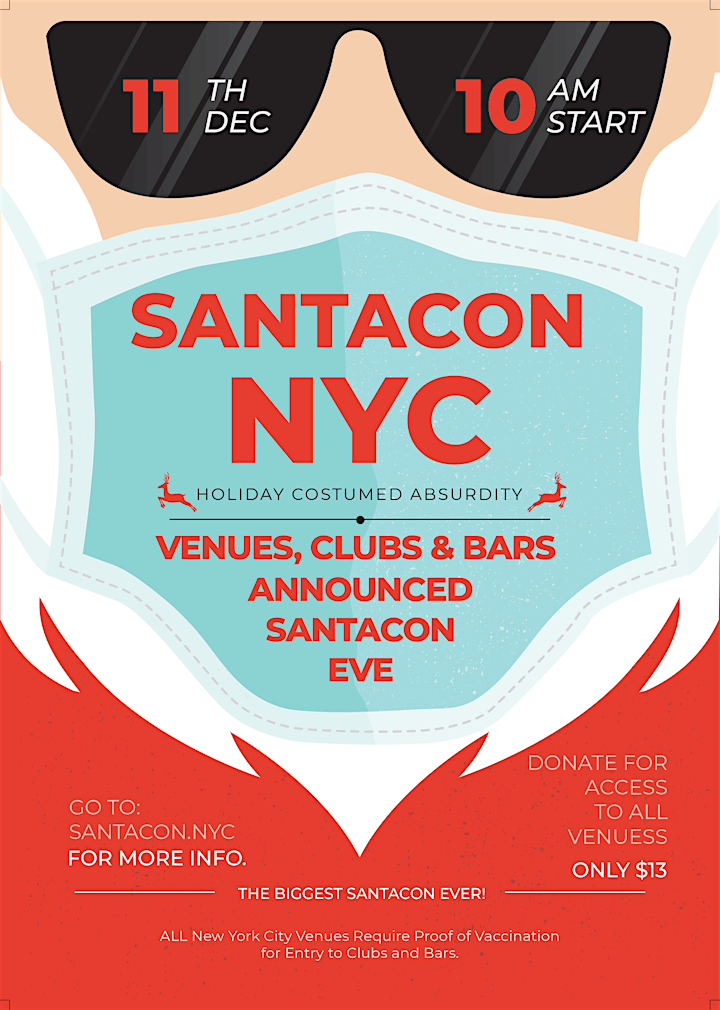 2021 will be the 22nd SantaCon in New York City!
PROOF OF VACCINATION (at least one dose) IS REQUIRED FOR SANTA'S VENUES IN ACCORDANCE WITH NYC GUIDELINES .
WHAT IS SANTACON? SANTACON IS A CHARITABLE, NON-POLITICAL, NONSENSICAL SANTA CLAUS CONVENTION THAT HAPPENS ONCE A YEAR TO SPREAD ABSURDIST JOY.
WHEN IS SANTACON? SATURDAY, DECEMBER 11TH 2021 - 10:00 AM SHARP (don't miss Christmas!)
WHERE IS SANTACON? SANTACON.NYC WILL POST OUR "SANTA SPECIAL VENUES" THE WEEK BEFORE SANTACON.
HOW DO MAKE SURE I GET INTO THE BIG SANTACON VENUES? DONATE TO SANTACON'S CHARITABLE CAUSES BY MAKING A CHARITABLE DONATION ON THIS TICKET PAGE (all donations tax-deductible)
WHERE DOES IT START?
The start location is always disclosed to all people who make donation, on SANTACON.NYC and on Twitter ( @Santacon) a few nights before. It is always somewhere in the five boroughs of NYC. For now, that's all you get.
WHERE WILL SANTA SAY TO GO? FOLLOW @SANTACON ON TWITTER. IT'S REALLY THAT EASY!
DO I REALLY NEED TO WEAR A COSTUME?
Yes. Any type of costume!
HOW DO I CONTACT THE ORGANIZERS WITH ANY QUESTIONS?
If you have a question you can always contact Santa via the SANTACON NYC Facebook page
DO I HAVE TO BRING MY PRINTED TICKET TO THE EVENT?
It will make it quicker if you print out your ticket, but having it on your phone works as well.
WHAT SHOULD I BRING?
*** Valid proof that you received at least one dose of COVID-19 vaccine as per NYC guidelines - Excelsior Pass STRONGLY recommended (seriously.. just download it already) ***
Your ticket showing that you've made a (tax-deductible) donation.
Additional cash for bar stops and snacks.
At least a few rides on your Metrocard.
Gifts, games, props, and performances to entertain Santas and strangers alike
Comfy walking shoes and layers to keep you warm from the North Pole to the Stripper Pole (leave the stilettos at home, Sexy Santa, or you'll be Sad Santa by the end of the day).
Your jolly f*cking Christmas spirit!
WHAT SHOULDN'T I BRING?
Open containers of alcohol. You WILL be ticketed, and Santa won't feel sorry for you.
Your douchebag friends who start fights, f*** s*** up, or troll (merry and bright friends are welcome).
Your fake ID. This is NYC and bars can spot that shit.
Trash to leave around.
A crappy, trashy or Grinch-like attitude.
THE 5 F'S OF SANTACON
1.Don't F*** with Kids
2.Don't F*** with Cops
3.Don't F*** with Bar Staff
4.Don't F*** with NYC Vaccination Requirements
5.Don't F*** with Santa's Charity Mission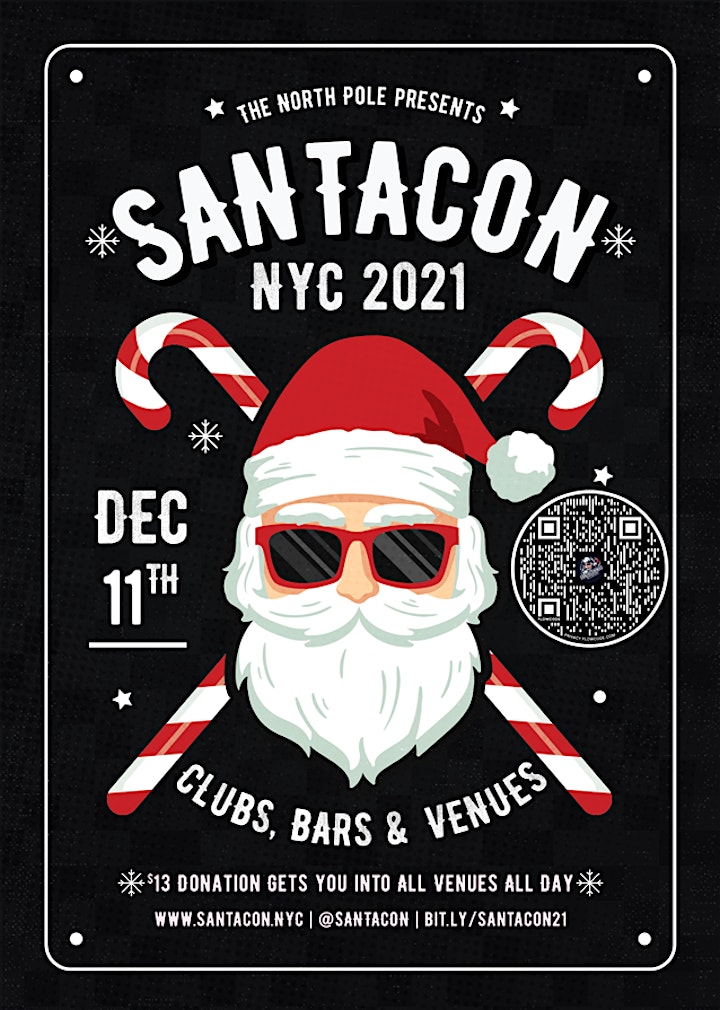 Organizer of Santacon 2021 : NYC ✦OFFICIAL✦ New York City