Description
Friday, January 19 at Expert Dojo in Santa Monica.
Refreshments included with your ticket.
Not Boring Business host Jeremy Redman interviews L.A. Tech Happy Hour founder Zach Sekar.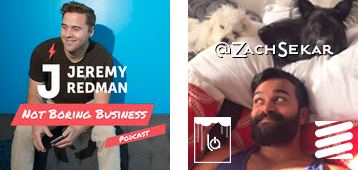 6:30 - 7:15pm - Live Podcast Interview
7:15 - 9:00pm - Open Bar Networking at Expert Dojo
Food for this event thanks to Chewse.
Mini Bistro Sliders
Caprese Skewers
Tomato Coulis
Porcini Arancini

Chewse strengthens your office culture by bringing your team together over food. Serving as your meal program concierge, we plan, deliver and serve customized meals from Bay Cities, Milo & Olive, Lemonade, and more of LA's top restaurants.