Description
Santa Monica Tech Career Fair
Co-hosted by the Office of Santa Monica Mayor Ted Winterer, the Santa Monica Chamber of Commerce, ALPHATEN Ventures, Expert Dojo, ENKI Inc. and TEAMPLUS Inc.


The 2nd Annual Santa Monica Tech Career Fair

*** NEW DATE: OCTOBER
10, 2018 *10:00 AM - 4:00 PM

at the Expert DOJO, Santa Monica Mall (next to the Cheesecake Factory)






---
Santa Monica Mayor Ted Winterer, Laurel Rosen CEO of Santa Monica Chamber of Commerce, and tech entrepreneur Nektar Baziotis invite you to meet your next employee or employer at the Santa Monica Tech Career Fair. Meet Santa Monica's tech companies, start-ups plus LA county's staffing companies who will have a booth and are looking to hire candidates (over 740 Angelinos have signed up to attend). The event will happen at the Expert DOJO at the Santa Monica Mall on Wednesday, October 10, 2018 from 10 am to 4 pm.
Apart from companies interviewing candidates all day, Brian McMahon - CEO of Expert DOJO - the fastest growing accelerator in Santa Monica and LA, will moderate a series of speakers and expert panels as detailed in the agenda below.
Candidates are welcome to join for free but please sign up, bring your resume and enthusiasm.
Hiring managers and recruiters pay a small fee to have their booth.


---
WHY YOU SHOULD ATTEND OUR SANTA MONICA CAREER FAIR
Open the doors of opportunity when you meet and interview with the top hiring companies in Santa Monica. This career fair will allow you to learn about the businesses that are hiring and what their hiring needs are. Tired of sending your resume over the web to get no responses back? Put a face with a name and make a great first impression. Register today, and you could get hired live at our next career fair in Santa Monica.
INDUSTRIES THAT HIRE AT OUR CAREER FAIRS
Accommodations, Accounting, Advertising, Aerospace, Agriculture & Agribusiness, Air Transportation, Apparel & Accessories, Auto, Banking, Beauty & Cosmetics, Biotechnology, Chemical, Communications, Computer, Construction, Consulting, Consumer Products, Education, Electronics, Employment, Energy, Entertainment & Recreation, Fashion, Financial Services, Fine Arts, Food & Beverage, Green Technology, Health, Information, Information Technology, Insurance, Journalism & News, Legal Services, Manufacturing, Media & Broadcasting, Medical Devices & Supplies, Motion Pictures & Video, Music, Pharmaceutical, Public Administration, Public Relations, Publishing, Real Estate, Retail, Service, Sports, Technology, Telecommunications, Tourism, Transportation, Travel, Utilities, Video Game, Web Services
Hiring companies and employers will be interviewing and reviewing resumes on the spot for the following positions:
Graphic Designers

UX/UI Designers

App Programmers

Web Programmers

Sales Representatives

Sales Account Managers

Administrative assistants

Event Managers

Business Analysts

Business Developers

Marketing Executives
Positions available: full-time, part-time, temporary and internship positions
All companies are equal opportunity affirmative action employers. All qualified applicants will receive consideration for collaboration without any regard.

Submit your resume to employers at: https://teamplus.co/teamplus/en/position/santa.monica.tech.career.fair.general.application/
---


The Santa Monica Career Fair is powered by TEAMPLUS Inc. in collaboration with the City of Santa Monica, the Santa Monica Chamber of Commerce, Expert Dojo, ENKI Inc., ALPHATEN Ventures.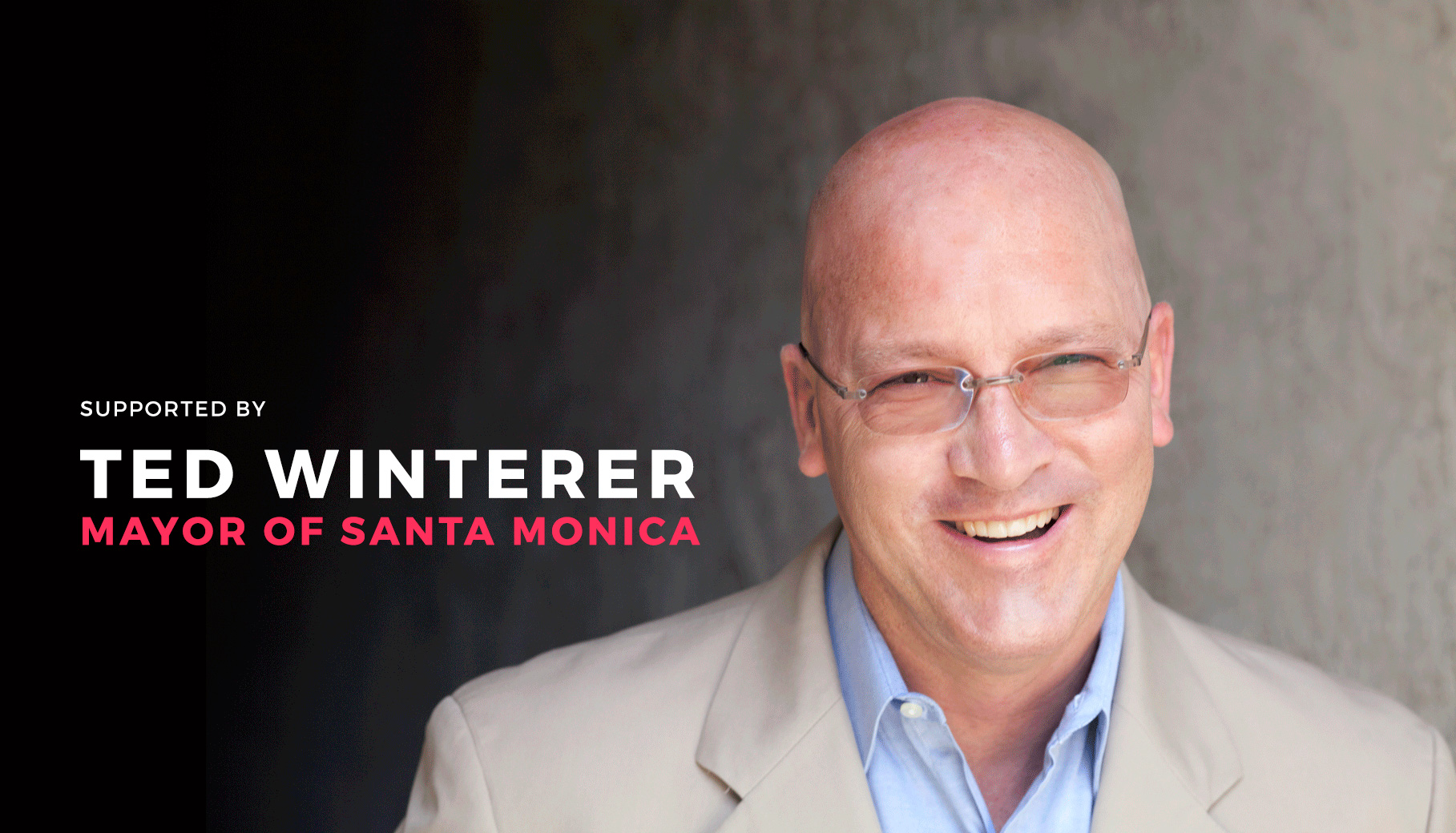 "I'll be at the Tech Career Fair October 10th and hope you'll join me. If you're looking for a new job in tech or are just curious about future options, it's the place to be."
Ted Winterer, Mayor - City of Santa Monica
TEAMPLUS is a talent-driven applicant tracking system. Our solution allows matching candidates with positions, ranking them by fit and viewing their recorded interviews. We are an HR technology startup located in Santa Monica with success stories around the world! http://teamplus.co/ info@teamplus.co
The Santa Monica Chamber of Commerce http://smchamber.com/ advocates and represents business' interests and issues facing the community. We provide the environment to help our members prosper and succeed through a proactive working partnership with all levels of government and community organizations to achieve a healthy local economy and quality of life.
ENKI Technologies innovates and develops websites, mobile apps and custom software applications that serve real needs. Enki translates abstract ideas into concrete solutions that assist in increasing efficiency, productivity and profits. https://enki.tech/ info@enki.tech
Expert DOJO is the largest fast growth startup accelerator in Southern California and has had over 400 companies go through our program in 2016 culminating with the largest Investor Demo Day in the United States (over 840 startups pitching to over 85 active investors). We not only train and connect companies but we also invest in them through our accelerator fund. The reason we have such a high success rate for startups is, not only because of our focus on business growth but also because of our large selection of amazing specialists and coaches who are dedicated to helping startups succeed. Find everything you need to know about Expert DOJO: http://expertdojo.com/ brian@expertdojo.com
---


Information for companies:
Company booth $100
Access Great Talent
2 Chairs
Wifi & power cord
Premium Booth $300
Access Great Talent
4 Chairs, Wifi & power
Access to TEAMPLUS HR system with candidate profiles
Unlimited Team Members
Special Showcase of your company in Twitter and LinkedIn
Sponsor $1,000,00
Your company's logo will be part of the Sponsors' banner, which will be on display at the expo.
30 top resumes generated in the TEAMPLUS system will be provided to your company
5 jobs ads on indeed
10 hours of consulting with experienced tech recruiter
Your company logo will be on the greeter's name tag
Coffee officially will be sponsored by your company
Distribute unlimited advertising material and merchandise
Customized company banner is provided for the fair; it can be taken to your office after the event.
---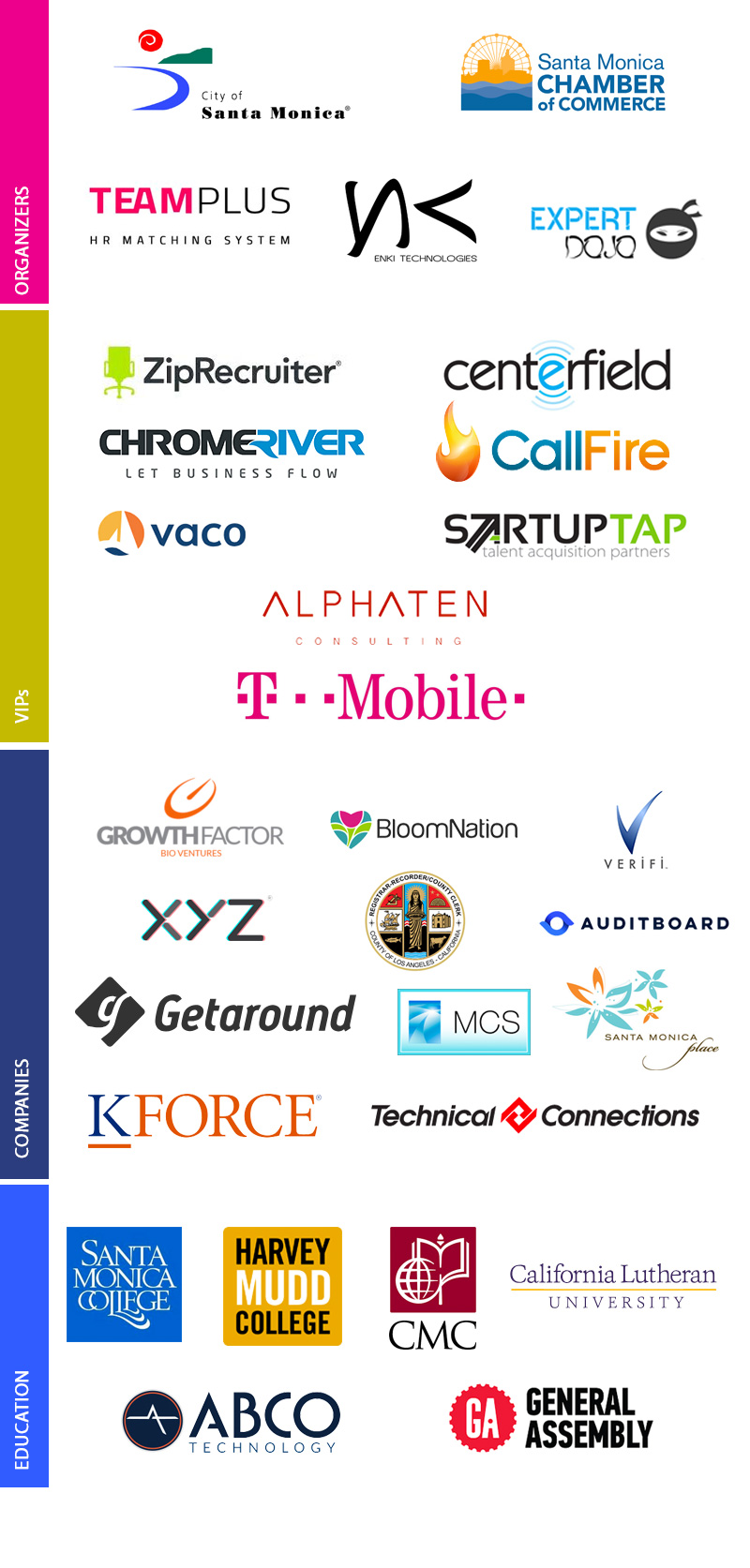 ---
Team Plus Inc.
100 Wilshire, Suite 700, Santa Monica, CA 90401
Telephone: +1 213 465 9281