SANTA Monica Pub Crawl 2012
When and where
Location
Santa Monica, 90401
Description
Disclaimer: A limited amount of wristbands will be available for purchase at the door for $15 but expect long lines. Early arrival at 5pm is strongly suggested. Bars will hit capacity! To keep the crawl moving, we reccomend a max of 1 hour at each location. Please pick up your wristband at your designated starting location. Once doing so, you are free to move along each of the routes as you please. Thank you for your support of the Westside Food Bank. You are making a huge difference as every $5 will feed 20 people in need.
Happy Holidays!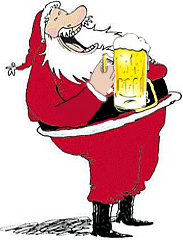 The 4th Annual SANTA Monica Pub Crawl will take place on Saturday, December 15, 2012, at 5PM in Santa Monica, CA. The city's best bars and restaurants will come together to help raise money for those in need during the holidays through a partnership with the Westside Food Bank.
This year, crawlers need to sign up online and choose their favorite SANTA route. In lieu of canned goods, participants are asked to pay a $10 donation/entrance fee.* Proceeds befefit the Westside Food Bank to feed the less fortunate over the holidays. Last year's event raised over $17,000...enough for 70,000 meals!
Participants must purchase the official SMPC wristband in order to receive the holiday food & drink specials. Wristbands can be purchased and picked up at one of the official starting locations along each route. Suggested start time is 5pm! Bars will hit capacity so please patiently wait in line or move to the next location on your route.


You must pick up your wristband from you official starting location and then move along to any of the bars on the crawl. The Main Street, Promenade & Wilshire Routes pre-sale tickets are now sold out. You can still purchase wristbands at the door for $15 but expect long lines. Wristbands are also available for pick up in advance at the Westside Food Bank offices. Hours are M-F 10am-5pm. 1710 22nd St. Santa Monica, CA 90404 Phone: (310) 828-6016 www.westsidefoodbankca.org
Don't fret! All of the routes are equally as fun and festive. The Pier Route has the largest bars so it will garuantee you can get in without waiting in lines with your friends. Plus, TED will be at Rusty's to greet you and sign autographs!


All SMPC participants are asked to dress in Santa/Holiday attire, either individually or in teams, so that the streets of Santa Monica will be filled with merry cheer, such as: Santa, Mrs. Claus, Elves, Reindeer, Carolers and Santa's Helpers. The Pub Crawl will include bars on Wilshire, 4th St., Santa Monica Blvd and Main Street.

Sign up your team for the Santa Scavenger Challenge or Instigram Costume Contest to win hundreds in prizes!
Don't Drink & Drive! All routes are walkable but should you decide to use transportation, hop on the BIG BLUE BUS. Purchase unlimited ride pass for $4 here. Or Cab it! Yellow Cab is our official taxi partner and is donating a portion of all proceeds from the night to the Westside Food Bank.
NO JAYWALKING! Santa Monica recently increased the cost of a jaywalking ticket to $350 so PLEASE use the cross walks or you WILL get a ticket... and that's worse that getting coal in your stocking.
Download the official SMPC Mobile App the night of the crawl for map, routes, bars, specials, extras and up to the minute crawl updates.
For questions or to sign up to be a SMPC volunteer, SANTA Route Leader, or for sponsorship information, please email smpcrawl@gmail.com.
To make a donation to the Westside Food Bank, visit www.wsfb.org.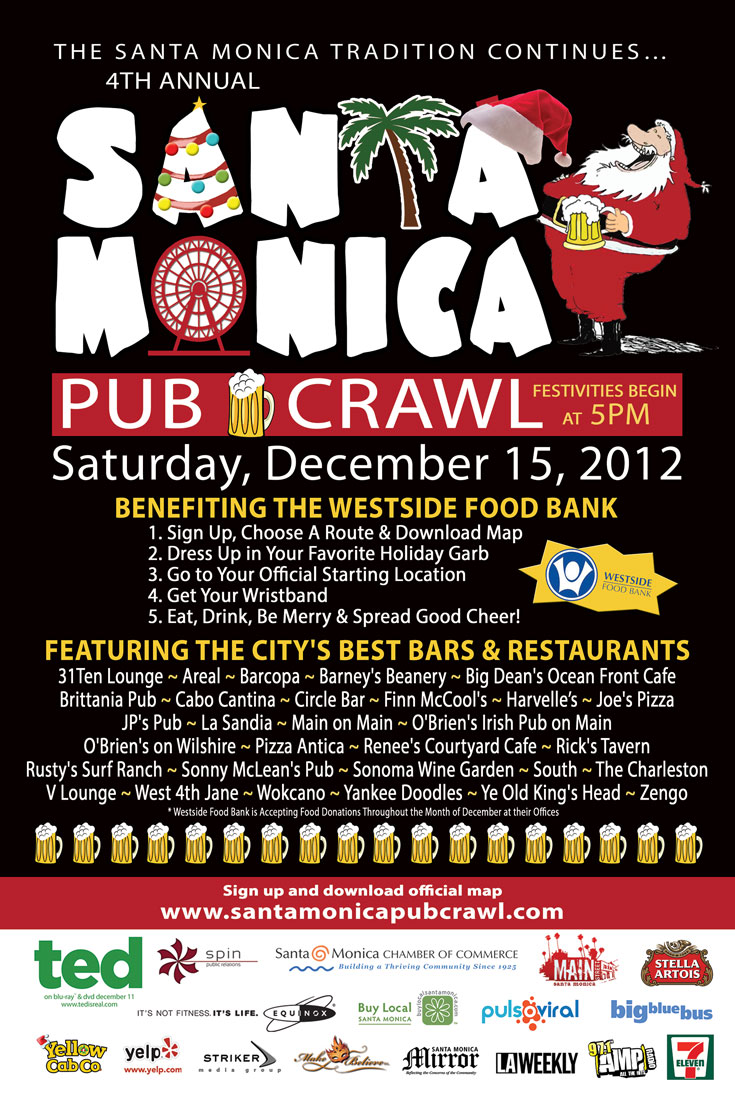 SAFETY DISCLAIMER
The SANTA Monica Pub Crawl is a community event that encourages responsible drinking by participants. When taking part in any events that involve drinking, always keep safety first. Don't DRINK and DRIVE, and assign a designated driver at the beginning of the night, call a taxi, or use public transportation.
For more information go to:

www.santamonicapubcrawl.com
RAIN OR SHINE
*NOTE: Tickets are non-refundable