Description
Join us for the 3rd annual Santa Fe Springs Family Fun Run/Walk on Saturday, May 6, 2017 at the Soaring Dreams Plaza in Santa Fe Springs. Bring the entire family and let's kick off the 60th Celebration in a healthy way.
---
Registration Info:
Registration Dates: February 6, 2017 through April 21, 2017

Fees: Adults $5, Children $2 (ages 5-17)

Online: at www.santafespringsfunrun.eventbrite.com

Bib Pick-Up: May 1 – 5, 2017 at Town Center Hall, 11740 E. Telegraph Road in Santa Fe Springs
Day of Event Info:
6:00 am – Race day registration

7:00 am – Race start time

7:45 am – Awards Ceremony
The 5K Fun Run has a new route to celebrate the 60th Anniversary. The race will begin and end at Soaring Dreams Plaza, located at the corner of Telegraph Rd. and Pioneer Blvd. Included in your race registration fees are a 60th anniversary commemorative t-shirt and participant medal. Overall and age group winners receive medals!
Check out our website www.sfsfunrun.org for more information, call (562) 692-0261, or email sfsfunrun@santafesprings.org
FAQs
• Is there a fee?
Registration: February 6 - April 21, 2017
Adults - $5
Children (ages 5 -17) - $2

• Do I have to be an avid runner/walker to participate?
Absolutely not! This race is meant to be fun so come ready to have fun with your friends and family.
• Can I run with people?
Yes! You can create a team for your group.
• What do I get with my registration?
An event t-shirt and a finisher's medal, and chip timing.
• Can I run/walk with a stroller and my kids?
Yes you may; however, for the safety of our runners, all runners/walkers with strollers will be asked to please move to the back.
• Can I run with my dog (or any other pet)?
For the safety of our runners/walkers and animal friends, animals are not allowed at this race.

• How far is this race?

The route is a 5K -- approximately 3.1 miles. Below is the 5K Route.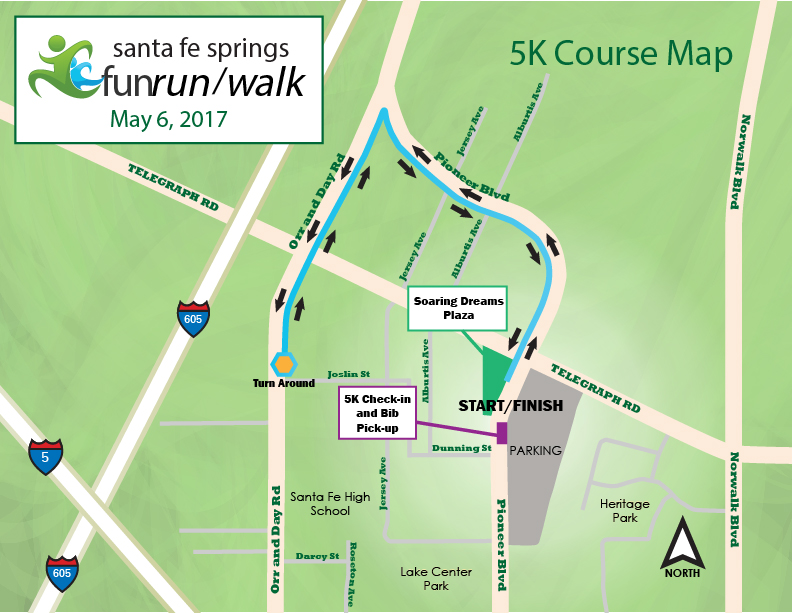 • Will I get lost?
Of course not! The route map is posted above. There will be plenty of staff and volunteers along the route to guide you.
• Where and what time should I check-in?
Pre-race packet to be picked up the week of May 1-5th at Town Center Hall, 11740 Telegraph Road, Santa Fe Springs
• What do I need to check-in?
You will need a valid ID.
• I was not able to register online. Can I register in person?
Yes, but please arrive early. We will take walk-in registrations from 6:00 a.m. to 7 a.m. ONLY!
• What do I do after the run/walk?

Please join us for same day celebration of the City's 60th Anniversary: 60th Parade at 10:00 a.m.- 12:00 p.m. and then 60th Birthday Bash at 6:00 p.m.- 11:00 p.m. at the Town Center Plaza, 11740 Telegraph Road, Santa Fe Springs.

• Is this a timed race?

Yes. Try to beat your previous time or set a new personal record.
• Will there be an award ceremony?
YES! Awards will be provided to top 3 finishers in each age category.
• Is there an age limit to participate?
Everyone is welcome to participate; however, children 14 and under must run/walk with a parent/legal guardian. Groups of children running/walking together from specific schools must have been registered by a parent/legal guardian.

• What about costumes?
Fun and creative costumes are highly encouraged. When planning your costume, please keep in mind this is a family event. Explicit costumes are not allowed.
• What if I have an ADA need?
Please contact us immediately with your ADA needs.
• Can I check-in my bag?
Unfortunately, no. We will not be responsible for any lost and/or damaged items.
If you have any other questions, please do not hesitate to contact us at sfsfunrun@santafesprings.org and we'll quickly reply! Thank you!