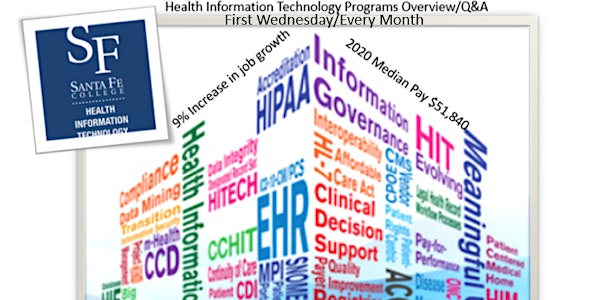 Santa Fe College Health Information Technology Program Information Session
Santa Fe College Health Information Technology Information Sessions What do HIT professionals do? Where do they work? How do I get started?
About this event
The Health Information Technology Associate in Science degree is a CAHIIM-accredited(Opens in new window)70-credit hour online program with required professional practice experiences and proctored testing. HIM professionals are experts in gathering, managing, securing, and protecting patient health information. They have a diverse skillset and can perform all aspects of operations management for any healthcare provider and/or organization. By earning an Associate Degree in Health Information Technology from the Santa Fe College's HIT program, students will have a bright future in the healthcare and business industry.
Upon completion of the program, students are eligible to take the AHIMA RHIT National Certification exam, an AHIMA or AAPC coding certification exam, student decides, and when eligible, the AHIMA CHDA National certification exam. HIM professionals work in a multitude of settings throughout the health care industry.
https://www.sfcollege.edu/programs/3520/
Join us for an engaging and informational session