Santa Cruz Flamenco Workshop: - Miguel Funi and Juan del Gastor

Monday, April 14, 2014 from 7:00 PM to 9:00 PM (PDT)
Event Details
BULERIAS WORKSHOP with MIGUEL FUNI and JUAN DEL GASTOR
ALL LEVELS
A very special opportunity to study with these extraordinary artists, who will teach a workshop demonstrating the bulerias in the aire of each of their pueblos: Lebrija & Moron. You'll learn a simple letra and then focus on the dance that goes with it.  Expect to have fun! These classes are for EVERYBODY: all levels from absolute beginners to more seasoned aficionados. If you've always wondered what it would be like to sing or dance flamenco, come to this class and try it out. If you are already singing or dancing, come and get some grassroots aire!
*Please wear street shoes for these workshops No special shoes please! Just wear your flats, tennis, or you can even come barefoot

LEBRIJA:  MIGUEL FUNI
The unmistakeable compás por bulerías that distinguishes Lebrija has its roots in the romance and the alboreá.  Miguel Funi's dance style is unique: beautiful markings with a note of humor, compás expressed with the whole body, emphasis on the arms and the postura. Very sensual.  







MORON: JUAN DEL GASTOR
Bulerías in Morón de la Frontera is indelibly marked by the guitar playing of Diego del Gastor, Juan's uncle. Improvisation and charisma characterize Juan del Gastor's down-home Gypsy style fiesta dancing. Simple llamadas and markings honed in family weddings and baptisms or in his grandmother's kitchen.
When & Where

Flamenco Romantico Studios
1007 Hidden Valley Rd
Soquel, CA


Monday, April 14, 2014 from 7:00 PM to 9:00 PM (PDT)
Add to my calendar
Organizer
BAY AREA FLAMENCO
Founded in 2005, the 
BAY AREA FLAMENCO FESTIVAL 
has grown into a popular and vital annual Bay Area cultural event. Celebrating Spanish Gypsy music and dance as a living culture and a legacy of world stature, the Festival has presented some of the most important figures in the history of flamenco as well as prodigies form today's generation of artists. Artistic director Nina Menéndez's unique curatorial vision distinguishes the Bay Area Flamenco Festival/Festival Flamenco Gitano and its particular focus on grassroots flamenco from the Gypsy communities of Spain.
"These artists are bringing the Gitano essence of flamenco into the 21st century," explains Festival director Nina Menéndez. "They have an ease for improvisation that comes from living the art as a part of everyday life. No choreography is required, only an intimate connection among the dancers and musicians who interact freely on the basis of a shared legacy and an insatiable hunger to find the spark of 'duende' that transforms the mundane into the sublime."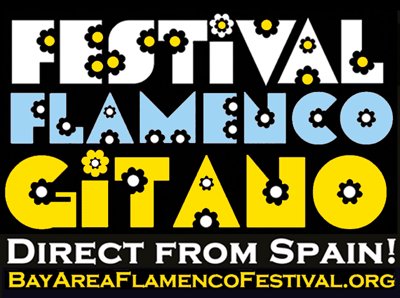 Santa Cruz Flamenco Workshop: - Miguel Funi and Juan del Gastor