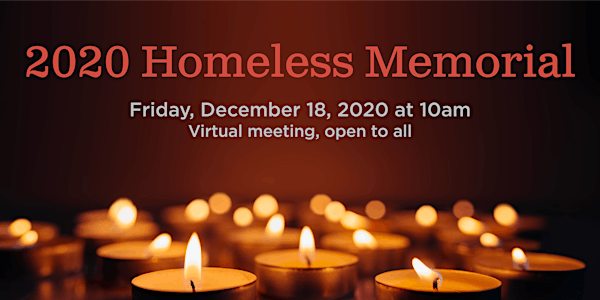 Santa Cruz County's Homeless Memorial Gathering
Join us for a gathering to remember and pay respect to all of our neighbors whom we have lost while homeless in 2020.
About this event
On or about the longest night of the year – the Winter Solstice – communities across the country gather to remember neighbors who have died homeless in the past year. This year marks the 22nd year for the remembrance gathering in Santa Cruz County.
If you are staying in shelter at the Vets Hall Santa Cruz or Watsonville, or at Housing Matters, there will be an opportunity to view the event (socially distanced) and share a remembrance story or poem. The community can do the same via Zoom.
For more information, please contact:
Joey Crottogini at Homeless Persons' Health Project (831) 454-2080
Tom Stagg at Housing Matters (831) 458-6020
How to Attend
Once registered, you will receive a confirmation email with the webinar link and further instructions.
If you have questions about your registration, please contact Andrea Feltz, Housing Matters Community Engagement Manager, directly at afeltz@housingmatterssc.org.
This event is a multi-agency effort put on in collaboration with Housing Matters, The County of Santa Cruz Homeless Persons' Health Project and Wings Homeless Advocacy.