Description
Are you a Bay Area robotics hackathon team or just interested in robot startups?
Join us at the Citrix Startup Accelerator for the launch of the Robotics Hackathon. The Robotics Hackathon is sponsored by RobotShop.com, Google and Clearpath Robotics. The main event is located in Montreal - see main site for all the rules and requirements. Register your team for the Robotics Hackathon by February 17 [12pm PT] to receive a free DFRobotshop Rover.
All Bay Area teams (and spectators) are invited to Citrix Startup Accelerator in Santa Clara for an opening party - with big screen hookup to the Montreal main event (5.30 ET = 2.30 PT). The Robotics Hackathon is going to be heaps of fun and you don't need to be a robot scientist to join us!
Friday March 2
2pm registration
3pm opening speakers via hookup
4pm - 6pm network/brainstorm/party (we'll replay opening if you are late!)
From 6pm Friday the hackathon is on.If there's enough interest the venue may be open all weekend, however Bay Area teams may prefer to work closer to their homes, use the Google Hackathon Hangout and simply join us for start and finish of the Hackathon.
Sunday March 4
1pm submissions due by 1.15
2pm - 2.30 pitch/demos
1. Build a robot

2. Connect robot to cloud

3. Do something useful or fun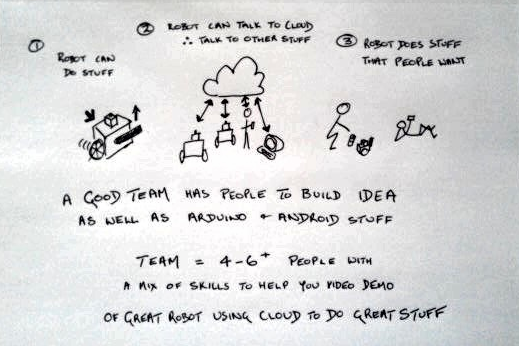 Bay Area Robotics Hackathon Launch Party is hosted by ROBOT LaunchPad and Citrix Startup Accelerator - ROBOT LaunchPad celebrates robotics startup community and events. We thought a fantastic first event would be to host a launch party in Santa Clara for Bay Area Robotics Hackathon teams. Sign up for our newsletter for more ROBOT LaunchPad events coming soon, including pitchfests and startup weekends.
Cloud Robotics Hackathon sponsors: