Santa Clara County Child Abuse & Neglect Prevention Summit -Part II
About this Event
What if every child in Santa Clara County grew up in a community free of abuse and neglect?
Child abuse is a persistent problem within Santa Clara County and the greater Bay Area. Although it is a hidden social ill, its impact is significant. A single incidence of child abuse impacts not just the child, but the family, the community, and society at large.
If you are a child-family-serving professional, community leader, child-family advocate, parent, youth or any individual interested in preventing child abuse and neglect, then join us on Friday, February 28th from 9 am- 12 pm at the Santa Clara County Department of Family Children's Services in San Jose for our second convening.
The summit will inspire attendees to mobilize around a shared county vision to prevent child abuse and neglect.
Light breakfast and simultaneous translation is available.
Come talk, listen, and learn with others who are actively involved in changing our county for the better through conversations and collaborative action.
Summit participants will have an opportunity to :
Review participant feedback around data/needs from Prevention Summit in November
Define our vision, develop strategies and 
Commit to an ongoing collaborative process with clear action steps
This will be an interactive experience . Please consider promoting your agency services or programs that address child abuse and neglect. We have provided the following template provided -click here for the Template . Complete your template and bring with you to the event. We will post as a part of our asset mapping.
Name, Logo, Agency Mission, Target Population, Eligibility Requirements, Program Description and Visuals/Graphics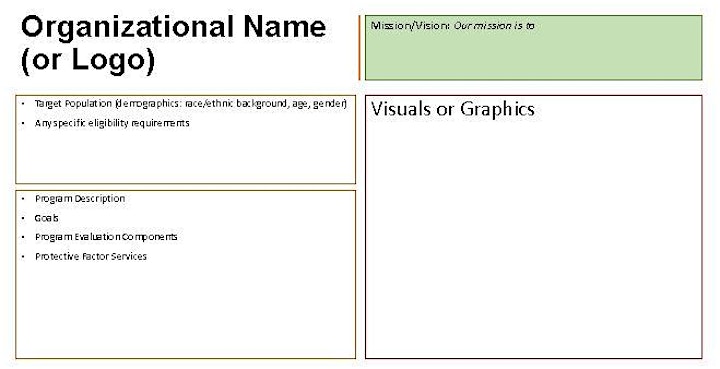 Logistics:
Simultaneous translation and light breakfast is available. Doors open at 8:30 am. Admittance is free, space is limited, and registration is required. Guest parking is available in the garage located behind the building. Limited number of electric vehicle charging stations available for visitors. Stations are accessed using the ChargePoint mobile app.