Description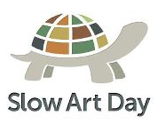 MCASB Satellite at Hotel Indigo
Art viewing:

2 - 3 pm
Discussion and drinks:

3 - 3:30 pm
At Blue Tavern (in the hotel) lead by Kelsey Rieger, Art Outreach Coordinator at MCA Santa Barbara
Host: Kelsey Rieger
Email: education@mcasantabarbara.org
Join us at MCASB Satellite at Hotel Indigo Santa Barbara, 121 State Street, to view works from the exhibition The Vastness is Bearable, curated by Miki Garcia. This exhibition is inspired by themes from Carl Sagan's book Contact (1985) and features artists who contemplate the vastness of the cosmos.
~~~~~

Slow Art Day is a worldwide celebration of art that encourages people to look at art SLOWLY – and thereby experience art in a new way. You can see more about Slow Art Day and the mission behind it on our website: http://SlowArtDay.com.
As Slow Art Day approaches, you'll hear from your host with more information, as well as instructions about what to do when you arrive for Slow Art Day.
More info about Slow Art Day movement: facebook | twitter | tumblr
Organizer of Santa Barbara Slow Art Day - Museum of Contemporary Art Santa Barbara - April 12, 2014