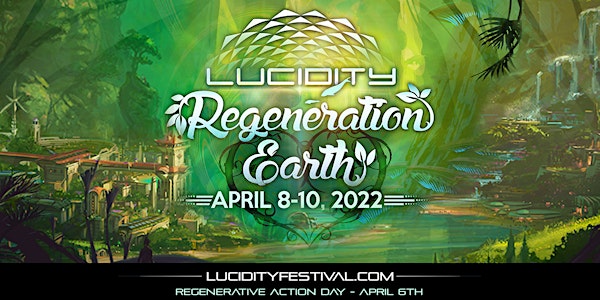 Santa Barbara: Lucidity Festival 2022 - Live Music
Santa Barbara: Lucidity Festival 2022 - Live Music & Art Camping Weekend (April 8-10)
When and where
Location
Live Oak Campground 4600 Chumash Highway Santa Barbara, CA 93105
Performers
Headliners
The Polish Ambassador
The Floozies
The California Honeydrops
More Performers
Ayla Nereo
Dirtwire
An-Ten-Nae (Medicine Set)
Russ Liquid
kLL sMTH
Balkan Bump
Dusty Green Bones Band
Tara Brooks
Sponges
COFRESI
Duffrey
AHEE
Dela Moon
Anton Tumas
Nico Luminous
TV Broken 3rd Eye Open
High Step Society
Mikey Pauker
Dakota Lotus
Arnold & Lane
Boiz House
FAKA
TROPO
Cello Joe
Whiskerman
OLOX
The LuvAmp Project
Imagika Om
Heartwurkz
Shylah Ray
Māh-Ze-Tār
Priya Deepika
The Brambles
The Rose Valley Thorns
Heather Christie
Cheyenne Skye Band
Divasonic
Sammy Legs
Jack Roy
Subko
9Lives
Shane Thunder
Phil Spank
Burko
Sierra Marin
Speakeasē
One-Eyed Jack
About this event
ANNOUNCEMENT: Our New Dates are...Festival: April 8-10th, 2022. Early Arrival: April 7th. Regeneration Action Day: April 6th
The Festival
Lucidity is an open-source transformational arts and music festival. We call it open-source because we co-create this festival experience with YOU! We invite you to come play with us, call together your lucid family, bring art, lead a workshop, spark a spontaneous flash mob, embody a character from your dreams, be silly and wild and free! When we become lucid in our dreams, we realize ourselves as infinite potential, we let go of fear, and we are free to create that which we want to see in the world. Bring those visions, those possibilities, and that delicious conscious energy with you to Lucidity and wake up in the dream.
Chapter 9: Re-Generation Earth: Seed a new Garden
Awakening and watching, watching and learning, learning and doing. We are engaged in a beautifully entangled process of expansion that we know through our feeling, sending, observing, behaving, and growing...We step confidently into this big place, knowing our actions and deeds affects all of life and ripple outward in infinite directions. We are ready to sound the horns and call it back in. Water is life. Breathe is life. Soil is life. Heartfully grown food is life. We resolve to be Guardians, Stewards and Engaged Activators, not just for our own backyards, not just for the village we call home, but for our communities of communities and for our precious garden plant. 
FAQ's
When do applications open?
This event was already curated for 2020, but due to the Covid 19 pandemic, we needed to shift the event to April 2021 and then again to April 2022. For this reason, there will not be another application process. If anything changes we will let everyone know via our email and social media channels.
What are my transport/parking options getting to the event?
We offer a limited amount of Car Camping (vehicles under 18ft) and RV Camping Passes (for two sizes of RV's), and you can always carpool and leave your car in the General Parking Lot. We encourage carpooling to everyone. 
Can I bring my furry friend to the party?
NO PETS. Unless your dog is a certified service animal, leave all pets at home. Our festival is not a suitable environment for creatures; it is loud and there are lots of people - this is for all our safety.
Check out our website FAQ for a pull what to bring / what not to bring list! 
Is my registration/ticket transferrable?
You can always transfer your ticket to a friend by logging into your order through the Eventbrite website or through your order confirmation. If the person who you have sold your ticket to chooses to sell it again, the original purchaser is the only one who can edit the information a second time.
You cannot transfer your ticket from one type to another. All purchases are FINAL.
Can I update my registration information?
Yes, just log into your order through the Eventbrite page or through your email confirmation.
What is the refund policy?
WE DO NOT OFFER REFUNDS FOR PURCHASED TICKETS. If you made a mistake in your purchase, email us immediately. If you have an emergency, we will explore what can be done on a case-by-case basis, but we always encourage finding a friend who will take the ticket off your hands at face value. 
Is there a payment plan available?
Yes, simply choose PayPal as your payment method when checking out and you can choose to pay for your ticket over 4 payments.