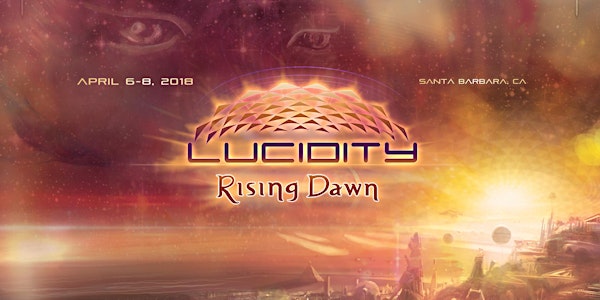 Santa Barbara: Lucidity Festival 2018 - Live Music & Art Camping Weekend
When and where
Location
Live Oak Campground 4600 Chumash Highway Santa Barbara, CA 93105
Description
In the beginning, we invited you to awake within the dream and you stirred from your slumber to help create a movement of transformation. You were encouraged and guided by our Seven Totems on a journey of inner discovery. You embraced your consciousness and interconnectedness with all universal energies. Together, we fortified our collective power and rediscovered ancient wisdom that has sustained humanity for eons. We found ourselves at a Crossroads: bring this wisdom into our present reality and move forward with effective change or succumb to a lesser, futile path. And finally, reaching the end of these transformational milestones, we arrived at a place of high vibrational resonance, an Eudaimonia, where joy, hope and the endless capacity for love flourish.
Six years of personal and collective transformation. Was it all a "waking dream" in a lucid landscape?
No, it wasn't.
A new day is upon us. A new story is welling in our hearts. We are awakening, not just to our infinite potential as individual beings, not just to our collective power when we reinhabit the village, but to our vast possitentialities as a species, interconnected with all of life. The rising sun illuminates where we've been and shines light on the path before us. We see this next rite of passage as a new quest toward a unified humanity, and we joyfully say YES, and Thank You!
The Festival

Lucidity is an open-source transformational arts and music festival. We call it open-source because we co-create this festival experience with YOU! We invite you to come play with us, call together your star family, bring art, lead a workshop, spark a spontaneous flash mob, embody a character from your dreams, be silly and wild and free!

When we become lucid in our dreams, we realize ourselves as infinite potential, we let go of fear, and we are free to create that which we want to see in the world. Bring those visions, those possibilities, and that delicious conscious energy with you to Lucidity and wake up in the dream.

Year 7: Rising Dawn

As one great cycle comes to a close, a new beginning is birthed. In the fateful moment just before the Ouroboros cosmic serpent chomps down on his own tail, there is a liminal moment, a long and silent pause, an opportunity to spiral into a higher lucid octave of consciousness, rather than mindlessly repeating old stories and patterns. We stand on such a precipice, and looking out upon the horizon, with gratitude for the integration of the learnings from a long and challenging quest fulfilled, we see a familiar sunrise. A new day is upon us. A new story is welling in our hearts. It's as though we've been here before, but that's impossible...

Be sure to check out our website for more information, especially the FAQ / Event Details Page. And just so we're clear - No refunds, all sales final.


FAQs
When do applications open?
Our application will be opening on November 22nd and November 29th. Our Low Income Application is open now, CLICK HERE to apply!
What are my transport/parking options getting to the event?
We offer a limited amount of Car Camping (vehicles under 18ft) and RV Camping Passes (for two sizes of RV's), and you can always carpool and leave your car in the General Parking Lot. We incentivize carpooling by charging vehicles with three or more people less than the average parking fee. We also create a page through RickyRides, a great rideshare program where you can find rides from pretty much anywhere.
Can I bring my furry friend to the party?
NO PETS. Unless your dog is a certified service animal, leave all pets at home. Our festival is not a suitable environment for creatures; it is loud and there are lots of people - this is for all our safety.
Check out our website FAQ for a pull what to bring / what not to bring list!
Is my registration/ticket transferrable?
You can always transfer your ticket to a friend by logging into your order through the Eventbrite website or through your order confirmation. If the person who you have sold your ticket to chooses to sell it again, the original purchaser is the only one who can edit the information a second time.
You cannot transfer your ticket from one type to another. All purchases are FINAL.
Can I update my registration information?
Yes, just log into your order through the Eventbrite page or through your email confirmation.
What is the refund policy?
WE DO NOT OFFER REFUNDS FOR PURCHASED TICKETS. If you made a mistake in your purchase, email us immediately. If you have an emergency, we will explore what can be done on a case-by-case basis, but we always encourage finding a friend who will take the ticket off your hands at face value.
Is there a payment plan available?
Yes, simply choose Affirm as your payment method when checking out and you can choose to pay for your ticket over the next 3-6 months if approved. Learn more about the payment plan here.