Description
"It has always been the movement of community that has powered this planet and we are very clear at this time it will be the movement of community that will rebuild the planet as well" - Kuthumi
Often after a loss or natural disaster the way forward is not always clear. Sometimes it is helpful to see what it looks like from a different perspective.
Internationally renowned channeler Rebecca Dawson is coming to Santa Barbara from Australia with her team of Masters, (Serapis Bey, St Germain and Kuthumi) to bring new insights and perspectives on the many changes that our area has experienced.
Discover what is unique and special about the Santa Barbara area, understand why there has been so much physical change in recent months, and explore what part you and this powerful location play in the global shift in consciousness being experienced.
This live channeled event includes a Q & A with the Masters. As you are guided through a new paradigm of belief you will gain greater insight into how to move forward with confidence into a new era of creation.
Rebecca has been channeling for over 20 years, is an author, speaker and has inspired thousands of people throughout the world to live from the truth of who they are. She delivers messages from Masters Serapis Bey, St Germain & Kuthumi about the human design, the mechanics of reality, and the paradigm shift into multi-dimensionality that the Earth is now experiencing.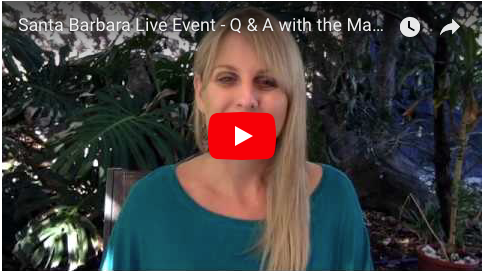 FROM VALERIE BISHOP, ORGANIZER:
"Having a deep spiritual background, I was skeptical about speaking with a channeler, but the wisdom that came through was so pure and profound that I couldn't deny the value of Rebecca's work. When I was told The Masters, that she channels, had specific information they wanted to share with the community of Santa Barbara I wanted to provide a space for her to come and share their wisdom with us." Valerie Bishop
---
What to Expect
6:00 - 6:30 pm: Registration
6:30 - 8:30 pm: Live Channelling and Q&A (with intermission)
8:30 - 9:00 pm: Refreshments and Book Signing
---
FAQs
What is Channeling?
Channeling is the act of communicating from a consciousness not in physical form, for the purpose of bringing wisdom and guidance to the human experience.
Who Does Rebecca Channel?
Rebecca primarily channels three Master beings - Serapis Bey, St Germain and Kuthumi. Occassionally another Master will come through.
Why is Rebecca coming from Australia to Santa Barbara to do this Event?
There has been a lot of physical change in the Santa Barbara area in the form of natural disasters. The Masters are wanting to share with the community the reason for the changes in the context of the larger global change that is happening for the planet.
Where can I park?
There's a parking lot across the street.
How can I contact the organizer with any questions?
Click on the CONTACT button in the Organizer section below.
---
Our Speaker
Rebecca Dawson is an international channeller, speaker and author who has been in practice for over 20 years. After facilitating over 2000 private consultations, Rebecca's focus in the last 7 years has been on the research and understanding of the shifts that are occurring for Earth and Humanity.
An ability to acutely observe the human energy field has led to an interest in the mapping and documenting of the changes occurring in the human energy field, and understanding how these changes impact upon human capacity, functionality and experience of Life. Many hours of clinic observation and hundreds of accompanying channelled documents are revealing the synchronicity and pattern of change that is sweeping across humanity, and the planet itself.
Rebecca is now devoted to bringing this information into accessibility, so that humanity can start to have a conscious understanding of what is happening, why it is happening, and what can be created from this emerging capacity. With the assistance of her "crew" Serapis Bey, St Germain & Kuthumi, Rebecca facilitates workshops and events around the world that allow more understanding to occur, and more information to emerge. She has also released her first book "The New Human Experience".
Based in Perth Australia, Rebecca works internationally in conjunction with other leading paradigm explorers, and works collaboratively in many fields including natural medicine, business, education and innovation.
---
Spaces are limited. We look forward to seeing you there!