Description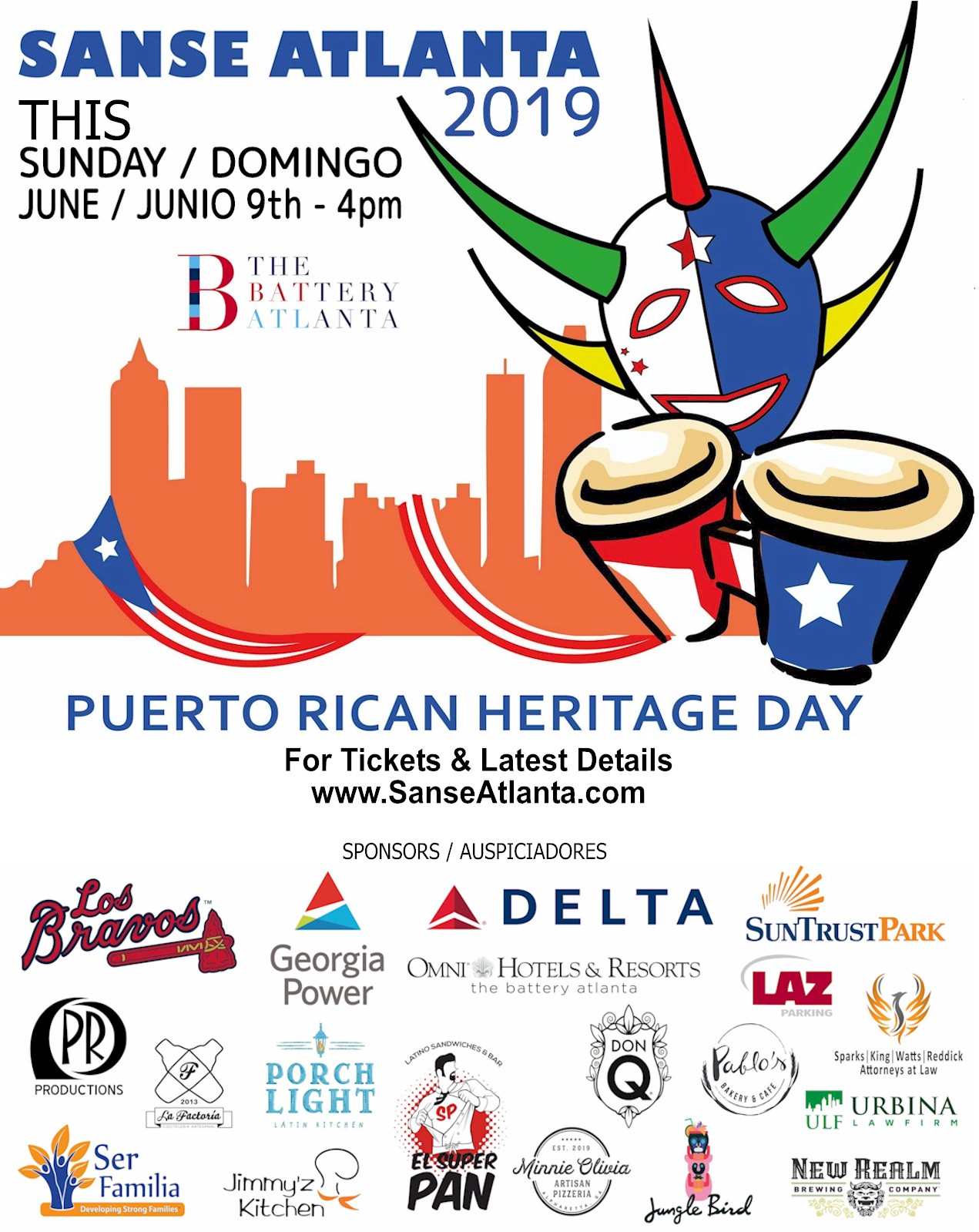 THIS EVENT IS SOLD OUT
-------------
** THIS SUNDAY, June/Junio 9th - 4pm **
CALLE SANSE ATLANTA 2019
4th Annual Puerto Rican Heritage Day
at The Battery Atlanta
FOOD - CRAFTED COCKTAILS - MUSIC & MORE
Tickets on Sale Now...Don't be left out!
Tickets are $85 (includes all foods, music & cocktails)
CASUAL ATTIRE - VESTIMENTA CASUAL
THIS EVENT IS RAIN OR SHINE
Proceeds will benefit Ser Familia, Inc. a local nonprofit organization with 18 years of history
serving the Latino community in Georgia. (Tax ID:35-2166123)
================
New Elite Breed of Chef's from Puerto Rico along with Atlanta's top Latino chefs
come together for an unforgettable afternoon filled with festive music, food and drinks.
Guests will enjoy an interactive dining experience featuring
Puerto Rican-inspired fare from the following CHEFS:
Juliana Gonzalez (Barceloneta Miami / Cana at El San Juan Hotel)
Andre Gomez (Porch Light Kitchen, Smyrna)
Natalia Rivera (Condado Vanderbilt)
Julio Delgado (New Realm Brewing, Atlanta)
Raul Correa (Owner at Boutique Cuisine and Dorotea's)
Hector Santiago (El Super Pan, Atlanta)
Jose Carles (owner Downtown Boqueron by Jose Carles, Miami)
Jimmy Carey (Jimmy'z Kitchen, Miami)
Pablo Colon (Pablo's Bakery Cafe)
Maria Grubb (Gallo Negro, San Juan PR)
Carlos Portela (Orujo Taller de Gastronomia)
AND MORE TO BE ANNOUNCED SOON...
The lively food experience will begin at 4pm with specialty cocktails made by mixologist from La Factoria
(voted #36 as one of the best bars in the world) as well as Caneca and Jungle Bird featuring drinks made with Don Q Rum and other spirits.
Music by world renowned & Puerto Rican DJ Fernando F (PRProductions.net)
& LIVE music by Orquesta Macuba along with other artists.
Space is limited and tickets must be purchased in advance.
There will not be tickets at the door - No van a haber boletos en la puerta
=========================================
This event counts with the support of the following partners:
Los Bravos de Atlanta
The Battery Atlanta

The SunTrust Park
Delta Air Lines
Georgia Power
The Omni Hotel - Atlanta

PR Productions
Urbina Law Firm
New Realm Brewing Company
Porchlight Latin Kitchen

El Super Pan
Sparks, King, Watts, Reddick Law Firm
Laz Parking
REMAX (Magda Gomez Agent)

Don Q Rum
The Latino Community Fund - Georgia