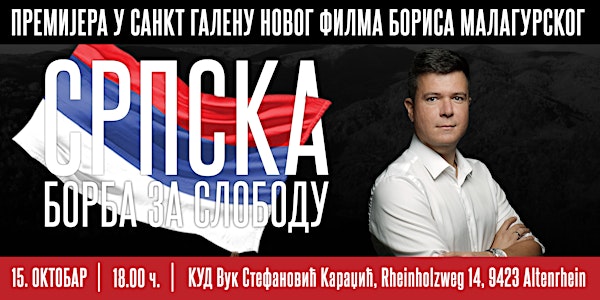 SANKT GALEN PREMIJERA |Republika Srpska: Borba za slobodu, Boris Malagurski
Malagurski prvi put dolazi u Sankt Galen! Nakon premijere filma druženje sa režiserom!
When and where
Location
Rheinholzweg 14 14 Rheinholzweg 9423 Thal Switzerland
Refund Policy
Contact the organizer to request a refund.
About this event
"Republika Srpska: Borba za slobodu" je novi dugometražni dokumentarni film srpsko-kanadskog reditelja Borisa Malagurskog, snimljen uz blagoslov Njegove svetosti Patrijarha srpskog gospodina Porfirija. Film predstavlja uzbudljivu priču o viševekovnoj borbi srpskog naroda da bude svoj na svome, uz intervju sa proslavljenim srpskim režiserom Emirom Kusturicom.
Premijera u Sankt Galenu, Švajcarskoj održava se u subotu, 15. oktobra u 18 časova u prostorijama KUD Vuk Stefanović Karadžić na adresi Rheinholzweg 14, 9423 Altenrhein, karte su CHF 20. Broj mesta je ograničen, ne propustite jedinstvenu priliku da među prvima doživite ovaj film! Film će biti sa srpskim titlovima.
Nakon premijere će biti druženje sa režiserom Borisom Malagurskim, koji će govoriti o dogodovštinama njegovog filmskog tima tokom snimanja u Republici Srpskoj, ali i u regionu, te će publika imati priliku da sazna više i podrži buduće filmske projekte! Širite svest i vidimo se!