Description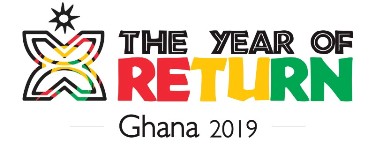 INTRODUCTION
August 2019 is a very significant month and year. It was 400 hundred year ago to the month when the first slave ship docked in Virginia. It was then the first slave was sold and that also saw the acceleration of the horrendous Middle Passage. August 2019 mark the historical point of the slave trade in the USA. Millions of African people were forced from the native countries to work as slaves in the Americas as well as Caribbean, South America, Europe and elsewhere. Since that time Black people in American have come a long way through many toil and snares: slavery, segregation, Jim Crow, Mass incarceration and police brutality of black bodies. The history of the black experience in America must never be forgotten and must continue to be an inspiriting story of survival and triumph.
In August 2019 tens of thousands of people are taking a pilgrimage to mark and reminder the Middle Passage. The trip will take us to Ghana: the land of Kwame Nkrumah-the father of Ghana's independence and a co-founder of the Organization of African Unity; the country where the great pan-Africanist Dr. W. E. B. DuBois spent his final years; the land where Ashanti Kings still hold court and mediate disputes in time-honored traditions passed down through generations; the land that has preserved more slave dungeons used in the transatlantic slave trade than any other country on the continent. Ghana was the first sub-Saharan African country to gain its independence from Europeans and is today a thriving democracy, yet its traditions, customs, and culture are almost undiluted. Ghana is now a 29-million consumer market with a growing, educated middle class eager for consumer goods, services, and technology.
In August 2019, exactly 400 years after the arrival of the first recorded landing of a slave ship in Virginia, which saw the acceleration of the horrendous Middle Passage, hundreds of descendants of former enslaved Africans will make a triumphant return to the land of our ancestry.
We will RETURN through the infamous "door of no return" at the Cape Coast Slave Dungeon. This historic pilgrimage to Ghana will be a triumphant homecoming to the land of our ancestors. We will return with mixed yet happy emotions.
TRAVEL DETAILS
Preparation of Materials and Timeline
Apply for passport Immediately (If you have not already done so)
Required Documents Packet: ($500 non-refundable deposit due at the time you submit your Application)
Application, Personal Covenant form and Assumption of Risk and Release Form, due back by June 10, 2019

Make travel arrangements to and from respective airports of travel in the US;

Must book and pay for flight by JUNE 16, 2019 (The earlier you book the cheaper the ticket)
Completed and received back by June 16, 2018
Completed and received back by June 16, 2018
Vaccinations: Visit your local immunization clinic (Must have vaccinations card to verify vaccinations by June 16, 2018)
Health Insurance: Visit: https://wallach.com/secure/
Purchased and Submitted for verification by June 16, 2018:
First non-refundable deposit payment:

$500 due on submission of application form

Second payment:

$1000, due by March 8, 2019

Third payment

: $1000, due by June 2, 2019
Price includes
Airport Meet and Greet
9 nights in a Hotel
In Ghana transportation
Two meals a day
Gate entrance
Doesn't Include
Flight to Ghana (Estimated cost
Visa cost
Meals not included
Vaccinations
IMPORTANT NOTES:

Vaccinations: Ghana requires routine vaccinations for those traveling to this country. Travelers should check with their physician/local immunization clinic to determine the required routine vaccinations recommended for travel to Ghana. Travelers should also check the Center for Disease Control's (CDC) website for vaccination recommendations and medical updates regarding Ghana at:

https://wwwnc.cdc.gov/travel/destinations/traveler/none/ghana

State Department – Registration and Travel warnings: All US American participants are advised to register their time abroad with the US State Department. Please visit: https://step.state.gov/step.

The U.S. State Department issues travel warnings for various countries. Please visit https://travel.state.gov/content/travel/en.html for updated information regarding Ghana.

*Dates are subject to change by one or two days.

*Please be sure that you include the application, personal covenant, and the assumption of risk and release form along with first time non-refundable deposit of $500 in your Required Documents packet. Make all money orders payable to "INTERNATIONAL MISSION TRIP." Write "Ghana Missions" on the memo line.

Drop Required Documents Packet off or mail to:

4015 Holston Court, Suffolk, VA 23435

or

E-mail to ndubose595@gmail.com

*Please submit your Passport applications as soon as possible. If you already have a passport, please include a copy of it in the Required Documents packet. Remember to email a scanned copy of your passport as well as the application, personal covenant and assumption of risk and release form, completed visa, copy of insurance and vaccinations card to ndubose595@gmail.com as soon as possible.

*BE SURE TO READ THE PERSONAL COVENANT FORM CAREFULLY.

We take all the items seriously as we prepare to enter our hosts' countries as witnesses for Christ!