SANKOFA CONNECTIONS - Wine Reception and Book Signing with Carl Anthony
Description
JOIN US FOR A SPECIAL EVENING with Carl Anthony, environmental and social activist and 2019 SANKOFA Sustainability Award honoree to commemorate Black History Month and celebrate Environmental Champions of the African Diaspora.
The destruction of the Earth's environment is the human rights challenge of our time. The most devastating effects are visited on the poor, those with no involvement in creating the problem. A deep injustice. Among its many treasures, this book offers solutions that lead with equity for the benefit of all.
Desmond Mpilo Tutu – Archbishop Emeritus, Cape Town, South Africa
Featured this evening, environmental and social justice activist Carl Anthony draws on decades of experience as an architect/planner in his new book, "The Earth, the City and the Hidden Narrative of Race." His book, part memoir and part tutorial, grapples with questions of urban democratization and sustainability in the context of shifting social norms and changing environmental realities. Anthony joins us to discuss his life's work and strategies for enhancing equity in a changing world with a strong basis for understanding your role and call to action.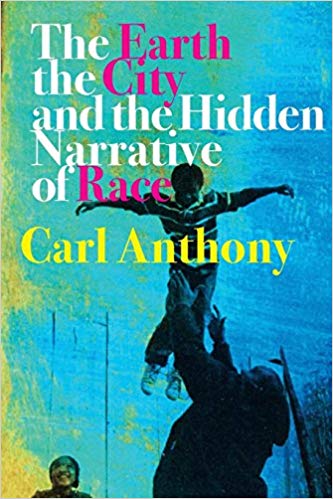 Anthony's rich narrative describes both being at the mercy of racism, urban disinvestment, and environmental injustice as well as fighting against these forces with a variety of strategies. Because this work is both a personal memoir and an exposition of ideas, it appeals to those who appreciate thoughtful and unique writing on issues of race, including individuals exploring their own African American identity, as well as progressive audiences of organizations and community leaders and professionals interested in democratizing power and advancing equitable policies for low-income communities and historically disenfranchised communities.
Anthony and longtime collaborator Dr. Paloma Pavel founded the Breakthrough Communities Project, dedicated to empowering grassroots communities in metropolitan regions and nurturing multiracial leadership. Anthony and Pavel are producing a series of workshops on Climate Justice with low income communities of color in Sacramento, San Diego, and Sonoma, as they develop a toolkit for leadership and organzational development. Planning Healthy and Just Communities for All in the Age of Global Warming is one such program.
Evening Schedule
5:30 Arrival – Wine Reception
6:00 Program
Processional
Vocal Selection, Lawrence Beaman
Introduction, Aaron Grizell, Executive Director, NorcalMLK Foundation
Speakers, Carl Anthony and Paloma Pavel PhD, President of Earth House Center and co-founder of Breakthrough Communities Project
Vocal Selection, Lawrence Beaman
7:30 Presentation - 2019 SANKOFA Sustainability Award, Aaron Grizell, Executive Director NorcalMLK Foundation, and George Jacob, CEO & President, Bay Ecotarium
7:45 Book Signing * and Aquarium Access
8:30 Event Concludes
* For your convenience you are invited to purchase your copy of "The Earth, the City and the Hidden Narrative of Race" prior to the event. Please click on this link for Marcus Books information. Phone orders will be taken.
This event is co-sponsored by The San Francisco Chapter of The Links, Inc. and NorcalMLK Jr Community Foundation and is part of SANKOFA DAYS @ The BAY.
Take the SANKOFA TEAM Pledge and Help SPONSOR A YOUTH to attend SANKOFA Youth & Family Day https://www.aquariumofthebay.org/sankofa-team/
SANKOFA DAYS @ The BAY
We are excited to introduce you to a new community engagement event happening on February 22-23, 2019 to acknowledge and celebrate Black History Month. SANKOFA DAYS @ The BAY will feature a wonderful blend of events and activities focused on climate change, the environment and environmental justice, and sustainability that will appeal to children, millennials, seniors, and everyone in-between!
SANKOFA DAYS @ The BAY will explore environmental justice, the environmental movement, and will celebrate notable African American heroes and leaders in the environmental space. Aquarium of the Bay is partnering with the Northern California Dr. Martin Luther King, Jr. Community Foundation (NorcalMLK Foundation) and the San Francisco Chapter of Links, Inc., to ensure that the events are engaging, educational, inclusive, and celebratory of the richness of the African Diaspora.

Aquarium of the Bay, located at Pier 39 in San Francisco, is the perfect location to celebrate Black History Month and its history and relevance in the environmental movement. And the Sankofa symbol and meaning is likewise apropos: "Know your past to understand your future." The protection and sustainability of our environment is critical, and we can learn from past challenges to help forge a better and stronger environment for tomorrow.
For more information: https://www.aquariumofthebay.org/sankofa-days/
Take the SANKOFA TEAM Pledge and Help SPONSOR A YOUTH to attend SANKOFA Youth & Family Day https://www.aquariumofthebay.org/sankofa-team/