Join us on Zoom to share YOUR Sistrunk family story, history and legacy. Virtual Oral History of Sistrunk & the Sistrunk Community.
About this event
JOIN US!
We invite the community of Sistrunk to be a part of this chat! Share YOUR story by bringing a photo or memorabilia that is important to you and your family to share on our virtual community chat.
Let's LEARN together!
Zoom Meeting: http://bit.ly/sankofa-oralhistoryofsistrunk
Passcode: 928089 *
To be a part of the oral history, you MUST be on the Zoom video call.
Includes a special guest performance by poet: Rebecca Butterfly!
Community Partners include:
Trailblazers of Broward, Old Dillard Foundation, Davis Kuumba Arts, C.R.E.A.T.E., Black Broward and the Arts & History AMbassadors of the LA Lee / Mizell YMCA Community Center.
All Chats will stream LIVE on FB at: https://www.facebook.com/nikilopezcreative
The #SankofaArtsProject is a LA Lee Mizell YMCA Community Center Community Arts & Engagement Project curated and programmed by Niki Lopez of Niki Lopez Creative & What's Your Elephant. This project seeks to engage the community and use the arts incorporated into the new building to preserve and celebrate the rich history of this land on Sistrunk which also includes an installation by principal artist George Gadson.
Our mission is to preserve and celebrate the rich history and culture of this land in the Sistrunk community and the history of Provident Hospital, LA Lee YMCA, Mizell Community Center, and people while amplifying community voices through innovative cultural programming that honors the past, present and future with artistic excellence.
More info: whatsyourelephant.org/sankofa-arts-project
-------
Final Chat:
Thursday, March 25th; 6:30 PM - Sankofa Arts Project - Artists Talk
Meet the artists involved with the Sankofa Arts Project! They will be sharing about their art practice and some of the processes and concepts behind creating the work.
Zoom Registration: http://bit.ly/sankofaartsartistschat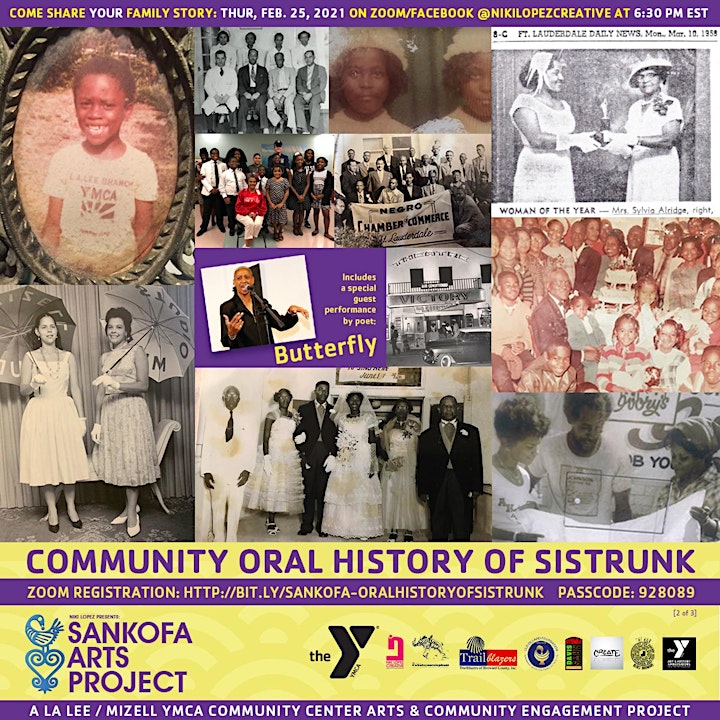 Organizer of Sankofa Art Project: Community Oral History of Sistrunk (2 of 3)
Niki Lopez is an Afro-Latina, Queer, award-winning interdisciplinary Visual Artist, Activist, Social Practitioner, Placemaker, Curator and Cultural Programer.
Lopez is best known for her masks and a collection of works dealing with some of her past traumas and healing through the arts. Lopez is the founder of "What's Your Elephant," a movement that creates a safe space and uses the arts to address the unspoken.
"Art allows me to voice an opinion, challenge a perspective, and inspire change."
Niki has donated artwork to support various causes such as World AIDS MUSEUM, Human Rights Campaign and Equality Florida.
The 2019 Co-Grand Marshall of Wilton Manors/Stonewall Pride as the 'Future of Advocacy' and a 2020 recipient of Broward County's Arts & Culture Visionaries Award by ArtServe.
The host and programmer for The Circle, a podcast series sharing stories of our creative community, activists & social entrepreneurs.
Board member for Women in Network (WIN) and Island City Stage.
Lopez is also a co-founder for Artists for Black Lives Matter and the 1310 Bandits, an award-winning team of female-led LGBTQ filmmakers.
 --