Sanjay Subrahmanyan Indian Classical Vocal Concert

Saturday, April 27, 2019 from 4:30 PM to 7:30 PM (EDT)
Event Details
Sruti, in collaboration with the Hindu Temple of Delaware presents Sangita Kalanidhi Sanjay Subrahmanyan in an evening of Classical Vocal Music, accompanied by Vidwan S. Varadarajan on Violin and Neyveli B. Venkatesh on Mridangam.
About Sangita Kalanidhi Sanjay Subrahmanyan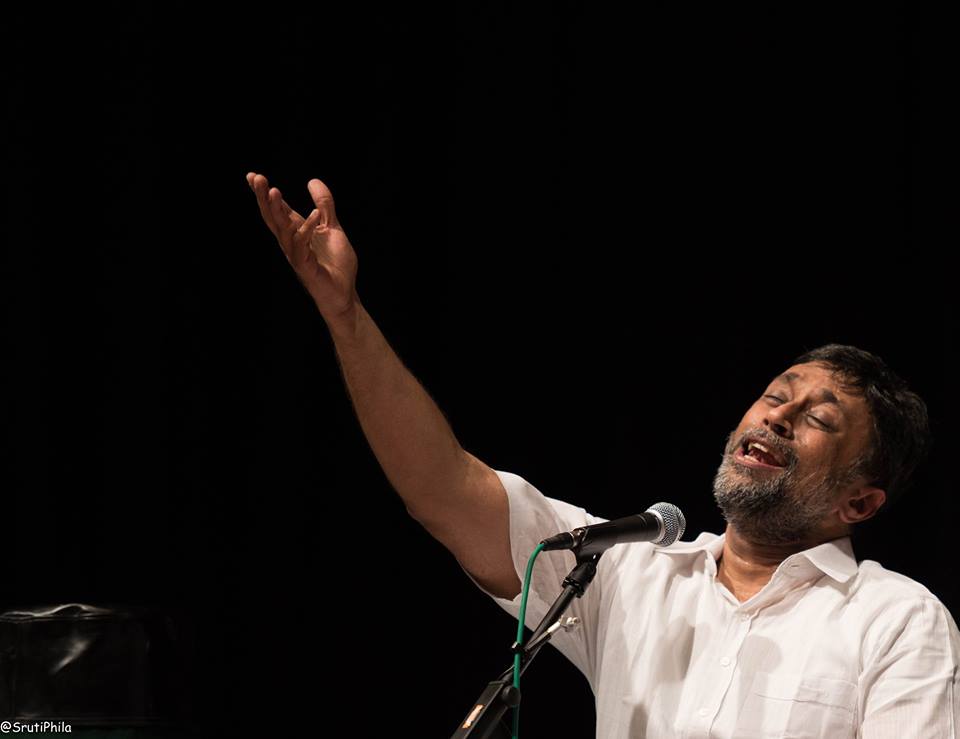 Sangita Kalanidhi Sanjay Subrahmanyan began his musical journey at the age of seven. He was trained on the violin and in vocal music by many renowned music teachers, including violin maestro V. Lakshminarayana, Rukmini Rajagopalan, and Nadaswaram maestro Semponarkoil SRD Vaidyanathan. After the age of 15, Sanjay specialized in vocal music. Sanjay is now an outstanding exponent of Carnatic Music. Sanjay is also a dedicated teacher and a role model for his students. His concert career began in 1986, and since then he has performed across India at premier institutions, as well as abroad, touring cities across the United States, Europe, Australia, and South-east Asia.
Sanjay has also released several CDs and cassettes. His career has been portrayed in a documentary film Aaraar Aasaippadaar by filmmaker Prasanna Ramaswamy. Some of the numerous awards he has received are: Sangita Kalanidhi award from the Music Academy in 2015, "A" Grade artiste of All India Radio, Chennai, "Isai Peroli" from Karthik Fine Arts, Chennai, (2000), and Sangeetha Kalasarthy Award from Sri Parthasarathy Swami Sabha (2006). Besides being an outstanding singer and violinist, Sanjay is a Commerce Graduate and a qualified Chartered and Cost Accountant.
About Vidwan S. Varadarajan - Violin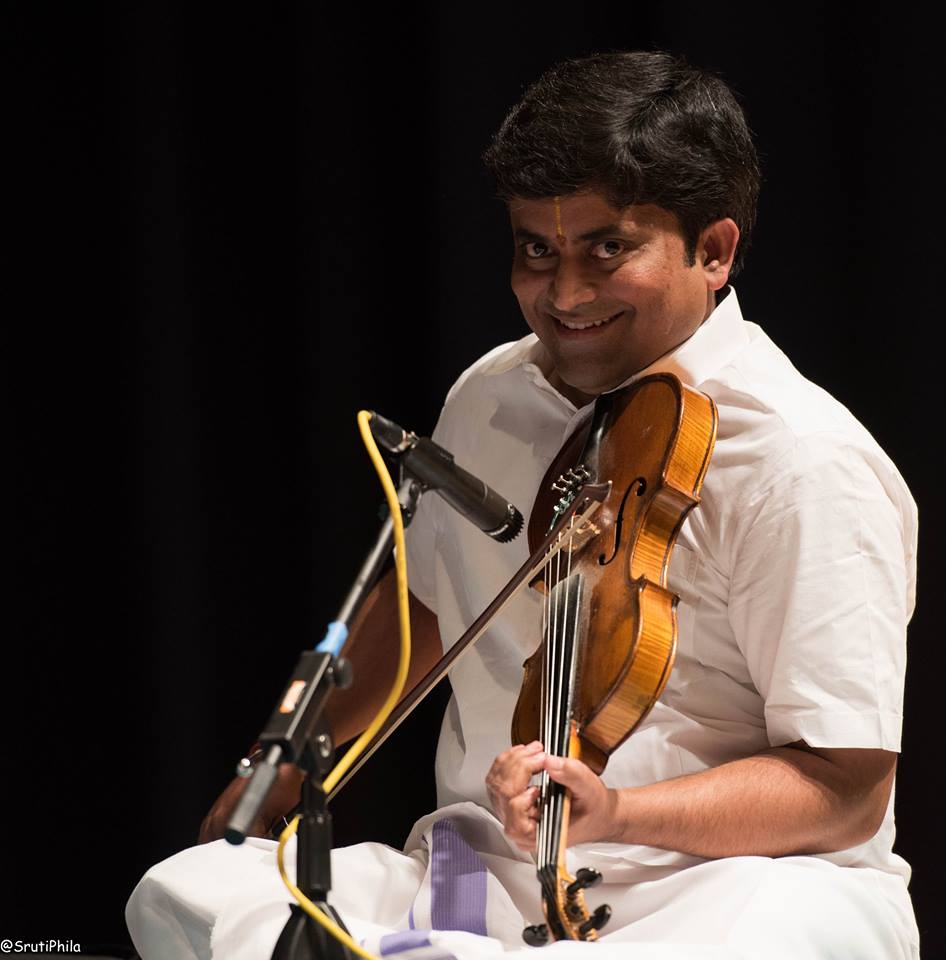 S. Varadarajan initially learnt violin under Kanchi Janardhanam. He later learnt from the multi-faceted genius T.V. Gopalakrishnan. At a very young age Varadarajan has accompanied many leading artists of carnatic music and has established himself as a front ranking musician. His style of play is characterized by excellent control over the instrument with brilliant repartees that inspire the main artiste. He has been conferred with several titles and awards and has for more than 20 years, given solo concerts and traveled the world on several concert tours as an accompanying artiste.
About Neyveli B. Venkatesh - Mridangam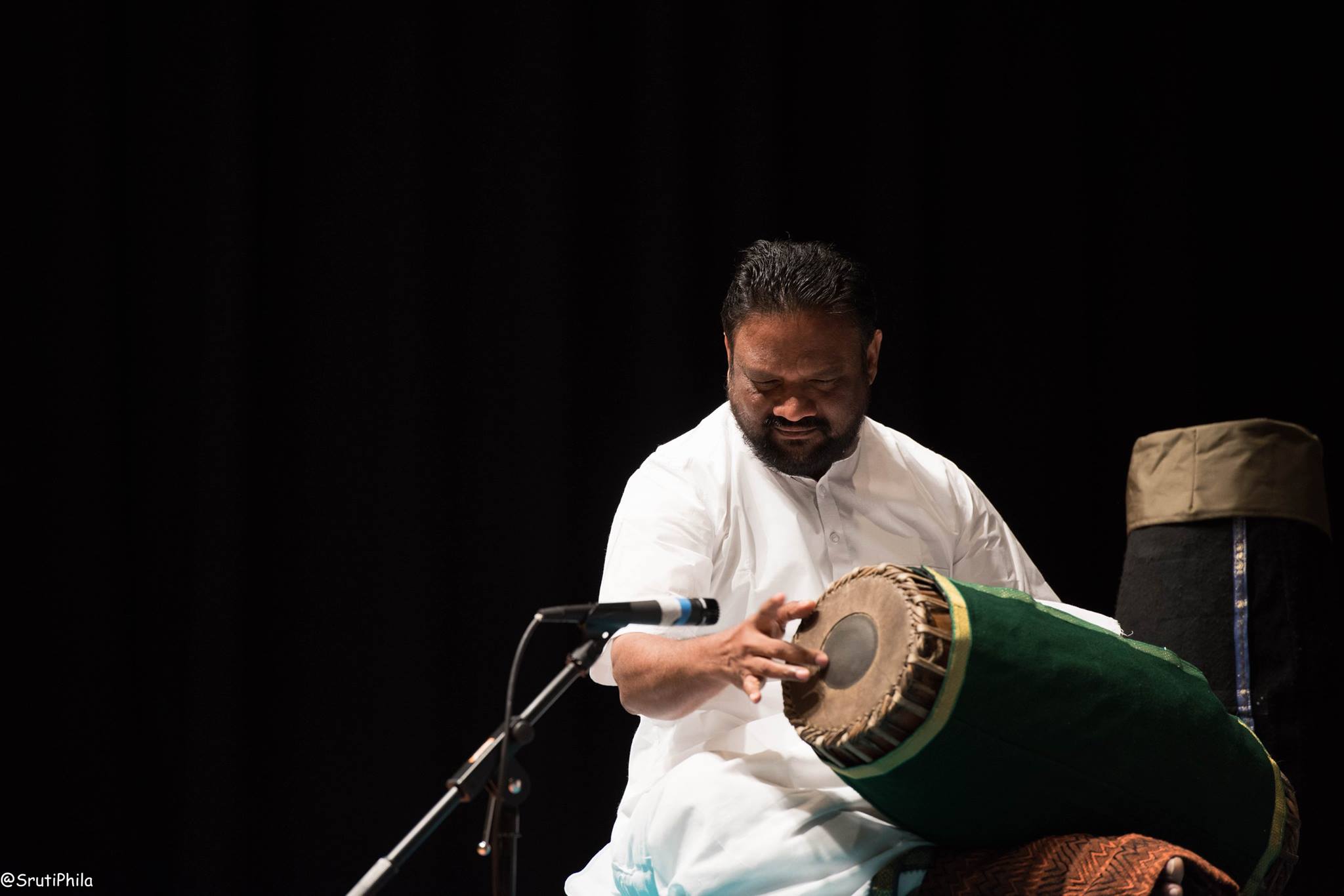 Initiated to mridangam at a tender age of seven his first guru is his father A.S. Balaraman. Before he could comprehend the matter mridangam found a place in his petite hands. As he grow older P.P.Venkatesan & Ramanathapuram M.N.Kandaswamy honed his skills. Maiden performance at ten, caught the attention of the media and multitude. Has played in all the temples in and around Neyveli. The spark to achieve was ignited by his supportive family members. This employment at NLC (Neyveli Lignate Corporation) did not deter him from practice. Dame fortune smiled on him when he performed a 28 Hrs non-stop marathon session in Neyveli. It proved a turning point in his life as it left an indelible imprint in the music world. The Unstintting support by the NLC chairman Narayanan made him drown in the world of percussion. The then governor of Tamilnadu K.K. Shah applauded his feat. He is skilled in playing the 'tres-difficle' 'gumuki style'. Adept in playing kanjira konnokal he stormed the world with his percussive expertise. He is an 'A' grade artist in AIR In Mridangam. 'B' grade artist in Kanjira. The call of Chennai which is referred to as citadel of music made him shift his home from Neyveli to Chennai.
When & Where

Hindu Temple of Delaware
760 Yorklyn Rd
Hockessin, DE 19707


Saturday, April 27, 2019 from 4:30 PM to 7:30 PM (EDT)
Add to my calendar
Organizer
Click here to subscribe to our text messages.
SRUTI The India Music and Dance Society is a non-profit 501(C)(3) organization based in the Philadelphia region and founded in 1986. Sruti's principal mission is to promote and present Indian classical music and dance. In addition, SRUTI seeks to educate the Philadelphia community at large about Indian arts.