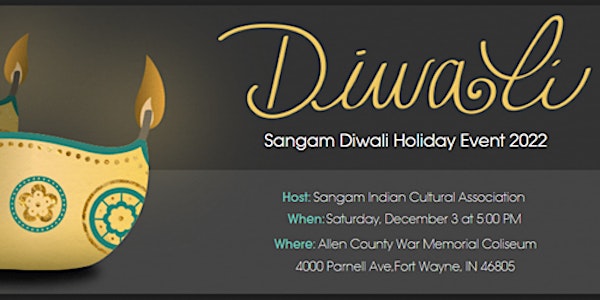 Sangam Diwali 2022
The Sangam team is so excited to welcome you back to our Diwali Holiday Event.
When and where
Location
Allen County War Memorial Coliseum, Expo 1 Main Rotunda Entrance 4000 Parnell Ave Fort Wayne, IN 46805
About this event
We welcome our community to celebrate with us Diwali, a festival of lights with your friends and family. Come and enjoy an evening filled with cultural performances, followed by a lavished ethnic Indian cuisine dinner with tastes from around India.
Program details-
Social Hour & Family Portraits - 5.00 pm to 6.30 pm
Mehndi- 5.00 pm to 7.00 pm
Rangoli - 5.30 pm to 6.15 pm
Cultural program - 7.00 pm to 8.30 pm
Dinner - 8.30 pm to 9.30 pm
DJ/ Dance - 9.30 pm to 11.00 pm
Payment by check (made out to Sangam); Mailing Address - P.O. Box 9026, Fort Wayne, IN 46899, Payments can be made by check or cash to any of our Board members in person.
Discounted Payments by 11/17/2022
13 and older - $40.00
5 to 12 years - $30.00
**International Students (with valid student ID) - $30.00**
Payments after 11/17 and at the gate)
13 and older - $48.00
5 to 12 years - $38.00
**International Students (with valid student ID) - $38.00**
Tickets include a memorable family portrait to take home ,a Diwali gift bag with a thank you gift and a mithai box per family.
Advertising and Donations:
We are taking donations and Advertisements that can be sent in, please contact Giselle Bose at sangamsocietyfw@gmail.com, if interested. Advertisers and donors will be honored and digitally represented at our event and featured for a year on the Sangam website. Your sponsorship goes a long way and enables us to bring our events to the community. Thank you.
Any donations over $100 will be recognized on the day of the event and any donations of $150 or more will have reserved seating for your family.
**There have been no membership fees for 2022, Membership Fees for 2023 can be sent in by March 2023**