Carnaval-style party where Colombia, Brazil, & Peru meet!
About this event
Sang Matiz performs as a 7-piece force with a blast of Afro-Latin and Tropical rhythms!
JOINING US ON THE SHOW
Yuriza Jared (Singer-Songwriter/Composer) on vocals, charango, quena, and guitar, Eddie Cabezas on Latin/Flamenco Guitar, Braulio Barrera (Grammy Award Winner) on Congas/Cajon, Rana Moussa on Keys & hand percussion, Alex Farrell on Bass, Christian Pepin (Grammy Award Winner) on Drums, and Jesus Martinez on Brazilian percussion.
Join us at Rocky's to honor and celebrate all of the amazing dads out there for FATHER'S DAY! 6 p.m. to 8 p.m.
Support the arts during these times by coming to a live outdoor performance!
COVID SAFETY Masks, distancing, and outdoors
Doors open at 5 p.m. ~ Live music at 6 p.m.
Kids: 12 years and bellow come in for free!
Venue closes at 9pm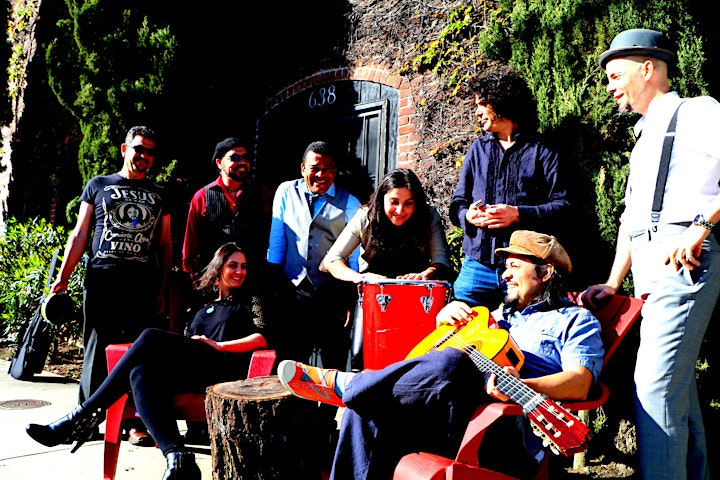 MORE ABOUT SANG MATIZ:
Female-led powerhouse band, Sang Matiz, has garnered a reputation for enlivening audiences with their insatiable World and Afro-Latin beats which fuse Tropical elements with touches of Funk.  With musical finesse, they've perfected a unique combination of styles that weaves catchy, syncopated melodies with flamenco-infused guitar licks.  Sang Matiz takes you on a journey of cultural expression with an exciting fusion of rhythms full of passion, energy, and wild creativity!  
Yuriza Jared shines as the band's lead with her original music compositions and lyrics. She has been performing since she was 5 years-old when she first learned how to play mandolin, charango, and guitar. She quickly developed skills and joined theater performances all around Peru. At age 6, she joined the conservatory of Lima to further develop guitar playing and music, and shortly after began touring internationally.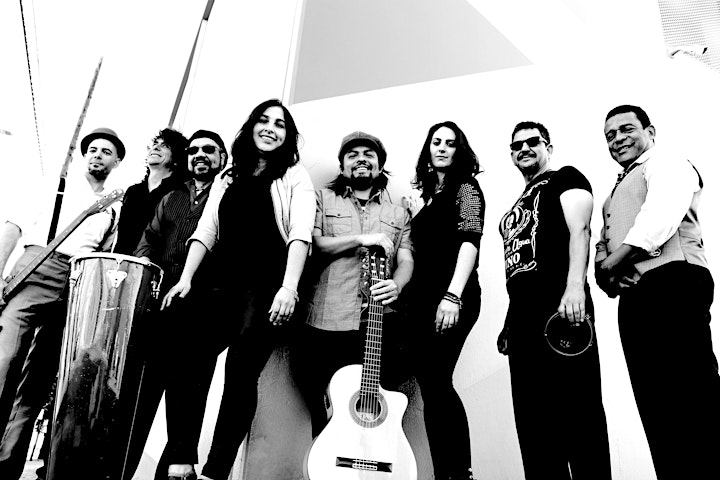 You can order delicious food and drinks from the Kitchen at Rocky's Market Check out the menu! Rocky's Menu Or you can purchase your own choices directly from the market.
Family-friendly event! All ages welcome
IMPORTANT: You will be required to wear a mask to enter the venue. Once seated with your party you may take off your masks, but are required to wear them any time you get up out of your seat.
SEATS/TABLES/BENCHES are going to be socially distanced. This means it will be imperative that you do not move them around or change tables once seated. Also, please book your tickets accordingly: Coming in a group of 4? Select 4 seats at checkout. This really helps us plan and setup the space in advance as much as possible.
Thanks!
Please DO NOT come to the event if you are feeling ill, feverish, coughing, or running a temperature. If you purchase advance paid tickets and get sick, we are more than happy to refund you in full. This helps keep artists, you, and everyone safe and healthy so that we can continue doing awesome things like live entertainment! Thank you!
Enjoy the arts, the outdoors and time with friends in a historic setting at Rocky's, one of Oakland's unique local businesses.
Rocky's Market Brooklyn Basin is a fully-stocked market and kitchen offering a full menu of California style cuisine. They have a tasty selection of wine and non-alcoholic beverages and outdoor seating just adjacent to the area where the performance happens. Get there early for dinner or appetizers, then grab your seat at the performance venue next door at 7:00pm where you can continue to order drinks throughout the show. No outside food or drinks are allowed inside the venue. Thank you.
SPACE IS LIMITED! GET STARTED BOOKING YOUR NIGHT OUT!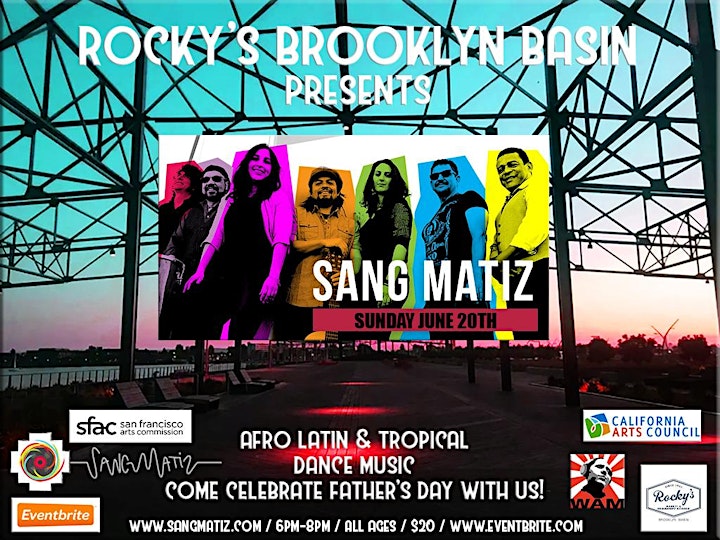 Organizer of Sang Matiz Live @ Rocky's Brooklyn Basin! ~ June 20, 2021